​FBI Joint Terrorism Task Force Targets Standing Rock Activist
News | March 23rd, 2017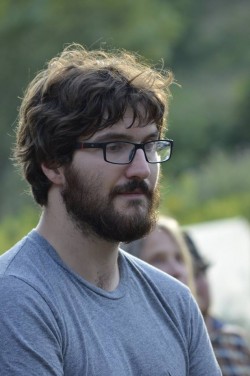 CANNON BALL - Joint Terrorism Task Force agents contacted an Indiana activist days after he returned home from Standing Rock's fight in North Dakota against the Dakota Access Pipeline.
Aaron Pollitt, 28, from Indiana, was charged on October 22, 2016, by Morton County Police with engaging in a riot and criminal trespass, according to Morton County Clerk of Court. His trial is pending.
After three weeks of direct action and living in the Standing Rock camps, Pollitt, listed as a water protector by Unity-Bloomington, said he left the fight to go home and vote in November 2016 when he was contacted by law enforcement who identified themselves as the Indiana State Police Intelligence Division. They stopped by his house - twice - called, and left messages, according to Pollitt. According to Indiana State Government website publication of the Indiana Law Enforcement Academy Basic Courses, one of the agents involved is connected to JTTF, or the FBI's Joint Terrorism Task Force.
HPR Magazine chose to withhold the name of one of the agents identified for potential endangerment reasons.
"First time it happened I did not know why a police officer came out to my house," Pollitt said. "They wanted to talk to me, wanted to take me out for a Coca Cola, and they also said it didn't have anything to do with my arrest.
"I told him I didn't want to talk about it, but they came out again about a month later. I told them I had a lawyer to talk to, so I was a little more clear."
Pollitt is a carpenter, worked as a stagehand at Indiana University, and is applying to be a ranger in the Forestry Bureau, he said. He is also a musician, a flutist, practicing a type of music called Kirtan, or Vedic chanting. According to a 2010 letter Pollitt is also an adventurist and an environmentalist who aided in the development of a documentary called "Spirit of the Orca."
"Strange times we live in," Pollitt wrote in a Facebook post pertaining to Minnesota's U.S. Senator Al Franken's request about an explanation why at least three U.S. citizens opposed to the Dakota Access Pipeline are being investigated by JTTF.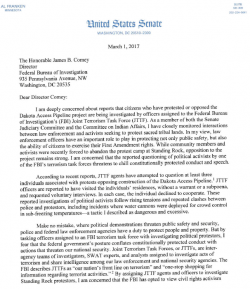 "I am concerned that the reported questioning of political activists by one of the FBI's terrorism task forces threatens to chill constitutionally protected conduct and speech," Franken, a Democrat and a member of both the Senate Judiciary Committee and the Committee on Indian Affairs, wrote in a letter on March 1, 2017, to FBI Director James Comey.
The Guardian reported in February that investigations into three activists at Standing Rock are being construed by the FBI as acts of terrorism. FBI personnel could not be reached for comment.
Pollitt will be defended in court by Valley City Attorney Russell Myhre. Myhre condemned his client's targeting by JTTF agents.
"This type of contact, and I have been subjected to it in the past, has a chilling effect upon free speech," Myhre said. "It appears to be an attempt to tamp down any further attempt to exercise free speech by water protectors."
"It was really eerie. It is really concerning to be investigated by a terrorism task force or state police, but I am not too concerned," Pollitt said. "I feel like I am pretty safe."
JTTF is America's front line on terrorism, according to the FBI, and work as small cells of highly trained, locally based, investigators, analysts, linguists, SWAT experts, and other specialists from dozens of U.S. law enforcement and intelligence agencies.
"By assigning JTTF agents and officers to investigate Standing Rock protesters, I am concerned that the FBI has opted to view civil rights activism through a national security lens," Franken wrote. "Embracing such tactics risks chilling the exercise of constitutional rights and further undermining trust between federal law enforcement and our tribal nations."
While at the camps outside Standing Rock, Pollitt said evidence of racism and hatred were everywhere. He was "cussed out" by Bismarck residents, he said, because as a white person he resembled a protester. He joined the fight against the Dakota Access Pipeline because he sees North Dakota government as corrupt, bought by big oil money, and does not truly care for the environment or for the state's Native American population.
"I feel personally this is a critical time to make changes so we do not destroy our planet," Pollitt said. "That voice needs to be loud and clear, but it is continually met with violence."
His three-week experience at the camps showed him that Standing Rock and supporters were peaceful and nonviolent, he said.
"This is an assault on the rights of people to be scaring us away from our right to protest and to free speech," Pollitt said. "To be assaulting people with crowd control weapons I think it is an attempt to oppress a certain portion of the population, and a lot of money is being poured into that part of the system by the new administration.
"We need to have the freedom to really express ourselves, especially if it's a tremendous portion of the population that wants this change. This militarized police force is trying to suppress that voice."
Franken and The Guardian reported three people have been targeted in the United States by JTTF, and it is unclear if Pollitt was one of the three or a fourth US citizen targeted, Myhre said.
In Morton County, Highway 1806 is now open to the public, but law enforcement ask for all travelers to pay close attention to traffic signs as the road will continue to be watched.
On Monday, Energy Transfer Partners, the parent company of Dakota Access, LLC, said in court documents that there have been "recent coordinated physical attacks along the pipeline that pose threats to life, physical safety and the environment." No mention was made of who was responsible for the alleged attacks, and the company plans to have oil running through the 1,172-mile long pipeline as early as March 28.