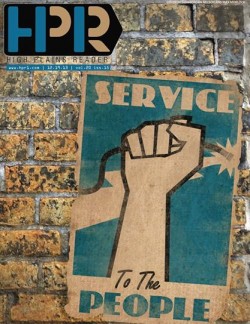 After years of waiting, relief is coming to Fargo cable customers. Midcontinent Communications, out of Sioux Falls, S.D., recently announced it will enter the Fargo market, supplanting Cable One as Fargo's lone cable franchise. If, as is expected, the City of Fargo's Cable Review Committee approves the franchise agreement crafted between the two parties, installation of the expansion will begin in the spring of 2014. Services would be provided in phases over four years.
Why the delay? The city did not have an exclusive arrangement with Cable One to prevent competition, contrary to popular belief. Rather, it was cost that prevented Midcontinent (which already serves Moorhead and West Fargo) from coming to Fargo sooner.
Federal Communications Commission rules require cable companies to put in infrastructure that is able to deliver service to an entire city within a reasonable time frame. This prevents companies from cherry-picking the neighborhoods of wealthy residents to serve first. The result of these rules, however, means about $55 million in expenses for the expansion in Fargo.
Fargo City Commissioner Mike Williams, who sits on the Cable Review Committee, has been working on getting Midco and other cable companies to Fargo since he was elected in 2004. He would frequently see cable companies at conferences and encourage them to come, and would forward emails from Fargo residents inquiring as to why Fargo had only one cable franchise. Williams believes the city of Fargo's growth is what spurred Midco to action.
"My opinion is they believe that with our focus on redeveloping downtown and stable diverse economy, now is a good time to invest in the Fargo market," Williams said. "We had meetings to show them the increased density of Fargo in the recent years and show them we're growing our core and we have only achieved 50 percent of downtown's potential for multi-use living, working, learning and playing."
Midcontinent officials told HPR that disputes such as the recent one between Cable One and Turner Networks in October — which resulted in customers being without channels such as TNT, TBS and Cartoon Network for weeks — did not factor into their decision.
"We have long been interested in Fargo, so the question for us was never if, rather it was when. We recently completed several projects within our footprint, which sucked a considerable amount of capital and manpower. We launched the build of a new system in Dickinson and needed to consider the impact of a number of smaller projects in 2014. We completed that analysis in last October and made the decision to proceed in Fargo," said Tom Simmons, vice president of public policy for Midcontinent Communications.
Cable One also denied that the recent channel dispute played a role in Midco's arrival to Fargo. However, both said they hope they decrease in the future in Fargo.
"Unfortunately, these disruptions have become an industry-wide problem. No pay TV provider is immune. Both cable and satellite companies are being forced to drop channels as a result of disputes over the exorbitant programming fees that programmers are demanding," replied Scott Geston, general manager of Cable One.
So what benefits will customers in Fargo see? Many have pointed to lower monthly rates in cities where there are multiple cable companies. Midco's Simmons, for his part, pointed to the differences between Midco and Cable One.
"The greatest benefit is choice," he said. "Beyond that our customers enjoy a full complement on video programming including over 100 high-definition channels, a large library of video on-demand programming, live programming on the go, and viewing anywhere on any device through our TiVo solution. We also offer uncompromised Internet speed. We have been twice named as the fastest Internet in the Midwest by PC Magazine."
Cable One officials say they welcome the arrival and noted they are already competing with Midco in several markets. Geston said he feels the competition will make their service better.
"Our customers in Fargo are already getting the same competitive rates we offer in areas served by other providers, so even though there hasn't been another hard-line cable provider in Fargo, people here are benefiting from competition in the market. We are already competing with CenturyLink and other companies for customers."
As for what customers can anticipate with Midco and Cable One in the same market, a recent example from when Midco arrived in Moorhead may not bode well for Cable One.
Cody Anderson lived in Moorhead at the time and was a Cable One customer who ended up switching from the company out of frustration. He said he is normally loyal to businesses he patronizes and is not one to just automatically switch to a new competitor.
"The service and customer service actually got worse once Midco arrived," Anderson said. "I tried to work with them, but after a year and when my contract was up, I switched and Midco was remarkably better."
As far as Cable One's decision to eliminate data caps and penalties and increase speeds for Internet services last June, Geston denies that was due to anticipated competition in markets such as Fargo and more a result of customer demand.
"Our customers are spending more time online than ever before and voiced the need for faster service and no overage charges," he said. "We actually weren't aware Midcontinent was coming to Fargo until their recent announcement."
So when will Midco start offering its services to Fargo customers? And who will get service first as the network and infrastructure is built? Unfortunately, it is not a quick process, and the neighborhoods that will be first have not been mapped out yet.
"Our intent is to light up neighborhoods as we build. The order of construction is a part of the overall design and those details are not yet available. The vast majority of the system should be complete by the end of 2016 with some final cleanup expected in the 2017 construction season," Simmons said.