​GF Police Under Fire for Response to Shooting
News | March 4th, 2015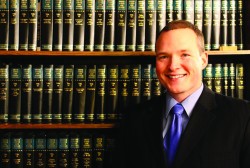 Lawmaker calls for clearer communication
After a couple days of confusion, Grand Forks law enforcement entities sought to clear up speculation and release more information about a shooting at Altru Hospital where a UND police officer shot a suspect.
Grand Forks police released the name of the suspect, David James Elliott, and why he was followed on Tuesday. Initially, police followed Elliott after he allegedly ran a stop sign following a 911 call reporting his truck as suspicious. This lead to a high speed chase that was eventually called off due to safety concerns.
Less than two hours later, police received a call concerning Elliott's welfare. The caller was worried he was suicidal.
The police welfare check on Elliott resulted in two high speed chases that ended at Altru Hospital, where Elliott's car was disabled from spike strips laid down during the chase. When a Grand Forks police officer tried to turn off his car, Elliott accelerated and rammed into a Grand Forks Sheriff's office vehicle, which in turn lead to UND police officer Jared Braaten firing at Elliott.
Recent reports from Elliott's wife say he was unarmed but law enforcement officials wouldn't comment further. Law enforcement officials also wouldn't explain why Braaten fired at Elliott.
Grand Forks Police Department told us to talk to the UND Police Department and UND told us to talk to the Bureau of Criminal Investigations, who aren't commenting on the matter. This has only fueled the public's criticism on the lack of information.
BCI is investigating the shooting as an outside agency. However, it's leaving all media inquiries to local law enforcement officials who are getting their information from the BCI investigation.
Lt. Dwight Love of the Grand Forks Police Department said he understands the public's frustration with the lack of information in the case. However, the police have a responsibility to protect the integrity of the investigation.
"I think the public needs to be patient and they need to understand that it's a complex issue involving many different jurisdictions so the coordination and the collection of evidence and facts, it just takes that much longer," Love said.
"It would be one thing if it was just GFPD handling a case and we only have to worry about GFPD. But when you have three other agencies and we are all collecting information and facts and we're coordinating with the BCI, that becomes a lot harder of a coordination issue and the release of facts then reflects that and it takes longer to get the facts or the general information out to the public."
As to whether the confusion over who was handling media inquiries and case information was reflective of disorganization in the investigation of the incident, Love demurred.
"If we looked disorganized initially, rest assured the investigation is not disorganized; but maybe the release of information may seem that way because we are trying to collect it and we're trying to decide what we can release, what would affect the investigation moving forward. And so there's a lot of moving parts that people don't see," Love said.
While the chase did go through UND campus, multiple law enforcement agencies were on the scene and officials told us UND Police weren't the lead agency in the pursuit. They also didn't reveal if the proximity of the UND police officer to the suspect led to him being involved in the shooting, or who made the call to fire on the matter if he didn't act alone. Those are some of the remaining questions on the matter.
"We're working hard to keep the public informed. It's difficult working with a third party agency just because there's so much involved in such a crucial situation that we're working very hard to get that information out to them," Weigel stated.
ND Senate Minority Leader Mac Schneider (D-Grand Forks), whose district lies just outside Altru Hospital and includes part of the area where the chase happened, believes all law enforcement entities involved including the BCI should hold a joint news conference to clear up questions and speak with a clear voice on the matter.
"When there's a shooting in the parking lot of a hospital in a major North Dakota city, the public is going to want at least some reasonable answers as to what happened. I don't think that was given right away," Schneider told HPR. "I understand these are difficult situations to comment on and respond to. But saying nothing is I think in most cases, certainly in this case, worse than saying move along here, nothing to see."
Schneider made clear that he is not second-guessing law enforcement's response to the scene but rather how they communicated about it after the fact. He argued it's time for the investigating state agency to speak on the matter whether they have anything to say or not.
"To the extent that law enforcement entities in Grand Forks are saying that BCI is charged with speaking to some of these issues," Schneider said. "I think that would be appropriate for at least some representative from BCI or the Attorney General himself to take the mic and if they can't provide the answers, just simply say this section of the code prevents us from answering those questions now ... But what you have here is a case of two-way finger-pointing and the public is left confused as to who is even supposed to answer these questions. And I am confused myself."
Schneider said he understands concerns law enforcement officials have about whether releasing information would jeopardize the investigation, but he doesn't believe that was the problem here.
"I don't think I saw that with the way these entities coordinated the communication or didn't coordinate their communications. Instead, it was talk to BCI about that, and BCI's saying talk to the local law enforcement officials about that. I understand the public is not going to get 100 percent perfect information when there is an ongoing investigation of something this serious. But the response is pretty lacking in terms of who can respond to what," Schneider remarked.
Love said he understands the public's frustration with the police response in the case, but that they are doing the best they can with multiple agencies involved in a complex case.
"I wish we could release everything right away," Love said. "We still have to go through the motions and do the right thing and collect our evidence and get it to the public. I do believe the public has a right to know if there's a public safety concern, and that's something we strive for, releasing that type of information. But we also have to make sure we don't release something that's going to affect the investigation long-term."