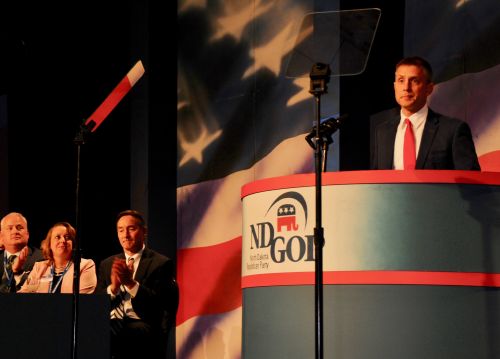 DICKINSON – Republican candidate for U.S. Congress, state Senator Kelly Michael Armstrong, quietly pleaded guilty in June to texting while driving in Stark County, according to North Dakota Court records. The traffic citation came 17 years after Armstrong was convicted of driving under the influence in Virginia.
A records search of Armstrong's criminal history revealed a 2001 administrative appeal – Kelly Michael Armstrong vs. David Sprynczynatyk, director of the North Dakota Department of Transportation – where Armstrong attempted to appeal a decision made by the North Dakota Department of Transportation to suspend his driver's license for 91 days.
Case number 08-01-C-02124 is an administrative appeal that is typically relative to a companion DUI case. In this instance, the North Dakota Department of Transportation suspended Armstrong's driving privileges for 91 days in light of a driving under the influence conviction in Virginia.
In a civil filing on August 21, 2001, Armstrong's lawyer, Ronald A. Reichert of Reichert & Herauf Armstrong Law Office, argued that the North Dakota Department of Transportation erroneously suspended Armstrong's license.
"The North Dakota Department of Transportation erred in determining that the petitioner's driving privileges be suspended because the department was incorrect in interpreting the law to require a .09 B.A.C. conviction in the State of Virginia allows the Department of Transportation to suspend driving privileges in North Dakota," Reichert wrote in the civil filing.
Nine days later, however, Armstrong's team gave up, and South Central District Judge Robert O. Wefald dismissed the appeal.
It was unclear at this time what part of Virginia the DUI took place. This is an ongoing story and will be updated. All attempts to contact Armstrong through telephone, email, and his campaign office's direct line, were not returned.
More recently on June 16, Armstrong, 41, of 513 Elks Drive, Dickinson, was cited for the use of a wireless communication device while driving, or texting while driving, according to court records. He pled guilty on June 20, and paid a $100 fine.
The infraction isn't his first recent traffic violation. On August 17, 2017 and on September 4, 2017, Armstrong received speeding tickets in Billings County and McLean County respectively, according to court records.
In McLean County, law enforcement caught Armstrong going 75 mph in a 65 mph zone on Highway 200 in his 2017 Ford Explorer, according to court records.
Armstrong
Armstrong grew up in Dickinson, where as a child he played baseball and wrestled. He attended Dickinson High School, and graduated from the University of North Dakota at approximately 24, receiving a bachelor's degree in 2001, the same year of his DUI conviction. He then went on to UND law school, graduating in 2003. He married his wife Kjersti, also a lawyer, in 2004.
In 2011 Armstrong joined his father's oil company, Armstrong Corporation, which was founded in 1975. He was elected the state Senator for District 36 in 2012, and now serves as the chairman of the Judiciary Committee, the chairman of the Justice Reinvestment Committee, and is a member of the Energy and Natural Resources Committee.
Armstrong, once a DUI defense attorney, was a prime architect of tougher DUI laws in 2013 with House Bill 1302, is currently the Republican-endorsed candidate for U.S. Congress. He is running against former state Senator Mac Schneider, an attorney.
Schneider declined to comment on Armstrong's DUI conviction or his more recent traffic violations.
Virginia DUI laws
Virginia state law prohibits all motorists from driving or operating a motor vehicle if the blood alcohol concentration, or B.A.C., is .08 percent or more. Virginia classifies a first DUI offense as a class 1 misdemeanor and imposes a fine ranging from $250 to $2,500. The law also imposes a one-year license suspension, and the punishment increases with a .15 B.A.C. or higher, which includes a mandatory five-day jail sentence, according to legal directory Driving Laws.
The legal blood-alcohol limit in North Dakota is also .08 percent.
North Dakota DUI laws
Under current laws, a DUI can cost a person more than $10,000, according to the North Dakota Department of Transportation. For the first offense, a DUI with a blood alcohol content below 0.16 earns a $500 fine, a 91-day license suspension, and a $100 driver's license reinstatement fee. On top of that, there would be attorney and court fees, and high-risk auto insurance premiums over a minimum of three years.
From 2003 until 2012, 502 people were killed in crashes involving a drunk driver in North Dakota, according to the Center for Disease Control. Since 2003 until 2008, the numbers of fatalities involving drivers with a B.A.C. of .08 or higher have escalated, according to statistics released by the Federal Bureau of Investigation on DUI-USA.
Distracted driving
According to the North Dakota Century Code, the operator of a motor vehicle that is part of traffic may not use a wireless communications device to compose, read, or send an electronic message. An electronic message is defined as a text message, an instant message, accessing the worldwide web, or any other data that uses electronic communications protocol.
Although using a cell phone while driving has been illegal since 2015, new distracted driving laws were enacted in North Dakota on August 1, 2017. In 2015, 388 drivers were cited and in 2016, 437 drivers cited for distracted driving, according to the North Dakota Department of Transportation 2018 annual report. Information was not collected between 2010 and 2014. Cell phone distraction is the leading cause for distraction crashes and is underreported as a factor in many crashes and fatalities, according to the North Dakota Department of Transportation.
Law enforcement plan to increase the number of distracted driving citations to 413.7 this year, according to the annual report.
North Dakota Department of Transportation will suspend a driver's license if the driver accumulates 12 points or more on their driving record. If a speeding ticket is 11 to 15 mph over the speed limit, one point is added. A total of six points are added for careless driving, and eight points for reckless driving, but a distracted driving citation doesn't automatically add points to a driving record unless the driver was involved in an accident at the same time, according to the North Dakota Department of Transportation.
Historically, the state has had low traffic fatalities, but since the oil boom, numbers spiked. In 2016, one person died in a traffic accident every 3.2 days, according to the North Dakota Department of Transportation.
Nationally in 2017, 37,461 people were killed on roads in the United States, a number that increased 5.6 percent from 2015, according to EndDD, End Distracted Driving.
A total of 10 percent of fatal crashes, 15 percent of injury crashes, and 14 percent of all police-reported motor vehicle traffic crashes in 2015 were distraction-related, according to the U.S. Department of Transportation. Additionally 58 percent of teenage crashes are from driver distraction, according to AAA Foundation for Traffic Safety.
In 2015 alone, 3,477 people were killed and 391,000 injured in crashes involving distracted drivers, according to the U.S. Department of Transportation. Distracted drivers also killed 551 non-occupants, which is defined as pedestrians, bicyclists, and others in 2015.
The U.S. Department of Transportation's Fatality Analysis Reporting System, or FARS, keeps statistics on fatal traffic crashes from all 50 states, Washington D.C., and Puerto Rico.
"Much attention across the country has been devoted to the dangers of using cell phones and other electronic devices while driving," the U.S. Department of Transportation said. "In 2015, there were 442 fatal crashes reported to have involved cell phone use as a distraction. For these distraction-affected crashes, the police crash report stated that the driver was talking on, listening to, or otherwise manipulating a cell phone at the time of the crash."
Although the U.S. Department of Transportation reports 24 percent of distracted drivers are between the ages of 20 and 29, Armstrong's age group of 40 to 49 is not far behind. Approximately 15 percent in his age group died in traffic accidents due to distraction.
Every year since 2011 traffic accidents in the United States have been increasing, according to the U.S. Department of Transportation. Fatal crashes have seen an increase of approximately 14 percent, or by nearly 3,000 people since 2011.
[Editor's note: this story was originally published on July 30, 2018, approximately 4:15 p.m. The story was also available in a Google search until this morning, when it mysteriously disappeared, and then issues began occurring on Facebook around the same time. We apologize for any inconvenience to our readers. At this moment, we at HPR are unsure what has happened, but promise to dig to the bottom of these issues - whether or not the investigation reveals "reputation protecting" companies, or bots that trigger automatic complaints, or any other explanation why this story has been having difficulty online.]