​Greta Thunberg at Standing Rock
News | October 9th, 2019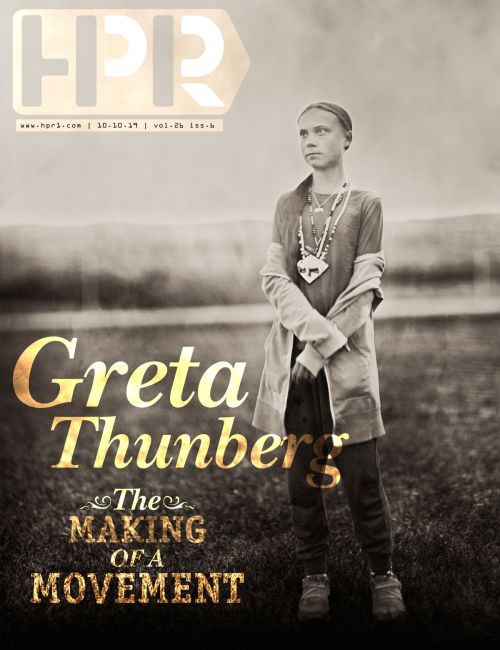 "It's good to have the youth see this because it's part of our customs and traditions. Prayer goes a long ways. The messages that they carry are very very strong. For you are the future of our tribe, future leaders of Standing Rock. A lot of tribes look up to Standing Rock for what happened, but I'll tell you what happened. We stuck up for our rights. We stood up for our rights for clean water cultural resources, you know the oil industry could be here and gone but they're going to leave devastation. The pipeline that went through--when that breaks the whole world will be looking again. This time it's going to be hard to repair. Mother Nature is getting weaker by the year. Climate change: if any of you have noticed, this year for whatever reason the eagles went back very very early south. You look at the other birds heading south, look at the choke cherries out there--you seldom see moss on the chokecherries. Mother nature is trying to tell us something. It's even confusing the wildlife to the point of their migration patterns are probably a month early. Mother Nature can only handle so much and without us helping her recover, it's going to be our grandchildren and their grandchildren who are going to suffer."
-Tribal Chairman Mike Faith
"Change is a big word and I say that to you today because you are going to be that change, it's so good to see these kind of people, like-minded people here and our leadership that's here because they are only going to set the course for you right now," Tim Mintz, Standing Rock Sioux Tribal Historic Preservation Officer, said. Mintz gestured toward the teenage Swedish environmental activist and Nobel Peace Prize nominee Greta Thunberg, and Native Youth Advocate Tokata Iron Eyes from Standing Rock, who has been speaking publicly since the age of nine. Iron Eyes was also part of the Respect Our Water campaign which was a call to action for NoDAPL. Both of these young women were seated to his left.
"Our leader, our chairman stood up and said you need to think of the ones that are coming that are behind you," Mintz said. "Think about that when you walk out of here today because that's what brought these two ladies here today."
Moments before that, upon entering the Standing Rock gym in Fort Yates, the opening of the Indigenized Climate Forum started with a protection ceremony. It was estimated that the gym was filled with over 500 students, who surrounded Thunberg and Iron Eyes along with their fathers.
The healing scent of burning sage in an abalone shell wafted through the air as Mintz blessed the room. A beating drum and raised voices pulsated through the bodies in the gym like a heartbeat. During the ceremony everyone turned to face the four corners of the room in observance of the four directions, and before it was finished a feather was tied to Iron Eyes' hair before the two young women ascended the stage.
The woman in charge of the press area said that they perform the protection ceremony because "Those who protect Mother Earth have a target on their backs."
Chief Arvol Looking Horse, Keeper of the Sacred White Buffalo Calf Pipe, opened the event with a prayer.
"The old ones tell us through our ceremonies and everyday life we walk with the spirits, and everything has a spirit, we do our ceremonies everyday year round and that's our way of life--so our prayers and our sacred language is all about the environment," Looking Horse said.
Indigenized Energy Executive Director Cody Two Bears served as the MC during the program.
"My nonprofit just kicked off here in July," Two Bears said. "Our vision is to bring more renewable energy to Standing Rock. Adaptation to renewable energy is an easy one for us because our ancestors in the past have been sustainable for years within our cultures, our ceremonies and our way of life, so it's really, really important to move back into that way of life and indigenize energy. It is going to move us in that direction to try to bring more renewables here on the reservation."
Along with being a youth advocate Tokata Iron Eyes is a board member of indigenized energy, in fact, she helped establish the solar farm outside nearby Cannon Ball.
Two Bears added, "She was one of the key players who got us there. It came from our youth, it's very inspiring and empowering to see our youths stepping up. It took two youths to get us all together in a gathering like this. It's a very very powerful thing when our youths step forward and say we want a platform to utilize our voice to speak about our issues and concerns for our future."
The common theme other than the obvious was a call to action for the youth on one hand while maintaining their reverence for tradition as well as to their elders. Thunberg urged the audience to act locally and think globally. During the program Two Bears said, "The reason we wanted to do this during school hours is because we wanted to capture our youth all in one place."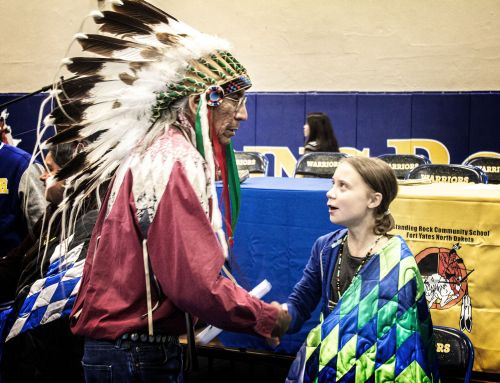 A symbolic place of resistance
In September Greta Thunberg received an invitation to speak at a UN Climate Action Summit in New York. Since then she has made it a point to travel throughout North America to spread her message. She noted that the climate crisis isn't just something that affects her home country, Sweden, it's a global epidemic, especially since the United States is one of the top culprits, releasing the most greenhouse gases on the planet. Her mission? To spread awareness--and maybe, just maybe, get the U.S. to hold itself accountable.
"I am so honored and grateful to be here to visit you in your homelands, to visit Standing Rock, this symbolic place of resistance. There was one moment that changed everything. It was a slow process. I started to educate myself about the climate and ecological climate. I just started to understand the urgency. When I understood that, I became furious because I realized that countless people are already suffering and have been for a very long time. These people are being ignored. This is going to affect every one of us in the future, myself included. It is already affecting us in many different ways. I just thought the only right thing to do was to stand back against this and to take a stand and I never regretted doing it.
"It's been very educational I must say, because you get so much experience from meeting all of these different cultures. The basic problem is the same everywhere. It is greed, ignorance, and unawareness -- and basically, nothing is being done to protect our common future. Nothing is being done to save the planet. We as teenagers shouldn't be the ones taking the responsibility, it should be those who are in power... and also it is because you here at Standing Rock, you are on the front line. You are the true warriors. You are the ones standing up for everyone else's future and I have so much respect for you and I am so grateful that you have taken this fight. Just so you know, we look up to you a lot."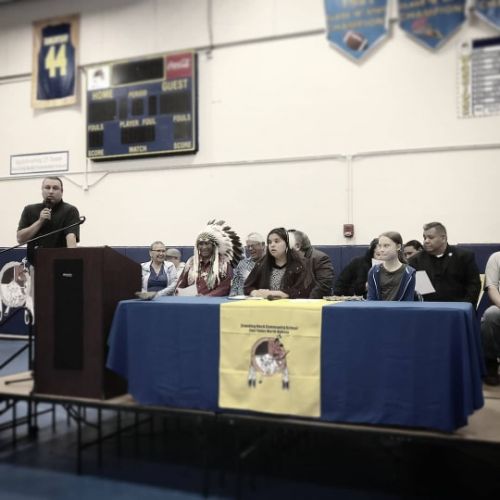 Tokata Iron Eyes never anticipated that the NoDAPL movement would grow as rapidly as it did and at the time she didn't realize how interconnected the fight was between the fossil fuel industry and indigenous communities, as well as the lingering climate crisis.
"For me it was kind of an awakening to see that the same industries that we are feeding into with our everyday choices and everyday lives, it's the same industry that is coming into our communities and destroying our ways of life and destroying our land and our waters," Iron Eyes said.
"This is the same set of corporations and systems that is causing the ecological climate crisis. Indigenous peoples are on the frontlines of all of those fights because our ways of life and our very culture depends on the balances of nature. That is a relationship recognizing that Earth and nature are a part of us -- a relative instead of something that we can exploit and own and use. For me being at Standing Rock and seeing how much community can be created and seeing the power that we all hold together--and being able to utilize that and turning it into something very physical such as the encampment which was really a positive-- and a physical example of change."
Chief Arvol Looking Horse and Jess Taken Alive gave Greta Thunberg the Lakota name meaning "Woman Who Comes From The Heavens."