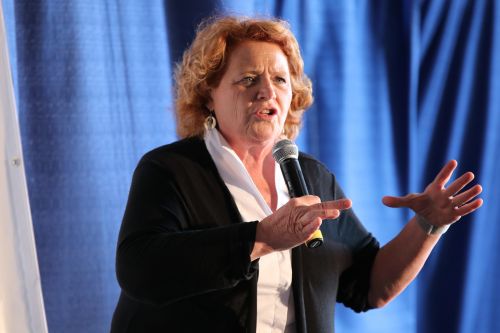 WASHINGTON, D.C. - U.S. Senator Heidi Heitkamp plans to vote against the nomination of U.S. Court of Appeals of the D.C. Circuit Judge Brett Kavanaugh to the U.S. Supreme Court.
After weeks of waiting for an answer and not answering questions pertaining to the nomination hand picked by President Donald Trump, Heitkamp gave her reasons for not giving Kavanaugh her vote for the first time in a press release.
"As I said after Judge Kavanaugh was nominated, and as I've continued to say throughout this process, I consider vetting nominees on the U.S. Supreme Court as one of the most important jobs of any U.S. senator - and I take that job very seriously," Heikamp said in a press release.
She met with Kavanaugh after his nomination, watched the hearings, and has reviewed the "nonpartisan FBI investigation," which she called for, and released her decision early Thursday afternoon.
Although she did not come out specifically stating that Dr. Christine Blasey Ford's testimony was the reason for her decision, Heitkamp spoke at length about sexual assault issues and her work to help stop violence against women, including the Violence Against Women Act.
"There has been much public debate about Thursday's hearing, and it has furthered a national discussion about stopping sexual assault that is long overdue and we must continue to have," Heitkamp said. "I have spent much of my time in public service - including as North Dakota's Attorney General - focused on combating domestic violence and protecting women and children from abuse. Our actions right now are a poignant signal to young girls and women across our country. I will continue to stand up for them.
Heitkamp said Ford's testimony took great courage at great personal cost.
"She had nothing to gain and everything to lose by coming forward with her deeply personal story," Heitkamp said. "It was clear that she was testifying not because she wanted to, but because she felt it was her civic duty.
"When I listened to Dr. Ford testify, I heard the voices of women I have known throughout my life who have similar stories of sexual assault and abuse. Countless North Dakotans and others close to me have since reached out and told me their stories of being raped or sexually assaulted - and expressed the same anguish and fear. I'm in awe of their courage, too. Some of them reported their abuse at the time, but others said nothing until now.
"Survivors should be respected for having the strength to share what happened to them - even if a generation has since passed. They still feel the scars and suffer the trauma of abuse."
Heitkamp's rival for her Senate seat, current U.S. Congressman Kevin Cramer, has belittled Ford's testimony, saying her claims were "absurd," and he justified Kavanaugh's actions approximately 30 years ago because he and his accuser were drunk and that attempted rape "never went anywhere."
Ford said Kavanaugh pinned her down on a bed, attempted to remove her clothing, and covered her mouth when she tried to scream. No new information has been released from the FBI's investigation into Ford's claims.
Two other women have also come forward claiming Kavanaugh assaulted them. Deborah Ramirez said in an interview with The New Yorker that in 1983-84 at Yale University that Kavanaugh exposed himself to her during a drinking game.
Julie Swetnick said in a statement originally posted to Twitter that she witnessed Kavanaugh's abuse, and at parties where women were verbally abused, inappropriately touched, and gang raped. Swetnick acknowledged that she was raped once during parties at Georgetown Preparatory School in the 1980s.
Kavanaugh has adamantly denied all of the women's claims. Majority Leader Mitch McConnell is planning on have a vote on Kavanaugh's nomination on Friday, October 5.
U.S. Senator John Hoeven and Cramer have both decided they will vote for Kavanaugh's nomination.
Because of the scheduled vote tomorrow, Heitkamp will be unable to return to Fargo to debate Cramer on Prairie Public television. The debate has been postponed.
Local talk show hosts and editorialists have been debating whether or not a decision by Heitkamp to vote no on the nomination will hurt her chances of being re-elected to the Senate, as North Dakota is a primarily Republican state.