​Hit me with your best shot
by Ryan Janke | .(JavaScript must be enabled to view this email address) | News | February 21st, 2019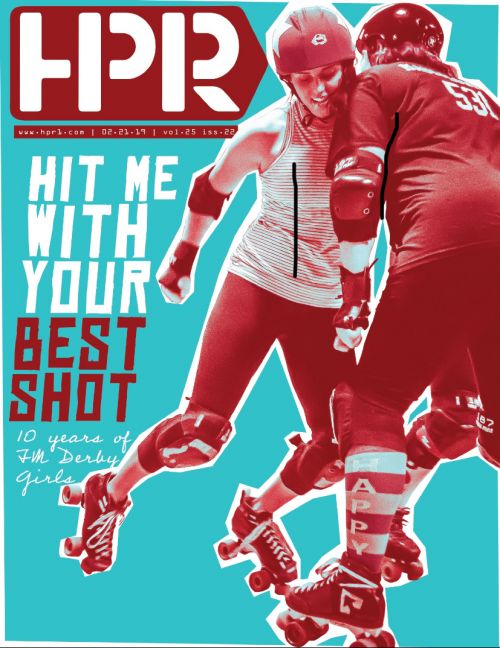 The FM Derby Girls will hold their first bout of the 2019 season on March 9 at the Fargo Civic Center. It will mark the beginning of the 10th competitive season for FMDG.
FMDG has come a long way
"In the beginning, we would draw the track with chalk on the basketball court in Island Park and play in our tennis shoes," said Athena Funk, a pioneer of the league. Funk is referred to by some as the 'godmother of the FM Derby Girls'.
"[Athena Funk] was instrumental," said Beth Ambrosio, known by FMDG fans as Maulflower. "She created our logo. There were a number of people who were there at the beginning who really helped get it off the ground. She was here for two seasons. She was the first league president."
"When I moved to Fargo from Las Vegas, I realized there wasn't a roller derby league yet in North Dakota and that needed to change," Funk said. "I was a founding member of each league I had been on prior, so I had the experience, friends, and resources to help this new league succeed."
Funk also had dedication.
"It just took a little leap of faith, a vision, supporting and encouraging each other and a lot of hard work," Funk said. "It took a few months from the time that I first met up with the ladies that wanted to start a league. They unanimously voted me in as President, I had a vision and the support to back it. I spent 40-plus hours a week in the beginning — organizing the league structure, building a board of directors and heads of committees, training everyone into their positions and also teaching everyone the rules of the game and how to play."
"I was President of FMDG for the first two seasons," she said. "After that, I ended up moving back to Las Vegas to play with my former league, The Sin City Rollergirls."
Funk said there were members who would come and go in the beginning, but credits people like Robin Dial, Lisa Anderson Nicole Guidry, and Kim Anderson as having a great impact on the league.
Ambrosio was also one of the first members of FMDG. She has been with the league since the beginning, with the exception of about a year and a half hiatus. She remembers the dedication it took to get FMDG off the ground.
"At the beginning, we could only afford one practice a week at Skate City," Ambrosio said. "At that time, it was Skateland. So, on Sunday mornings, we'd go to the basketball courts by the dike by Island Park and we'd use chalk and trace a track."
FMDG held their first bout on November 9, 2009. Back then, the season ran in the Fall and Winter instead of the Spring and Summer, as it does now. After 10 years, there have also been changes in team members.
"It started with about [8-10 skaters]," Ambrosio said. "It grew and over the years it's kind of waxed and waned."
"The early days were pretty monumental," Funk said. "We started with this small group of women. We were driven and unified. We held our first fundraiser at the Aquarium and gained enough new skaters to form a team. From that team, we were able to practice hard, buy all the gear we needed - skates, helmets, pads, everything to put on a game, which we called bouts. When we felt ready, we challenged Winnipeg to come down and play us, and they accepted.
"Once that was in place, we needed to find a venue and we wanted to be a part of the downtown community of Fargo and the Civic Center was our first choice. It took some convincing on my part with the powers that be to let roller derby into the venue, but they eventually agreed.
"On the day of our first game, I remember the small group of us in the locker room nervously getting ready. All of a sudden, someone burst into the locker room and said there was a line around the block! We sold out our first game and had to turn over 300 people away! It was amazing."
Funk says the support from the community was fantastic from the start.
"The support from the Fargo community was just amazing," Funk said. "Everyone was nuts cheering us on. When I was announced as a skater and came out to this roaring crowd, it was surreal. I remember, we came out to AC/DC's Shook Me All Night Long and The Fargo-Moorhead Derby Girls carried signs that said, 'Knockin' Em Out With Our American Thighs,' and we tore the signs in half and left them in front of Winnipeg's bench."
"The energy that the fans brought in kept us going – gave us the push that we needed and we ended up winning that first game against a league with much more experience than us," Funk said. "We also found out that we were the first event that had sold out the Civic Center in nearly 10 years. After that, I believe we sold out most if not all of our games for that first season."
With it being the FM Derby Girls' tenth season, Funk, a tattoo artist, says she wishes she could make the season opener, but she will be tattooing in Biloxi, MS that weekend.
"I wish I could be there, but I am proud of them," Funk said. "I feel awful I can't make it."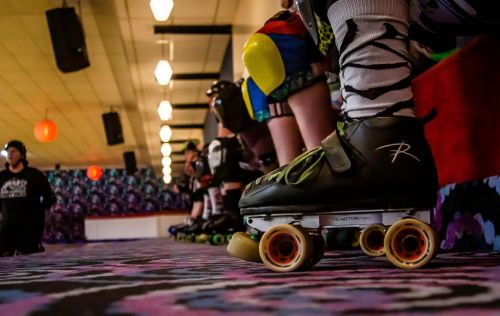 Fresh Meat
During every offseason, FMDG holds tryouts for new members – a program they call, 'Fresh Meat.' Ambrosio said there was a lot of Fresh Meat this offseason with six new members being added.
One of those new members is Jillian, who goes by the derby name of Vanilla Jice. She is a recent graduate of Fresh Meat and will be skating on March 9.
When asked how it's been so far, Jillian said, "good. A lot of fun. Lots of learning."
For someone coming into a sport like derby, one would think the skaters coming into Fresh Meat would be skilled skaters, but for many, that's not necessarily the case.
"My first time on skates was October," Jillian said. "I started right after their last bout with that Fresh Meat cycle."
"A lot of people come in with no skating experience," said Cal Cutta, FMDG assistant coach. "We teach them up."
Rylie, who plans to go by the derby name, 'Smiley McGee,' is currently working her way through Fresh Meat, and she had no experience on roller skates when she started the program either. She started the program last September.
"I saw a poster and I decided to do Fresh Meat during the winter," Rylie said. "It's a lot to learn. Especially if you haven't roller skated before! Just rollerbladed, so this is really different. I just kind of joined on a whim and it's been a lot of fun. So far, I love it."
To pass Fresh Meat, skaters must pass two tests.
"There's a written test on the handbook and the rules and then there's a physical test to make sure you know how to fall correctly, do basic feet movements – go backward, balance, and all that," Rylie said. She hopes to pass both tests and be ready to skate March 9.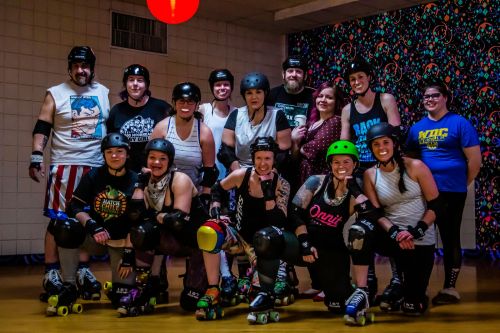 Coaching them up
"One of the things that I think really benefits us as a league is we have dedicated coaches," Ambrosio said. "A lot of thought into structuring the practices and building skills and this is a year in which we're really revisiting a lot of those basic skills. Not only for the benefit of our fresh meat and newer players, but also as vets you get to a certain point where things get a little easy and your body finds ways to cheat and so it's really good to refresh on form and really get the basics down."
Thugz is the FMDG head coach. She has been coaching the team for about four years. Cal came on shortly after Thugz. The two have different styles, but it works well.
"I make the practice plans," Thugz said. "I make the strategies…kind of run the games. Cal's the nice one. It's kind of good cop, bad cop. Cal will give them hugs and tell them they're doing great and I make them pay."
Thugz puts a lot of work into coaching on the administrative side, which gets busier as the season gets going.
"We do two practices a week," Thugz said. "That's two hours a piece. And then, at home, it usually takes me about an hour to look at drills, cultivate things, and kind of get plans ready. Then, when game time comes around, that's when things start getting a little bit more heavy on time because I have to calculate attendance, and everyone has their jerseys, just little errands."
Cal Cutta takes care of the skater management during the games.
"[Thugz is] the one that usually comes up with the strategy and everything and I'll be the one closer to the bench, shuffling the lineups around," Cal said. "If there's something specific she wants, we'll do that."
Thugz said she has a specific goal this season, and with all the new skaters, that is just, "to reintegrate the new faces," she said. "We've got a ton of new faces and a lot of retired vets, so this is like starting from scratch. So, just making sure nobody dies and everyone still likes roller derby at the end of the day."
"Last year, they were all pretty comparable as far as skill level," Cal said. "This year we've got a little bit of a disparity between the vets and the rookies, so what I'll be trying to do is keep at least one seasoned veteran on the track at all times because we'll probably have, at a minimum, one or two rookies on the track at all times. We're going to need somebody in there to be the glue to hold everything together. I love it though. I like training the newbies. [It's] really rewarding."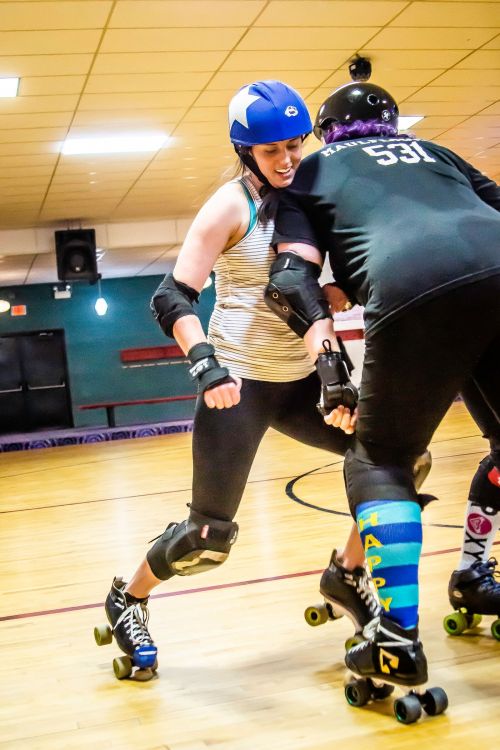 A new season
This year's roster has plenty of new members, but FMDG fans will remember some of the other names as well – Maulflower, Artachoker, Reaper, Mandie Stroyher, Sarin Dipity, The Underbreakher, Vanilla Jice, Smiley McGee, Jenni, Pete, and Riot Rita.
The girls on this squad are dedicated. If anyone has any doubts, look no further than Riot Rita. Riot showed up for practice Tuesday night – from Rapid City, South Dakota.
"I'm going to skate for two hours, and sleep, and then go home," Riot said. "I just rolled up here at eight o'clock. I used to go to Dickinson all the time, which is a little closer."
So, what drives someone to commute nearly 8 hours to practice roller derby?
"We have eight skaters (in Rapid City), so we don't have enough to bout," Riot said. "We're kind of rebuilding this season. I have bouted since I started, so Fargo was looking for skaters and they asked if I could come and I said, 'yes.' So, I'm here. This is my first time ever in Fargo."
The FM Derby Girls compete in their first bout March 9 at the Fargo Civic Center. The rest of their bouts will take place at the Southwest Youth Arena in south Fargo.
Tickets for the bouts are $12 for adults and $7 for kids six and up. Kids five and under are free.
IF YOU GO:
Fargo Moorhead Derby Girls Season 10 OpenerSaturday, March 9, 5:30 p.m.
Fargo Civic Center, 207 4th Street N., Fargo