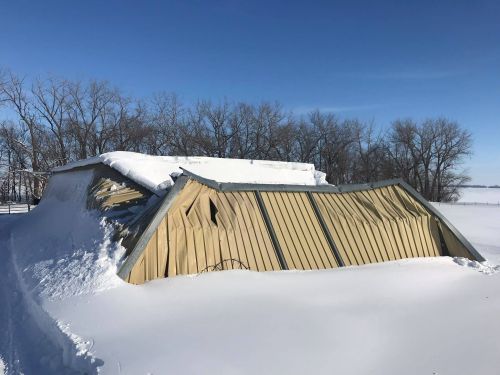 The winter is continuing its unrelenting onslaught against us here in the Red River Valley 9.1 inches fell in Fargo over the weekend and more was forecast as this story went to press.
With all the snow we are taking on, and with temperatures slowly creeping up, we decided it would be a good idea to get some advice on how to handle issues homeowners may be experiencing due to the snow and ice.
One area of concern is snow on roofs. Several buildings in the region experienced roof collapse after the snow last weekend. One was a church in Moorhead that would have been filled for a Boy Scout breakfast in the exact area of the collapse, had the weather not canceled activities.
So far, only commercial buildings have experienced roof collapse, but according to Mike Stulz, owner of Mike Stulz Construction, no roof is immune from collapse due to heavy weight.
"Roof structures are specifically designed for a certain weight and snow load, and if you start getting too much snow load up there, any roof is going to collapse," Stulz said. "It doesn't matter whether it's a house roof or a big commercial building, anytime you have more than two feet [of snow] on a roof, you need to be getting it off."
Stulz said that also includes roofs with a steeper pitch. If the snow up there is deep, it needs to go.
"Steeper roofs are better," Stulz said. "What happens there, is the snow can't stick to it as well because if it's windy it kind of blows right off, where on a flatter roof, it'll drop and stay. You're in less danger (of roof collapse), but you're still in danger. [You] should be getting it off. It's not going to slide off by itself."
The threat of roof collapse increases as the water content in the snow increases, making the snow heavier, as well.
"The earlier snow that we had was nice and light and fluffy," Stulz said. "That stuff we don't have to worry about, but this 10 inches of wet, heavy stuff that we got now on top of that – that's where all our issues are coming in."
Getting that snow off your roof can be tricky, but if done safely, homeowners can take on the task themselves.
"If you can safely do it from the ground with a roof rake, that's great," Stulz said. "If you have to go up on a ladder to do it, make sure you clean the area in front of the ladder first – if you can – because if you start scraping the snow down, you're going to take your ladder down and you're going to go down with it. Make sure you have a clear path of exit at all times. You have some of those big chunks up there if that stuff is three feet deep – or whatever – that's a lot of weight, and if you're in the wrong spot you can start slipping and you're not stopping. You're going to hit the ground before you know it. Make sure you're tied off on something, even if you have to tie yourself off to your whirly bird, or your chimney, or you tie yourself off to an antenna, just so you have a rope to grab onto. Always have a safety line, if you can."
Another issue homeowners may notice, as we get closer to spring and the angle of the sun gives it a chance to heat up surfaces – including roofs – is the formation of ice dams.
"What happens is there's not enough insulation down on the bottom where your eaves or overhang and gutters are, and you're actually getting heat loss through your roof right there," Stulz said. "The snow is melting and runs to that part – and it's hotter [there] – so at night time it starts to cool down, but the water is still running, so it keeps building and freezing in your gutter or right off your overhang. That can be a bad issue, especially in a lot of the older houses where they don't have ice and water barriers. Water can travel back uphill, believe it or not. It won't go a long way, but if you have a hole in your roof down in that lower part, you're going to get water seeping down in the inside. Then, you're going to get water damage inside your house."
If you see damming happening on your roof, Stulz said there are only a couple options for fixing the problem.
"The only thing you can really do with ice damming is have heat coils, or heat tapes, and lay them in your gutter line to melt it out that way, or there are companies around that have steamers and they'll actually come out and steam it off your roof," Stulz said. "Steam isn't going to hurt your shingles. You don't ever want to chisel, pry, or anything on ice dams because you're going to tear all your shingles up. You'll destroy your shingles trying to get the ice off it."
Speaking of ice building up at the edge of your roof, what about those big icicles that hang down? Stulz said they can be dangerous, and you are better off taking caution when removing them.
"You can take them off safely," he said. "You don't have to be above it, but at least be parallel, so when it breaks off the majority of it is below you. You can use a ladder – kind of stick it in the snowbank and lean it up there so that you're above [the icicles]. Don't hit them from down below. There's a lot of weight there. They can come down and pierce you. You wouldn't think an icicle could pierce you, but it can. If you're not wearing the proper clothing, it'll stab you and you'll get a puncture wound."
If the icicles you are seeing on your house are brown, it is a red flag that you may have bigger issues to attend to.
"That means that you have leakage in your roof somewhere else and it's traveling down," Stulz said. "That tells me that there's staining in the roof, your shingles aren't the quality they should be anymore, and you should be looking for a roof job real quick. You've got a leak there, or all the grit is worn off your shingles and you're actually down now to the felt or fiberglass down below and you're going to get that staining down off of it that way."
Besides snow and ice, Stulz said homeowners should also be aware of several other issues that can arise when we get heavy snow. He suggests checking any vents on your roof to make sure they are clear. This includes sewer, static, or bathroom vents, as well as whirly birds.
Stulz, who is a retired volunteer firefighter, has one more piece of winter maintenance advice for homeowners.
"It's not really a roof issue, but make sure you're cleaning out around your gas meters," he said. "That's more of a fire department thing. I'm retired, but it still sticks in my head."