​Hundreds injured at Backwater Bridge
by HPR Contributor | .(JavaScript must be enabled to view this email address) | News | November 21st, 2016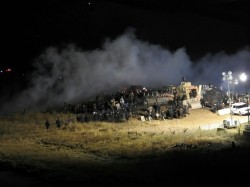 By C.S. Hagen
cshagen@hpr1.com
An all-night battle at Backwater Bridge between police and Standing Rock activists left hundreds injured, according to camp medics.
Morton County Sheriff's Department has reported it planned to remove a blockade on Highway 1806, but has done nothing for three weeks, Tara Houska, national campaigns director for Honor the Earth, said. Instead, when activists attempted to move the blockade, they were met with potentially deadly force.
"They did say they were going to remove the blockade because it's a huge public health concern that blocks the major highway going to the Standing Rock Sioux reservation, but still have not moved it," Houska said. "So the camp went up to move it, and this was their response."
Standing Rock Sioux Tribe Chairman Dave Archambault II said the blockade is unnecessary, and condemned Morton County's responses. "What water protecters wanted to do was open up that access, they started to move a vehicle that was burned off that bridge and law enforcement came with some aggression that we haven't seen before," Archambault said.
"They need to be held accountable, that's not happening in this case because it feels like law enforcement is taking orders from Dakota Access Pipeline and Energy Transfer Partners."
Law enforcement used high-powered water cannons in sub freezing weather, tear gas, pepper spray, concussion grenades--and shot rubber bullets, according to live video feeds made available by Kevin Gilbertt.
A new line of razor wire and angled hedgehogs--iron traps to impede movement--were stretched along the front line. Activists used prayer and traditional ceremonies to oppose the Dakota Access Pipeline, according to activists, but police reports say activists hurled stones and burning logs.
"These are lethal weapons now," Archambault said. "We have wounds where people got shot in the face with projectiles or whatever they're using. That is a lethal act. They're putting people's lives at risk now."
Law enforcement in padded riot gear faced the stones, burning logs, and rocks fired by slingshots, and one officer was reportedly injured after being hit in the head with a rock, according to Morton County Sheriff's Department. Approximately a dozen fires were set near Backwater Bridge and Turtle Hill, according to press releases.
Activists made fires for warmth after being hosed down with cold water, and not acts of civil disobedience, according to activists. According to Gilbert's video feed – watched by more than 2 million people – activists extinguished grass fires caused by exploding tear gas canisters and concussion grenades. A total of 20 people were taken to hospital emergency rooms, two elders were treated for injuries, more than 160 people were treated for blunt force trauma, hypothermia, and the effects of tear gas, according to Houska. One person lost consciousness and CPR was used to resuscitate the injured person.
"We found an incredibly brutalized response by police to try and clear a public road," Tara Houska said. "There are photos coming out right now of a woman who had her arm nearly blown off her body. It looks like live ammunition." Caution Graphic Content
Morton County Sheriff's Department said Monday morning that no reports "can be verified of protesters that were injured."Some activists sang "Love Will Find A Way" and danced while being hosed in sub-freezing temperatures. Others ran for the gas canisters belching smoke, and threw them to the sides. Teargas fired over the activists' line and water sprayed directly into the front of the crowd trapped hundreds on Backwater Bridge. Some involved passed out, others vomited; reports were also made public about people urinating in their clothing because of the effects of pepper spray and tear gas, according to activist reports.
"I watched them use high pressure hoses to soak the crowd in 27 degree weather," activist Evan Ulibarri said. "I also witnessed a beautiful human I had met the day before get shot in the face with a rubber bullet. Blood oozing from the gash in her face, all while she cared about helping me deal with the effect of tear gas burning my lungs and face. I saw women and children, innocent, peaceful, trapped, attacked, and hurt."
Teargas irritates the mucous membranes of the eyes, nose, mouth, and lungs. The burning effects begin about 30 seconds after inhalation, can cause difficulty breathing, chest pain, excessive saliva, and skin irritation. Many activists who were hit described the sensation as an uncontrollable release of fluids from the eyes, nose, and mouth, making one blind.
"Law enforcement is currently involved in ongoing riots on Backwater Bridge, north of the protest camp in Morton County," Morton County Sheriff's Department reported. "Protesters in mass amounts, estimated to be around 400, are on the bridge and attempting to breach the bridge to go north on Highway 1806."
Morton County Sheriff's Department reported the action was "very aggressive," and that activists engaged in organized tactical movement attempting to flank and attack law enforcement's western line. By 8:30pm, one person was arrested, which raises the total number of activists arrested to 489. "In order to keep protesters from crossing the bridge, law enforcement have utilized less-than-lethal means, including launching CS gas."
The fight began at approximately 6pm Sunday, when activists hauled the wreckage of a truck off Backwater Bridge. One burned-out vehicle, which was placed by law enforcement on Backwater Bridge on October 27, remains, according to activists.
"It's starting to cause a grave concern for everybody," Archambault said. "They're starting to use water cannons in temperatures that are below freezing. These water cannons were used, Morton County Sheriff's said, to put out fires. We have reports as well as video where the water cannons were used directly on human beings, and this is with temperatures below freezing."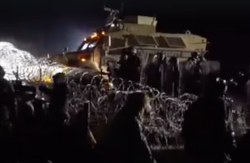 By mid morning Monday, the fight was ongoing. Neither side gained any ground. "There aren't any violent interactions going on right now, but the police are all there," Houska said.
Officials deem Backwater Bridge unsafe for travel. The Indigenous Environmental Network has condemned Morton County's inaction for not clearing Highway 1806, adding 30 minutes to travel time to and from the camps to the nearest hospital.
"North Dakota Department of Transportation has closed the Backwater Bridge due to damage caused after protesters set numerous fires on the bridge October 27," Morton County Sheriff's Department reported. "In addition, the U.S. Army Corps of Engineers has requested Morton County to prevent protesters from trespassing on USACE land north of the camp."
Archambault said reports Backwater Bridge is damaged are not true, and an excuse for law enforcement to block Highway 1806.
Since October 27, when law enforcement evacuated the northern Treaty Camp, repeated attempts have been made by activists to reach Dakota Access Pipeline's drill pad, surrounded by ditches and a 15-foot tall HESCO bastion topped with razor wire.
"The HESCO bastion is used for flood control and military fortifications. It is made of a collapsible wire mesh container and heavy duty fabric liner, and used as a temporary to semi-permanent levee or blast wall against explosions or small-arms. It has seen considerable use in Iraq and Afghanistan." -Wikipedia
The drill pad is less than a mile north of Oceti Sakowin, or the Seven Council Fires camp, and sits less than a quarter of a mile from the Missouri River. Horizontal drilling equipment has arrived, according to drone footage released by media outlet Digital Smoke Signals. A promise the company made two weeks ago that workers would begin drilling under the Missouri River at Lake Oahe has reached its deadline.
The U.S. Army Corps of Engineers has still not issued the easement needed for Dakota Access Pipeline to dig under the river. North Dakota Highway Patrol has stated that if Dakota Access Pipeline begins drilling without the proper permits, workers will be arrested, and construction will be shut down.
"I don't know if they're actually boring, but it wouldn't surprise me," Archambault said. "I do know they told the Army Corps of Engineers that they're going to start drilling whether or not they have the easement. It's very possible they are drilling right now."
The Standing Rock Medic & Healer Council called upon Morton County Sheriff's Department to "immediately stop the potentially lethal use" of force late Sunday night.
"The physicians and tribal healers with the Standing Rock Medical & Healer Council call for the immediate cessation of use of water cannons on people who are outdoors in 28F ambient weather with no means of active rewarming in these conditions. As medical professionals, we are concerned for the real risk of loss of life due to severe hypothermia under these conditions."
North Dakota Human Rights Coalition organizer Berry Nelson said he is appalled at Sunday night's violence.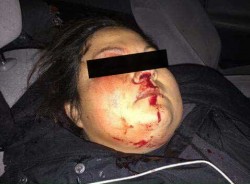 "I think from the very beginning this has been over militarized, in my opinion," Nelson said. "I just feel that the level of response for all practical purposes appeared to be peaceful protest, some civil disobedience, there's no question about that, but the level of response, the escalation has occurred up to this point almost exclusively on the authority's side."
Police are not the ones who should be held responsible for the escalation in militarization and violence at Standing Rock.
"I keep saying I don't think it's the people on the ground responsible, it's the people making decisions at the top that should be held responsible for this escalation. They also have it within their means to do something, to go down and talk this through and deescalate the situation, and they consistently refuse to do that. And that shows a lack of leadership, and it's unconscionable."
There exists one-sided discrepancies, Nelson said, in media reports, in police reports, and with state leaders.
Concerning police reports, Nelson said it wasn't only activists starting fires. "The discrepancy that I've seen in the reporting is that police were saying protesters were starting fires, and I see in the other reports that police launched flares that started the fires."
The North Dakota Human Rights Coalition is in contact with Amnesty International asking for more on-the-ground observers. Additionally, Nelson believes state legislature and leadership are ignoring native input.
One example is an "Eggs & Issues" meeting set for early December and organized by the Fargo, West Fargo, and Moorhead Chamber of Commerce, when Lieutenant Governor Drew Wrigley, Public Service Commission Chairman Julie Fedorchak, and Cass County Sheriff Paul Laney plan to discuss the Dakota Access Pipeline.
"They have no native representation on that panel," Nelson said. "We've called on them to reconsider how they're presenting this issue to business leaders here in the community. We've heard nothing in response to that. They're having Drew Wrigley, Julie Fedorchak, and Paul Laney present the whole story.
"I think it's indicative 500 years of history, there isn't more – well, there is growing national outrage, but it really hasn't gotten legs until recently as well – it's just really indicative of how we've treated indigenous people since the beginning."
Chamber President and CEO Craig Whitney said the Chamber meeting is for informational purposes only, and that the Chamber long ago publicized its position for supporting pipelines.
"We're still working on this, I think this is kind of taken a bizarre turn or twist, because this was never an event for a discussion on talking about whether or not we should have a pipeline or should not have a pipeline," Whitney said. "It's a discussion to let people know, from the lieutenant governor and the state's point what really is going on out there.
"People have kind of twisted this to say that somebody should have a native present to debate if we should have a pipeline or not." The meeting is not to arrange policy, but to inform the public about "what is really going on" at Standing Rock.
The monthly event is set for Tuesday, December 6 at 7:30 a.m., and is sponsored by companies such as Wells Fargo, Sanford Health, Xcel Energy, Cornerstone Bank, Bremer Bank, and costs $30 in advance, and $45 at the door.