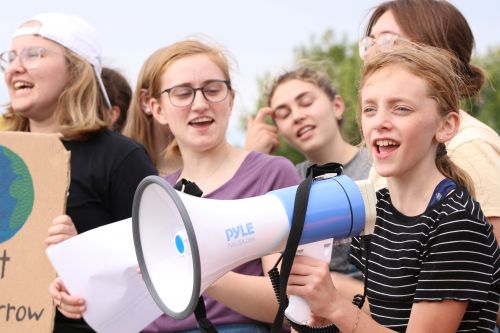 FARGO – Millions of people, young and old, joined a worldwide climate strike Friday to demand their governments end the age of fossil fuels, and Fargo was no exception.
By noon, nearly 200 people waving signs and chanting slogans showed up at City Hall with the event, organized by the Red River Valley Democratic Socialists of America, to City Hall, and voiced their concerns about the inability of government to properly address climate change. Their plan: disrupt business as usual to bring pressure on the city to begin change now.
In Germany, more than 1.4 million people marched the streets in Berlin. Millions more people in Puerto Rico, Greece, London, Paris, cities in Africa, India, Australia, and the Ukraine also held rallies. While the current Presidential Administration continues to deny scientific studies pertaining to climate change and global warming, many people inspired by Swedish teenager Greta Thurnberg's mission to challenge students to stand up for the earth, are now demanding their governments begin change.
When Penelope Echola, 10, first stood by her father and event organizer Zac Echola's side, she seemed shy, but as the crowd before her answered her chants, she grew bolder.
"When I say climate you say justice," Penelope said. She skipped school to join the protest, she said.
"I'm here to protest because one day, if I do have kids, then I want them to have a good life," Penelope said after she took a break from the megaphone. "Humans are the most destructive things on earth."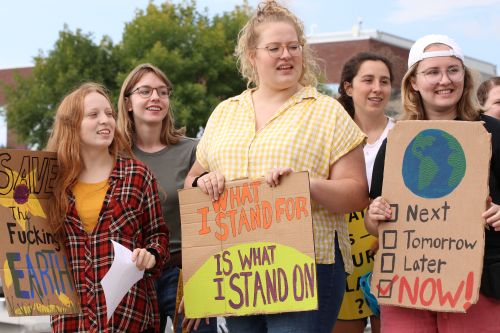 She's already limiting her plastic and tinfoil usage, she said. If needed, she's ready to give up all her electronics.
Ben Franklin and Carl Ben Eielson middle schools also had students preparing for a climate change strike, AnnMarie Campbell, the director for Fargo Public Schools, said.
"We, of course, support students stepping up and voicing their opinions," Campbell said.
Ben Franklin Principal Shane Martin said he supported students in any effort related to climate change as long the activities did not interfere with school in negative ways.
"Our school is listed as an event site," Martin said, referring to the worldwide database of events for climate change strikes. "I want our kids to be environmentally sensitive, but we have a school to run. I really appreciate the kids's proactive behavior."
All of the organizers that approached him were female, Martin said.
"There has to be a balance though against all the worthy causes out there," Martin said. "There are a lot of things this generation may be fixing."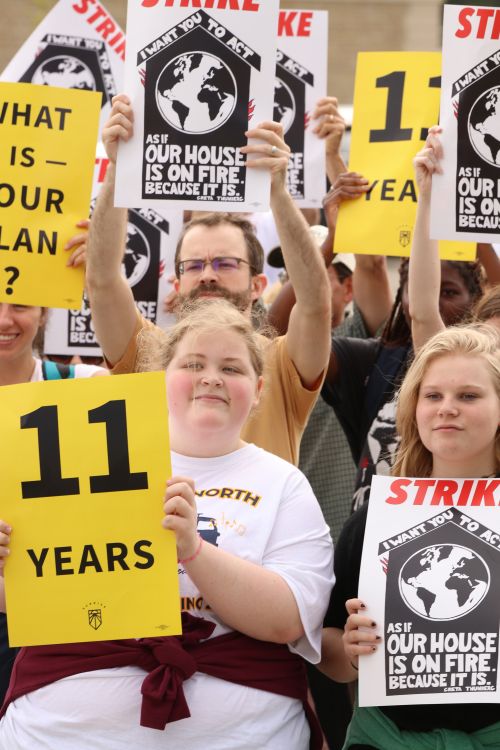 Moorhead resident Donna Clark wore a 40-year-old T-shirt that read: "Good planets are hard to find." She came to the protest for the children, she said.
"Hearing Greta Thurnberg talk, and her deep feelings and depression, my heart just went out to her," Clark said. "Forty years ago we were wrong then, we have known things were wrong and we're still going down a path of destruction. We are just wasting, wasting time."
Next to her stood father and son Tim and Matt Kloberdanz.
"I'm here for our Mother Earth and it really pleases me to see so many young people involved," Tim said.
He grew up speaking German, and even as a young child he heard the German words for Mother Earth frequently, he said.
"You have to be good to the earth or things will not go well for you in this life or the next generations," Tim said.
"Global climate actions like this empowers the people to show politicians and industries that people are demanding action to reverse global climate change," Jamaal Abegaz, an event organizer and a member of the Red River Valley Democratic Socialists of America, said.
"Getting communities together and getting people talking will help change their governments," Abegaz said.
With oil and gas still an almost necessary staple for modern life, there are ways people can begin to minimize their carbon footprints, Abegaz said.
"Buy locally. Are you driving around in a large car by yourself? Do we all need trucks? Being conscious about traveling and flying, which people in the Midwest pretty much are. All of this requires a shift in thinking, more than industry acting we need our governments involved to make this change."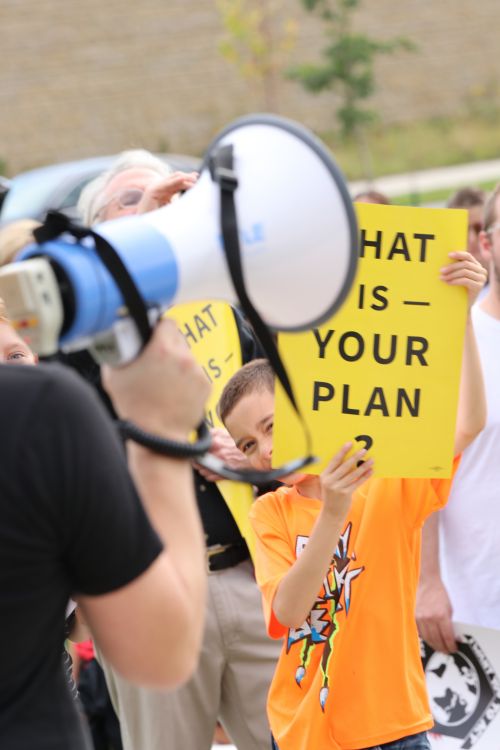 In North Dakota, "massive conflicts of interest" with politicians tied financially to oil production keep the state behind the rest of the world in the fight against climate change, Abegaz said.
"If you aren't concerned or aren't an activist now, wait until you lose your livelihood,' Abegaz said. "You can make money in a green economy."
Barry Nelson, of the North Dakota Human Rights Coalition, brought his grandchildren to the protest. He remembered attending Earth Day in the 1970s in Fargo.
"It was a lifetime ago and now we're worse off," Nelson said. "But we've got young people now who are stepping up. I have hope."