​Immigration Myths
by HPR Contributor | .(JavaScript must be enabled to view this email address) | News | May 15th, 2019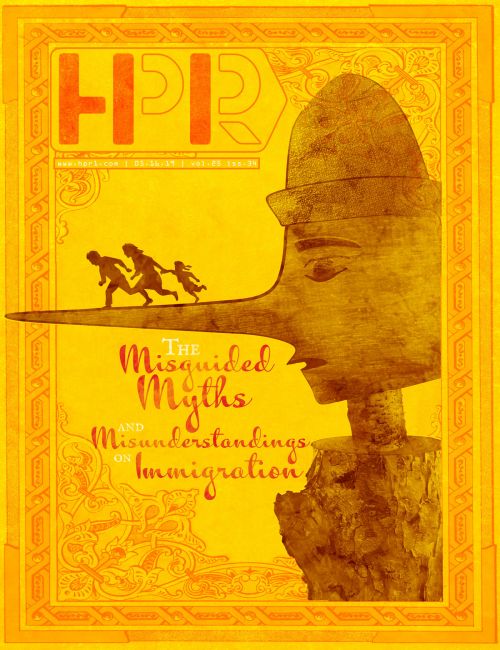 By Eric Sustad
At the forefront of today's political debate, immigration law and policy are perhaps the most misunderstood of today's hot-button issues. With both advocates for immigrants and proponents of tighter controls on immigration talking past each other and disagreeing on even basic facts, the debate has both sides operating from misconceptions and false assumptions.
This split is evident from the terminology used to discuss the issue. "Illegal immigrant" is not a term used by immigration professionals, or defined by law. Neither ICE officers and attorneys — charged with deportation, immigration judges, nor immigration attorneys use the term. Foreign nationals without a valid visa, whether theirs expired or they never had one at all, are considered "out of status." Policy distinguishes between these two groups with the former referred to as "overstays," and the latter as "entered without inspection." For the past seven years, the number of visa overstays arriving by air has outnumbered those entering without inspection by two to one. Today's "illegal immigrant" is just as likely to be an Irish bartender in Boston who overstayed as a Panamanian landscaper who snuck across the southern border.
The Myth of "Anchor Babies"
Perhaps the most common misconception about immigration is that foreign nationals who have children in the US are entitled to stay. Individuals born in the US are automatically citizens under the 14th Amendment. This is settled constitutional law, and a principle that applies in nearly every country in the Americas. The United States, like other countries with a history of immigration, was not founded as an ethnic nation-state, since there is no such thing as United States ethnicity.
However, minor children, born in the US and hence US citizens, are not entitled to petition for relatives to reside in the US, and there is no automatic transfer of citizenship from a child to a parent without immigration status. Barring "exceptional and extremely unusual hardship to the alien's [US citizen] spouse, parent, or child," resulting from a parent's deportation, a parent without status has no recourse. In practice, this hardship standard is nearly impossible to satisfy.
At age 21, a US-citizen child may petition for permanent residency (green card) for a parent. However, in nearly all cases, the parent without immigration status must first leave the US for ten years before becoming eligible for re-admission, applying for a green card at a US embassy abroad. Assuming, for the sake of argument, instantaneous processing time and immediate visa availability, it will take 31 years for a US-born child to become a legitimate 'anchor' for a parent who is a foreign national.
Is Undocumented Immigration Criminal?
It is not a crime to be present in the United States without a valid visa, and immigration court is not a criminal court. It is a separate, administrative court system, operating under the Department of Justice. Because immigration court is not a criminal forum, aliens who find themselves in removal (deportation) proceedings are not guaranteed an attorney, or other due-process rights that defendants in criminal proceedings have. Aliens in removal proceedings are called "respondents" rather than "defendants," and face attorneys from Immigration and Customs Enforcement ("ICE"), who seek to deport the individual. Even though foreign nationals in removal proceedings have not been charged with any crime, they often face lengthy detention in the general population of county jails, since ICE has contracts with many counties to detain those accused of immigration violations.
An indigent defendant in North Dakota facing a misdemeanor criminal charge with the possibility of a few days in jail, such as minor in possession of alcohol or public urination, is guaranteed a public defender. An immigrant who owns property in the US, has raised a family of US citizens, and established ties to the local community has no such right when facing deportation. Immigration courts face an extreme backlog of cases, and unrepresented immigrants are often pressured to accept a time-saving measure known as "voluntary departure," or self-deportation.
"Get In Line"
Proponents of stricter immigration controls often argue that undocumented immigrants have cut in line, depriving other immigrants of benefits. The fact is that for most would-be migrants to the US, there simply is no line. To be issued a simple tourist (B-2) visa, an individual who is not from a country on the Visa Waiver Program (developed countries, mostly in Western Europe) must pay a nonrefundable fee of $160, and attend an interview at a US consulate abroad. Even for a tourist visa, the burden is on the applicant to demonstrate ties to their home country, and that they not have immigrant intent. Individuals without a university degree and employer willing to sponsor a green card or an immediate relative - such as a spouse - who is a US citizen, have no realistic path to a green card. It isn't a matter of waiting in line; there is no path to a green card or even tourist visa for the vast majority of the world's population who lack university degrees and property at home.
Immigrants Steal Jobs from US Workers
The US in general, and North Dakota in particular, are suffering from a labor shortage, particularly for low-skilled and entry-level positions. The supply of nonimmigrant work visas (primarily H-1B and H-2B visas) is grossly low compared to the demand for migrant labor. Law authorizes a total of 85,000 H-1B (specialty occupation) visas each year, for individuals with at least a four-year university degree; and 66,000 H-2B visas (seasonal workers) every year. For 2020, the Department of Homeland Security received 201,011 applications for H-1B visas in the first week of filing, meaning employers had a less-than-even chance of being able to hire a specialty worker. Many H-1B applications are for individuals who have worked with authorization at a company while on a student (F-1) visa, and have specialized knowledge of the firm's processes and culture. This lack of predictability hinders hiring planning for industries dependent on foreign skilled workers, such as the tech sector.
The Federal Reserve considers functional full employment to be an unemployment rate between 4 and 5 percent. As of March 2019, the unemployment rate in the US is 3.6 percent; in North Dakota, it is 2.3 percent. One only need to walk around downtown Fargo to see restaurants limiting hours of operation for want of employees. Even President Trump, despite his anti-immigrant rhetoric, petitioned for 78 H-2B visas for foreign workers at his Mar-a-Lago Club for the 2018-2019 winter season, citing a lack of available applicants.
The Myth of 'Open Borders'
Proponents of stricter controls on immigration often argue against 'open borders,' and the abolition of all immigration controls, falsely attributing such positions to immigrant advocates. In reality, the United States has never had a policy of open borders — at least not in modern times. Even before the Johnson-Reed Act of 1924, which sharply limited immigration, Congress passed laws placing broad restrictions on immigration.
Today, in the buildup to the 2020 presidential election, no mainstream candidate for president or politician supports 'open borders.' President Trump, when arguing for his proposed wall along the US-Mexico border, has claimed opponents of the wall favor unchecked immigration. Not even left-leaning advocates for immigrants, such as Congresswomen Alexandria Ocasio-Cortez and Rashida Tlaib, or presidential candidate Bernie Sanders, argue in favor of open immigration or open borders.
On April 7, 2019, Sanders went on the record on the issue at a campaign event in Iowa: "If your point is, open the borders [ … ] Can't do it. So that is not my position."
Myth: Immigrants Don't Pay Taxes
In truth, many undocumented workers pay Social Security payroll taxes but are ineligible for any Social Security benefits. The Social Security Administration estimates that undocumented immigrants pay $12 billion more into Social Security than they claim in benefits each year. With Baby Boomers retiring in massive numbers, undocumented workers are an important source of funds for an increasingly strained Social Security system. According to a study by the Center for American Progress, if undocumented immigrants gained a legal route to citizenship, the Social Security Administration would see a net gain of $606.4 billion over the coming 36 years, enough to support 2.4 million US retirees.
While people disagree on the humanity, or lack thereof, in our present immigration policies, few would disagree that the system is broken. However, partisans on either side of the issue have sunk to denying even basic facts to each other. As longtime US Senator Daniel Patrick Moynihan put it, "Everyone is entitled to his own opinion, but not his own facts." If everyone operated from the same factual base on the immigration issue, we could move beyond the current dysfunction, where the only real winners are immigration lawyers.