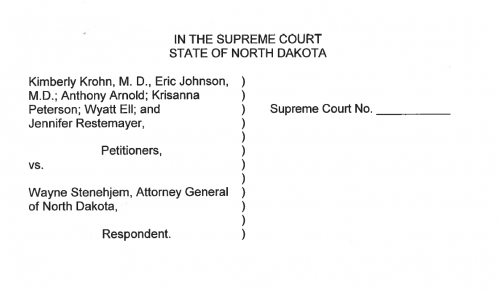 BISMARCK – The sudden postponement of a hearing questioning the state joining a federal lawsuit against the Affordable Care Act appears to be a partisan move to benefit Republicans and has prompted an appeal to the North Dakota Supreme Court for assistance.
Burleigh County District Court Judge James S. Hill postponed a hearing based on the legality behind North Dakota's Attorney General joining the state to the Northern District of Texas federal lawsuit against the United States of America. The hearing, filed by Bismarck attorney Tom Dickson and five petitioners, two of whom are doctors, was originally set for October 29, 2018 and was moved without warning to after Election Day, on November 26, 2018.
Dickson's petition to the District Court was originally filed on September 24, and he was waiting on a response from North Dakota Attorney General Wayne Stenehjem who replied nearly a month later on October 17.
While the case has been heard and a decision in the Texas federal lawsuit could be made at any time, the postponement further threatens the rights to redress by the petitioners, Dickson said. The hearing could come too late.
"Petitioners commenced an action in mandamus in South Central District Court… but have been denied access to the court through a bureaucratic sleight of hand that is inexplicable and also inappropriate," Dickson wrote in an amended request for expedited hearing.
"It is important to the integrity of our judicial system that it remain free from the base political impulses which have infected the other two branches of government."
Dickson petitioned the North Dakota Supreme Court to correct the "improper actions" of the South Central District Court.
Determination of Texas vs. United States, in which a total of 20 states joined, is imminent, and currently awaiting Judge Reed O'Connor's decision. Court records filed by Texas allege that since President Donald Trump's Tax Cuts and Jobs Act eliminated penalties for not obtaining health insurance coverage, the entire law is unconstitutional. Court records also show that the lead attorney who spearheaded the federal lawsuit, Austin Robert Nimocks, withdrew from counsel on September 20.
Nimocks is a radically conservative lawyer against women's rights, who supports the criminalization of homosexuality, supports enforcement of "immigration laws," and has frequently defended big corporate interests in Texas. He has also spoken repeatedly at Alliance Defending Freedom functions attack gay marriage legislation, claiming that the "homosexual agenda" will destroy Christianity and society.
"I think it's a very extreme office, and for Stenehjem to throw in with that crowd is a disgrace," U.S. Representative Earl Pomeroy said. For months, Pomeroy has been campaigning to protect what is working with the Affordable Care Act and fixing what isn't.
Since 2014 after the Affordable Care Act passed, Stenehjem has repeatedly affirmed the healthcare law is in compliance with the North Dakota Century Code. His only reasoning to join the federal lawsuit came in his reply to Dickson's request for a hearing in which he stated that since Congress eliminated penalties for not obtaining health insurance coverage, the law lost its teeth.

When contacted, Judge James Hill said he has no comment. Hill worked as a special assistant Attorney General for five years and has been the North Dakota delegate to the American Bar Association for many years. In August 2014, he was appointed by Republican former Governor Jack Dalrymple to the District Court, and was elected in 2016 to a six-year term.
If the federal lawsuit is successful, the Affordable Care Act will be declared unconstitutional. Approximately 320,000 North Dakotans with pre-existing conditions will be in danger of losing their health insurance policies. Coverage for 47,000 others in the state will be lost, and everyone will see a hike in insurance premiums.
"The elimination or loss of the coverage available to my patients under the Affordable Care Act would reduce the quality of health care in North Dakota, it would reduce the quality of health care to my patients; and it would harm my ability to provide medically necessary health care to my patients," Kimberly Krohn, one of the petitioners, also a doctor in Minot, said in her affidavit.
Another doctor, Eric Johnson, from Grand Forks, has a preexisting condition, he said in his affidavit, and that since the Affordable Care Act became law, many of his patients found health insurance coverage not previously available.
Citing a report made public by the Kaiser Family Foundation, a nonprofit organization believed reputable by the United States Department of Health and Human Services, thousands will be negatively impacted if health insurance coverage is eliminated. Pre-existing conditions such as asthma, pregnancy, diabetes, cancer, heart disease, alcohol and drug disorders, cerebral palsy, epilepsy, muscular dystrophy, depression, eating disorders, and bipolar disorders will no longer fall under the mandate of coverage.
Wyatt Ell, a 20-year-old petitioner from Bismarck, is under his father's health insurance plan, and said he would not have had insurance if the Affordable Care Act had not become law.
Both Dickson and Sarah Vogel, an attorney formerly with the North Dakota Attorney General's Office and former North Dakota Agricultural Commissioner, filed complaints for injunctive relief saying that the state's participation in the Texas federal lawsuit is illegal, and demanded that the District Court order Stenehjem to withdraw from the lawsuit, to not appoint any other counsel unless properly verified, and to pay for all court costs.
Out of 250 lawyers appointed by the Attorney General to serve as special assistant attorneys general for North Dakota, the names of the two lawyers, Nimocks, who withdrew from the case, and a second Texas Assistant Attorney General Darren McCarty, are not on the list. The list includes attorneys from Germany to California and North Dakota.
"Many states are represented by attorneys that have applied for and been allowed to appear," Vogel said in court documents. "Wayne Stenehjem has neither applied to appear pro hac vice nor has he been admitted to the Northern District of Texas."
In Stenehjem's reply to Dickson's writ of mandamus, which is a rarely used and extraordinary attempt to order an official to do or not to do something, he said joining the lawsuit fell under his statutory duties. The North Dakota Century Code, however, specifically "prohibits any person from acting as legal counsel for any matter, action, or proceeding in which the State of North Dakota is a party except upon written appointment."
Obtaining the proper status in Texas to represent North Dakota is not complicated, David Thompson, a Grand Forks attorney who is running against Stenehjem for North Dakota Attorney General, said.
"If someone has to represent the state of North Dakota they have to be the Attorney General himself, or a special assistant attorney general, who is a specially designated private attorney, or one of Stenehjem's full time assistant attorneys general, but any one of those would have to appear in the case in Texas," Thompson said. "They would have to be admitted by the U.S. District Court for the Northern District of Texas which is a simple process."
In Stenehjem's response, he further states that he will represent North Dakota in Texas, but his signature does not appear anywhere on court documents as the authorized representative except his typed name on Nimock's withdrawal affirmation letter.
"Any day now the Texas federal court will enter a decision in which the Texas federal court improperly assumes that North Dakota is a legitimate party in that ACA lawsuit, Texas vs. United States," Thompson said. "Given the fact that there could be a decision on any day, the matter is in the judge's chamber for a decision. That's why it needs to be acted upon immediately."
The North Dakota Attorney General's office has repeatedly refused to comment on any aspect of the federal lawsuit except to say all questions are referred to Texas.
A recent survey of 967 registered voters in North Dakota and performed by Change Research discovered that 60 percent of North Dakotans voted for Trump, and 54 percent want to keep what works with the Affordable Care Act and fix what doesn't work. A total of 52 percent of those surveyed also stated that healthcare issues are the deciding factor on who to vote for in the U.S. Senate race between U.S. Senator Heidi Heitkamp and current Congressman Kevin Cramer.
Stenehjem is also supported by the Republican Attorneys General Association, or RAGA, and was discovered at a lavish retreat in South Carolina where corporate lobbyists paid the association up to $125,000 per opportunity to meet attorneys general from nine states.
Some of the companies that donated to RAGA in 2016 include: AT&T with $210,712, Verizon with $75,400, and Sprint with $46,645, according to Open Secrets Center for Responsive Politics. Information for 2018 had not yet been released.
During 2016, RAGA invested heavily – a total of $15,363,908 – in unspecified media buys, paid more than $4.5 million out in salaries, and gave more than $4.6 million in contributions to local and state candidates, and to committees.
Reported so far in 2018 the RAGA Action Fund donated $10,000 to the Friends of Wayne Stenehjem, according to Open Secrets Center for Responsive Politics.
"RAGA has been the moving force behind the federal court action in Texas, which seeks to remove health insurance coverage protection for those vulnerable Americans who suffer from pre-existing medical conditions and who will be without access to proper health care if this Stenehjem-joined federal court lawsuit is 'successful,'" Thompson said in a press release.