​Insult To Injury: The Death Of John Torres
by HPR Contributor | .(JavaScript must be enabled to view this email address) | News | May 4th, 2016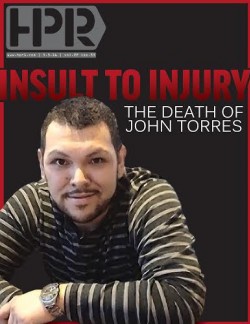 By Cindy Gomez-Schempp
Four painful months have passed since December 25, the day when John Torres, a Mexican-American man was jumped by a group of white males in Crookston, Minn., outside Captain Crook's Bar. John was there with family to celebrate Christmas, but he was later attacked outside the bar and needed to be rushed to Altru hospital with a fractured skull and bleeding from his ear.
His widow, Rita Saenz and their four children John Henry Jr 15, Brandon 13, Jennifer 10 and little Samantha age 6 say the holidays season will never be the same again. Theirs was a very tightly knit Mexican family; they did everything together.
Saenz says she cannot stop replaying that night in her head: the way John told her he had been jumped, the bleeding coming from his ear, her screaming for help in determining who the assailants were, seeing the group of four men who were involved standing outside, rushing her husband to the emergency room. Telling this story has not been easy for Rita but she continues to do it because she wants justice for John Torres.
Rita, who had spent 16 years with Torres, recalled how John cried on the way to the hospital, sensing something was terribly wrong with his head, "I don't want to die. I don't want to die. I love you. Tell the children I love them", he repeated over and over to her.
"You're not going to die John", she said trying to comfort him. Unfortunately, John's fractured skull and swelling brain did not improve with surgery and he died on the first day of the New Year from the injuries inflicted on him in Crookston.
Four months later, Rita shared her painful story with KPPP-LP radio (listen to the podcast here: http://bit.ly/1Njgz0k ). After months of demanding justice, finally someone would be charged. Brock Dale Strommen was indicted via grand jury on first-degree manslaughter, fifth-degree assault and disorderly conduct charges. If found guilty, Strommen could face up to 15 years in prison and/or a $30,000 fine.
Rita feels the charges are a miscarriage of justice. She wept bitterly on the phone as she retold what it was like to wait for month after month while no one was charged.
"He's white and he comes from a rich family" Saenz recounted. "To add insult to injury he was bragging at work that he had beaten John, up until he heard John died from his injuries. Then he shut up about it". On social media, Saenz and her children had to endure the daily commentary from people who knew Strommen and his history and felt he would get off easily.
Rita screen captured one of the Facebook comments about Strommen's alleged bragging, which she shared with KPPP-LP radio during an interview.
"Why didn't they ever arrest him!?", Rita asked rhetorically during our interview. "My husband is dead! My children no longer have a father! My six-year-old daughter draws disturbing photos of her father dead, bleeding from the head. He is crying and saying he loves his children. Meanwhile, four white men watch John dying with smiles on their faces. She is only six and she already knows these white men killed her father and that they aren't being punished."
Brock Strommen, age 28, was never arrested, never put in handcuffs and is currently out walking around free having posted only a $10,000 bond. No other charges have been brought against any of the three remaining individuals. Rita says that she feels this is only occurring because of Brock's white privilege. "If a group of Mexicans had jumped and killed a white man, this would never have happened. You know those Mexicans would all be in jail".
When Rita called to complain she was told by authorities that there was no need to arrest the suspect, Brock Strommen, because they did not feel he posed a threat and had been cooperative. It seems Rita's statement is corroborated by interviews with the press where Crookston Police Chief Paul Biermaier states that Brock Strommen had been interviewed and was cooperating with law enforcement, all of which occurred without anyone being arrested. Strommen is scheduled to be back in court on May 10.
John was buried on Jan 8, his birthday. That was the same day Rita found out Brock Strommen had left the state of Minnesota. Posts on social media indicated that he had cleaned out his bank accounts and was leaving the state. Rita didn't immediately screenshot the posts and was later unable to find them.
Angry and concerned, she contacted authorities to alert them Brock had left the state, sure that he was committing some violation. But authorities told her that they already knew Strommen was gone. And, they let Rita know they had no concerns that he was a flight risk nor did they feel he had committed any violation in leaving the state. Rita was left inconsolable.
The responses from authorities to John Torres' killing have been very painful for Rita and for many Mexican-Americans in the area who feel there is definitely a racist double standard in the handling of crimes against people of color. KPPP-LP radio received numerous comments and questions following the airing of the interview with Rita Saenz.
Most of the comments emphasized a need for authorities to charge all individuals involved, not just one. They also asked about discrepancies in procedures, which they feel are indicative of a desire on the part of authorities to 'sweep this under the rug.'
One of the public comments posted to the radio station's website asked:
"Why is a grand jury making the decisions on what if any charges are brought against these criminals? Is it to take the heat off the prosecutors? Minnesota seems much different than North Dakota. Why wasn't there other agencies involved like BCI or the FBI, especially considering the initial assault happened in one state and he [John Torres] passed away from his injuries in another state, North Dakota?"
Without answers, the community and Rita and her family continue to grieve. She has struggled to get responses about the investigation into her husband's death. "I haven't even been allowed to see the autopsy report," she lamented. But Rita is committed to fight for her deceased love, John, and for her four kids. She said she would never stop because her husband is in the ground and can no longer defend his rights, so she has to. "He was everything to me," she added.
Calls for a response to allegations made by Rita Saenz in this story were responded to by Chief Paul Biermaier saying, "At this time there will be no comments regarding this case as it continues to be an active investigation."
A request for information about the status of criminal charges pending against Brock Strommen, as reported in various local news outlets, was responded to by attorney Kerry Rosenquist, partner with Joel Arnason of the Rosenquist & Arnason law firm, who confirmed that he and Joel are both working on representing Brock Strommen but stated they do not make any comment on any ongoing investigation.
For now, Rita continues to wait for answers, and for justice.
Saenz says she tries to keep discussions about John's death and the details of the criminal investigation from reaching the two youngest girls because they are still too young to understand. She and her children are involved in therapy to help them with their trauma and PTSD.
However, the two older boys follow everything happening in their father's case and hope to see the men who killed their father brought to justice. A gofundme has been set up to raise money for John's widow Rita Saenz, and their four kids here: https://www.gofundme.com/6ugynfjw