​Is bike theft on the rise in Fargo?
by Chris Hennen | .(JavaScript must be enabled to view this email address) | News | August 19th, 2015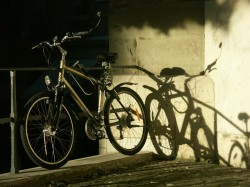 Tips for preventing bike theft
Not a week goes by where you don't hear or see someone on social media complaining that their bike got stolen in the Fargo area. Because of this, we sought to find out if this summer is worse than years past for bike thefts and why.
While it may seem like there's more thefts happening locally, the Fargo Police Department say it's no more than on average.
"We're pretty consistent or pretty steady with what we've seen in the past. We haven't seen a tremendous increase," Lt. Mike Mitchell of the Fargo Police Department told HPR.
Joe Curry is founding collective member of the FM Community Bicycle Workshop, which pairs up bicyclists with recycled bikes and has been around for eight years. He says since the FMCBW has started, he definitely has noticed a spike in the targeted bike thefts.
"During my time in the beginning, bike theft was something that I heard about every once in a while -- but more of the targeted bike theft, which seems to be where people are scouting bikes out, maybe bikes that they see over and over and they know that that bike will be there and those locks are getting clipped," Curry said. "That seems to be more and more common over the past few years."
Curry didn't think this summer was any more extreme than recent years but had definitely noticed a trend in the last few years albeit anecdotally. Curry thinks perhaps some of those bikes are being shipped out of town and sold where they won't be recognized. He himself has had two bikes stolen in recent years, one of which was a very unique looking bike that never turned up. It lead him to believe it wasn't sold or discarded anywhere nearby because his friends would have recognized it.
Another reason we may be more aware of bike thefts is perhaps laziness by bike owners just not locking their bikes properly or hanging them over the bike for appearances but not actually using the lock.
"The best remedy is to make sure they are locked and secured," Lt. Mitchell said. "Often times we see people with bicycles that will park those and have a lock literally wrapped around the frame or the seat and don't lock their bike to something secure. So the first thing for preventing a bicycle theft or any type of theft is kind of that lock or lose it strategy that we've always kind of employed where people have to take that next step or that brief period of time to make sure that thing is locked."
Mitchell also said it's important for people to remember to record the serial number of their bikes or have them licensed to make recovery easier in case it is stolen. Often times, they will encounter people who don't do that or also even fail to report that the bike was stolen. But every year they recover thousands of bikes and if you never report yours stolen or can't easily say if it's yours, it becomes impossible for it to be given back to you once recovered.
Curry, as an active bike enthusiast in the region, has plenty of tips for riders to prevent theft.
"I think as cyclists we can't blame the victims," he said. "The people that are having the property stolen but there's definitely plenty of things that as property owners that we can do to protect that property and one of them is I always try to have eye contact or know where my bike is at all times or like if I go to a coffee shop and I'm stupid enough to not lock it, my eyes are on it while I am there. So if I see someone coming up to it, I am going to run and grab it as fast as I can.
"Second, it's important to lock a bike properly, you shouldn't be locking it to the handlebars or locking it to rack that's on the bike. There should be two points of contact on the rack and it should be locked down tight with a decent lock.
"Third, if we're as cyclists or property owners going to be leaving that bike out for multiple nights in a row, we probably shouldn't be leaving it outside in public, it should probably brought into a more secure place."
Cheap locks are not the only problem. Lt. Mitchell thinks that a lot of times, it's just a matter of having any type of lock on your bicycle and it may not get stolen.
"Most of the time the bicycle thefts we have, the vast majority are crimes of opportunity where someone that's capable of committing that type of crime is walking down the street and sees the opportunity which is an unlocked bicycle and will jump on that bike and ride it away. If there's any kind of lock on it at all, that in and of itself is a real good deterrent," Mitchell said.
Curry gets frustrated by the cyclists who don't take the time to secure their bike and then complain when it gets stolen.
"There's so many times I walk down the street and I see bikes on bike racks and I go, 'I could easily grab that bike,'" he said.
Perhaps if more people did just that, we wouldn't see as many complaints of bikes stolen week to week locally.