​Is It Time For Hate Crime Legislation?
News | August 2nd, 2017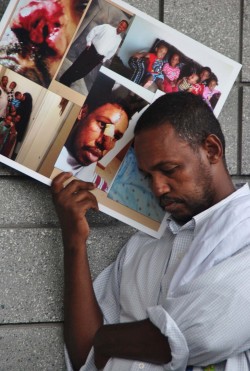 Activists and a handful of counter protesters gather in the rain to discuss hate crime legislation and support for victims
FARGO – Afternoon rain didn't stop nearly 200 people from supporting an anti-hate rally Wednesday outside current City Hall. The event also attracted counter protesters, although they predominantly remained quiet.
Christians, Jews, Muslims, and activists spoke at the North Dakota United Against Hate rally in an attempt to garner support for hate crime victims and to begin the campaign of making hate-crime laws, which North Dakota does not currently have.
Groups such as the Democratic Socialists of America and Trans Lives Matter also showed up in support of the cause.
David Myers, a Jew, and founder of the Center for Interfaith Projects, a nonprofit organization, said much if not all hostility toward refugees is actually hostility targeting Muslims.
"I feel religiously called to welcome refugees and immigrants, including Muslims, indeed all the New Americans," Myers said. "I am aware of the long history of prejudice against Jews. Jews have been and still are in many places of the world the 'hated other.' This enables me to put myself in the place of New Americans, who are Muslims.
"The question is: how can we reduce hate directed at Muslims?"
Religious prejudice can be overcome through knowledge and personal relationships, Myers said.
"We cannot forget that a number of decades ago, the most hated religious groups in this country were Jews and Catholics," Myers said. "This has dramatically changed."
The two groups that people in the United States feel most positive about today are Jews and Catholics, he said.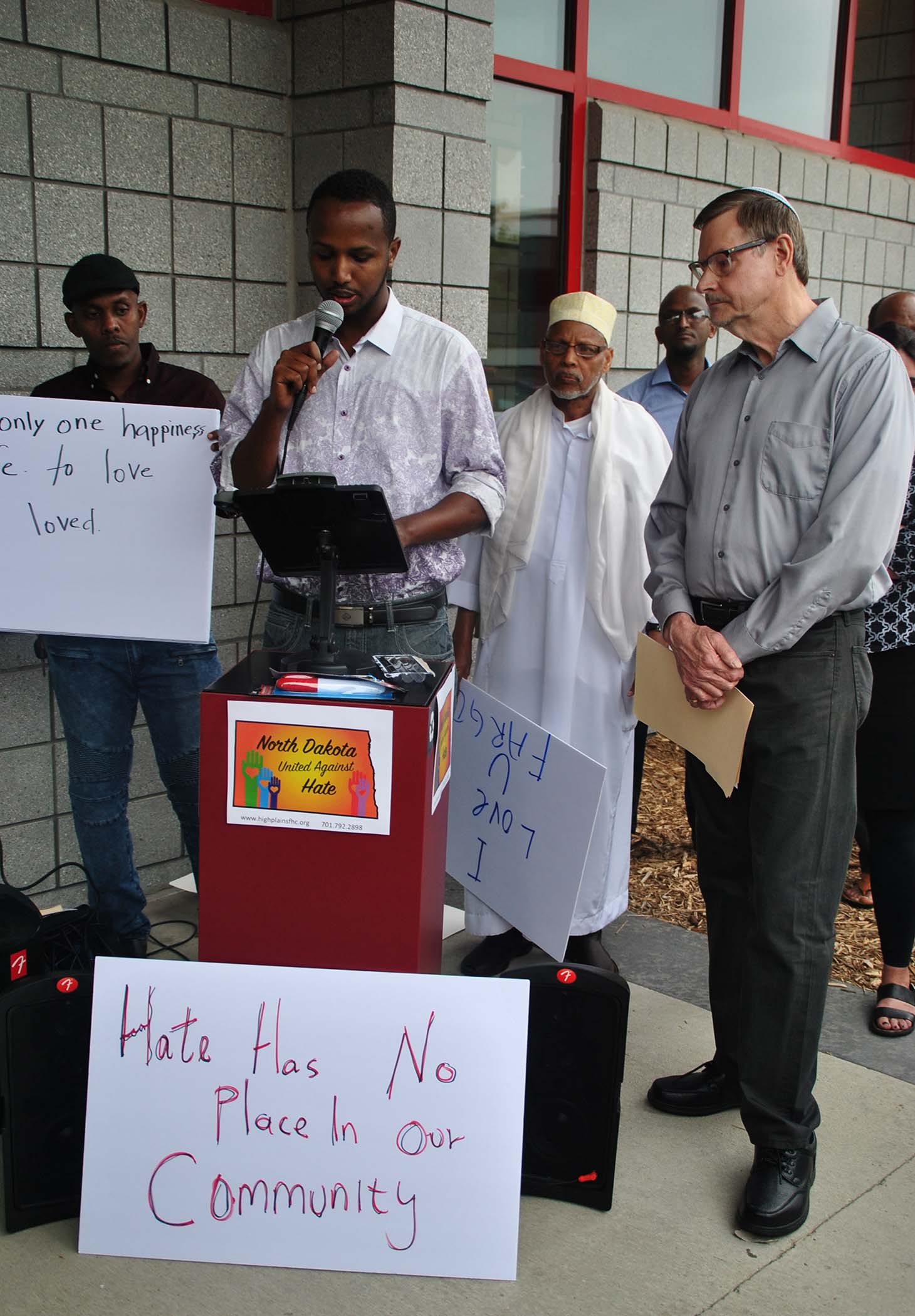 "Do not hate the stranger in your heart, it will poison you, and make your life miserable," Myers said.
The rally was interrupted halfway through one of the speeches, when Kevin Benko, of Fargo, shouted from a nearby parking lot.
"Hate speech is just a difference of opinion, you assholes," Benko said.
Police officers approached him, while Pete Tefft, identified as a Nazi by Fargoan Luke Safely in February, came over to offer support.
"Muslims who are not assimilated are a problem," Benko said. "They are under Sharia law, and if that conflicts with the Constitution, the Constitution gets thrown out."
When asked if he disagreed with the state accepting more refugees, Benko said as long as they assimilated, he didn't have a problem.
Tefft, who wore a red "Make America Great Again" Trump hat, said he had friends with him, but they were there primarily to watch his back. He didn't admit to being a Nazi, or a Nazi sympathizer, but worries that by 2050 white people in America will be the minority.
"My contention is that most of what constitutes hate speech affects pro-white speech," Tefft said. "Anti hate speech is synonymous with anti-white and anti-America."
Since being identified as a Nazi, he has received death threats, and has been followed out of bars for his white supremacy beliefs.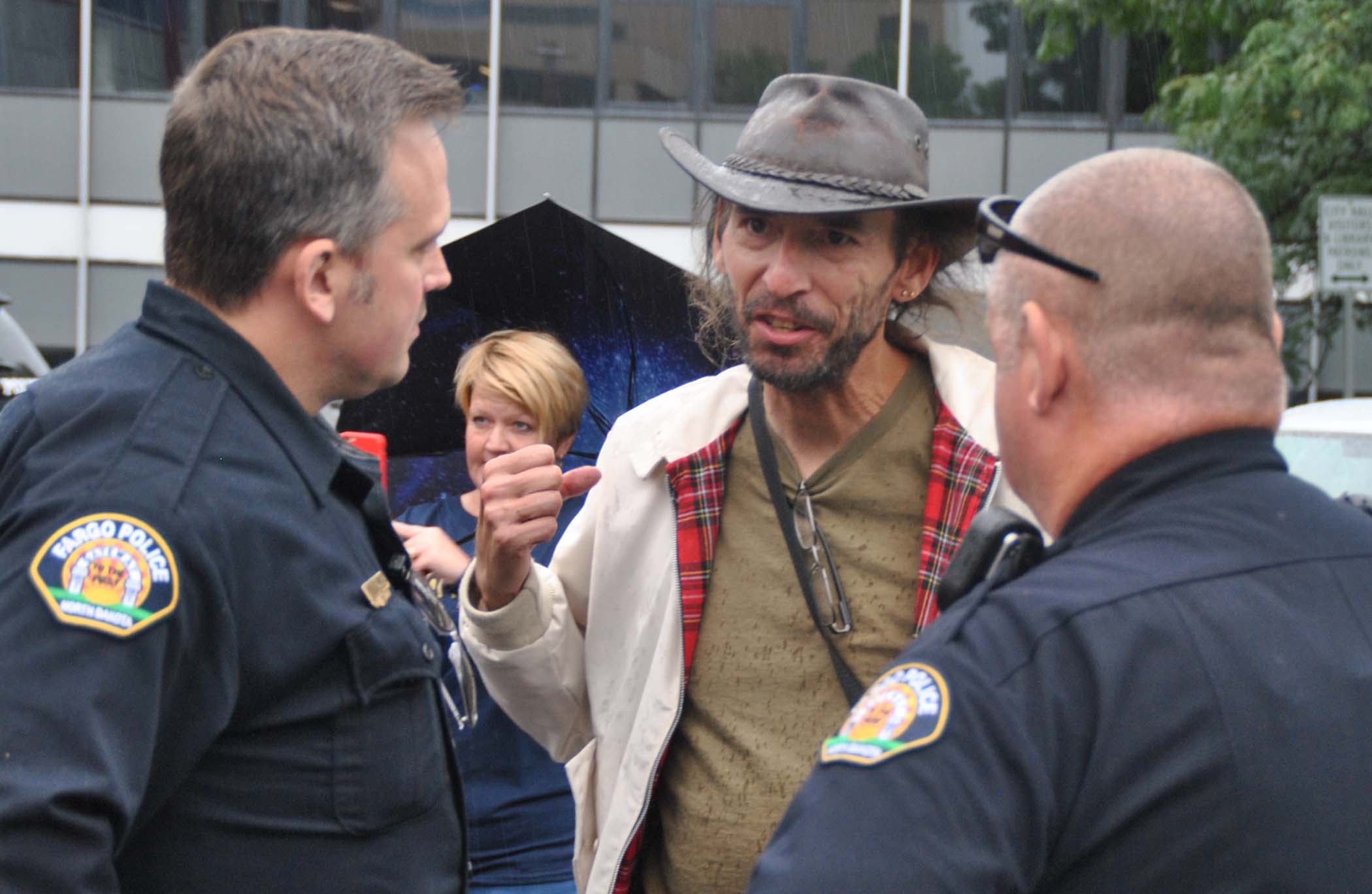 "I'm a pro-white activist," Tefft said. "Nazi is a racial pejorative, kinda like our N-word. If you want to be real, myself, a pro-white activist, maybe some National Socialists and other pro-white organizations, typically have been the only ones willing to stand forward to protect the freedoms of everyone on the right."
So far, his beliefs and followers have had little more than an online presence. Two days before the rally, an advertisement appeared on Facebook entitled "Anti-white Speech Discussion," organized by Hal Resnick, which was scheduled for the same time.
Resnick is listed as the new unit leader for the Nazi party, or Nationalist Socialist Movement of North Dakota, according to the Nationalist Socialist Magazine, or NSM88. The numerals stand for the letter H, short for "Heil Hitler."
T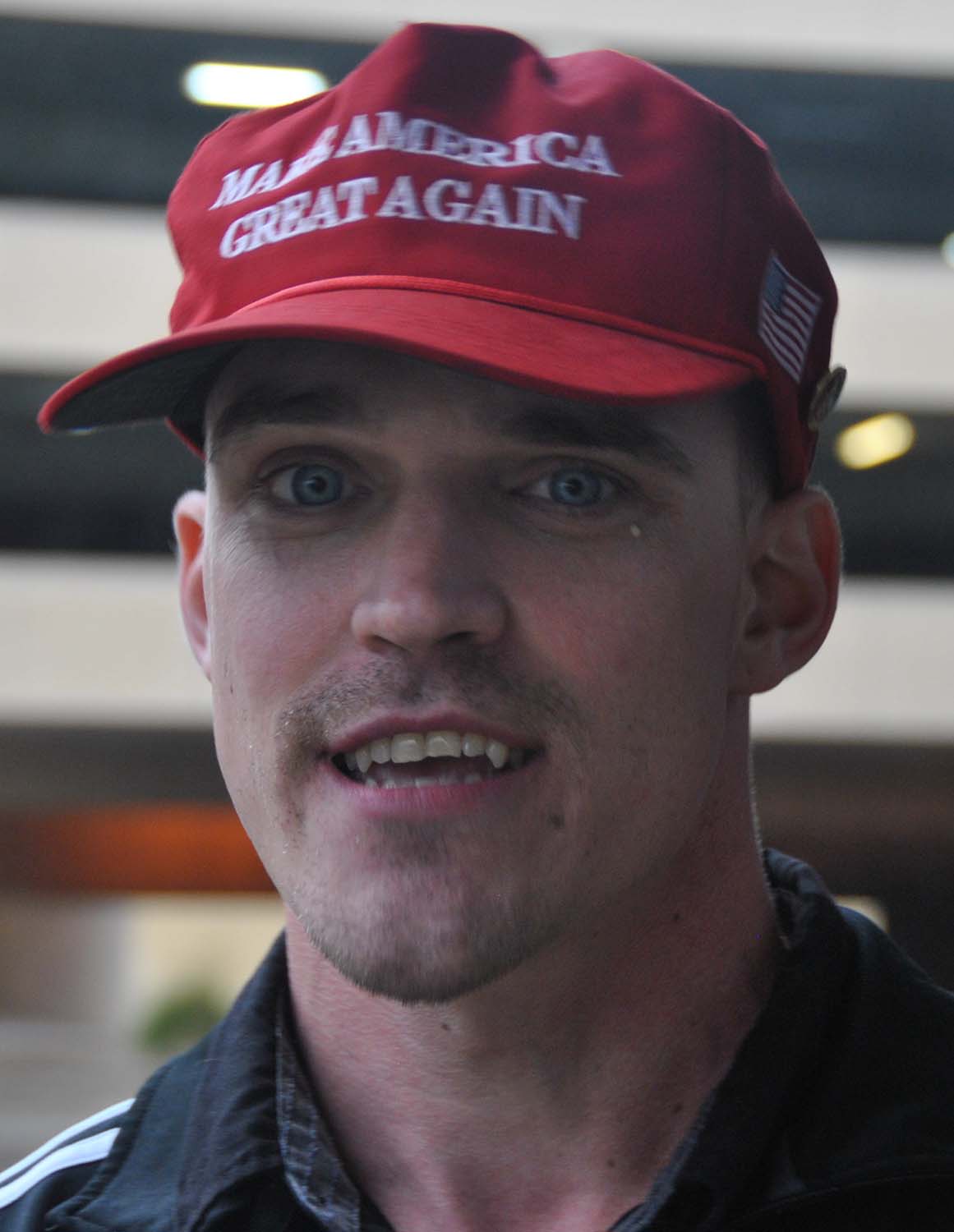 efft was hoping for more people to attend the rally, he said. The North Dakota United Against Hate Facebook page had more than 700 people interested in going, and nearly 350 going to the event. Due to the rain, approximately 200 people showed, Fargo Police Cultural Liaison Officer Vince Kempf said.
Tefft plans to hold his own rally soon, he said. "I want to bring awareness to a lot of these issues and the only way to do it is out in the public square."
One of his upcoming rally's intentions is to show that mass immigration into North Dakota is an anti-white policy, he said.
"We're expected to foot the bill and not ask any questions," Tefft said.
Fargo City Commissioner Dave Piepkorn's controversial proposal last fall into investigating the costs behind refugees in Fargo is not enough, Tefft said. He called Piepkorn an "economic fetishist," concerned primarily with financial statistics and not with white civil rights and anti-white policies.
The investigation has sparked numerous protests, including an attempt to force Pipekorn to step down.
An organizer of Wednesday's event, Michelle Rydz, of the High Plains Fair Housing Center, told those gathered to join the fight against hate crime on Facebook, where future incidents can be reported, and a task force would soon be formed to deal with such acts.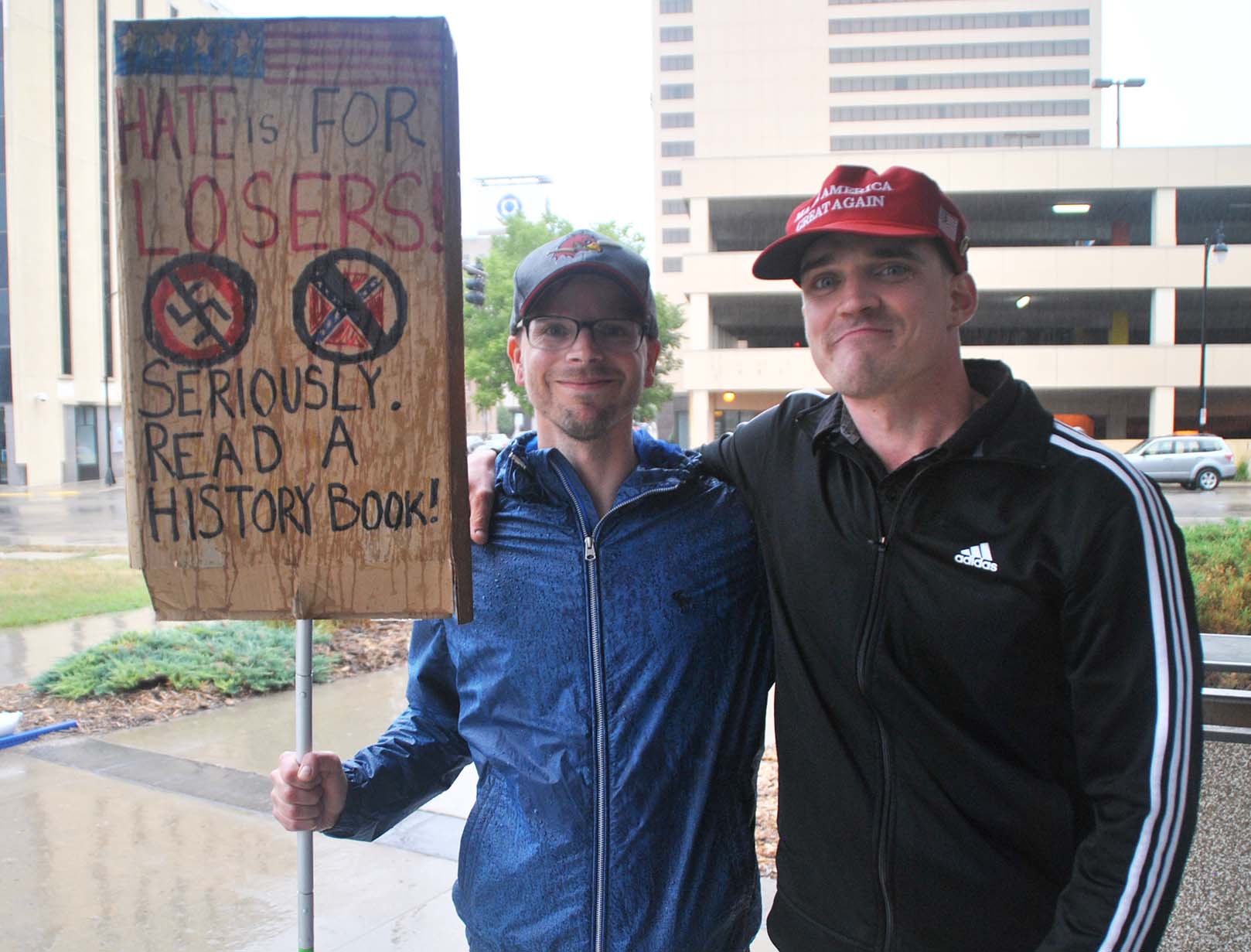 More than 30 percent of hate crimes occur near the home, Rydz said.
"What is more unsettling is being targeted in your own home?" Rydz said.
Most hate crimes are not reported, but victims can find recourse through the Federal Fair Housing Act, she said.
Reverend Michelle Webber, pastor of the First Congregational UCC Church in Moorhead, said once she saw the rains coming, she thought about staying home."It sure would be nice to stay in my living room, but then I thought, people who experience hate speech and hate violence don't get to choose when it's convenient for them," Webber said.
"Speaking against hate, wet from the rain, is a privilege."
Fargo City Commissioner John Strand said growing up in the North Dakota countryside offered him a perspective Fargoan can practice to begin understanding each other.
"My suggestion to all of us in our community is that we wave at each other, we greet each other, we genuinely ask how are you doing today when we see other people," Strand said. "We mean it, we just don't do it for the sake of, but you act, and engage and you learn from each other."
Many of the speakers referred to the Walmart parking lot incident where a white woman, Amber Hensley, yelled at three Muslim women, "we are going to kill you all."
"A simple story of anger and hate that turned into forgiveness," Musa B Bajaber said of the incident. "I am sure that Amber did get emails and messages from idiots who said they got her back, and I am sure that Sarah and Laleyla were asked to push further and never to budge. But all three disappointed those who wanted to see an escalation, and we should salute them for that.
"People of Fargo and Moorhead through the experience we have been through and the happy ending to it, we put a dent on the hateful rhetoric that is sweeping the United States," Bajaber said.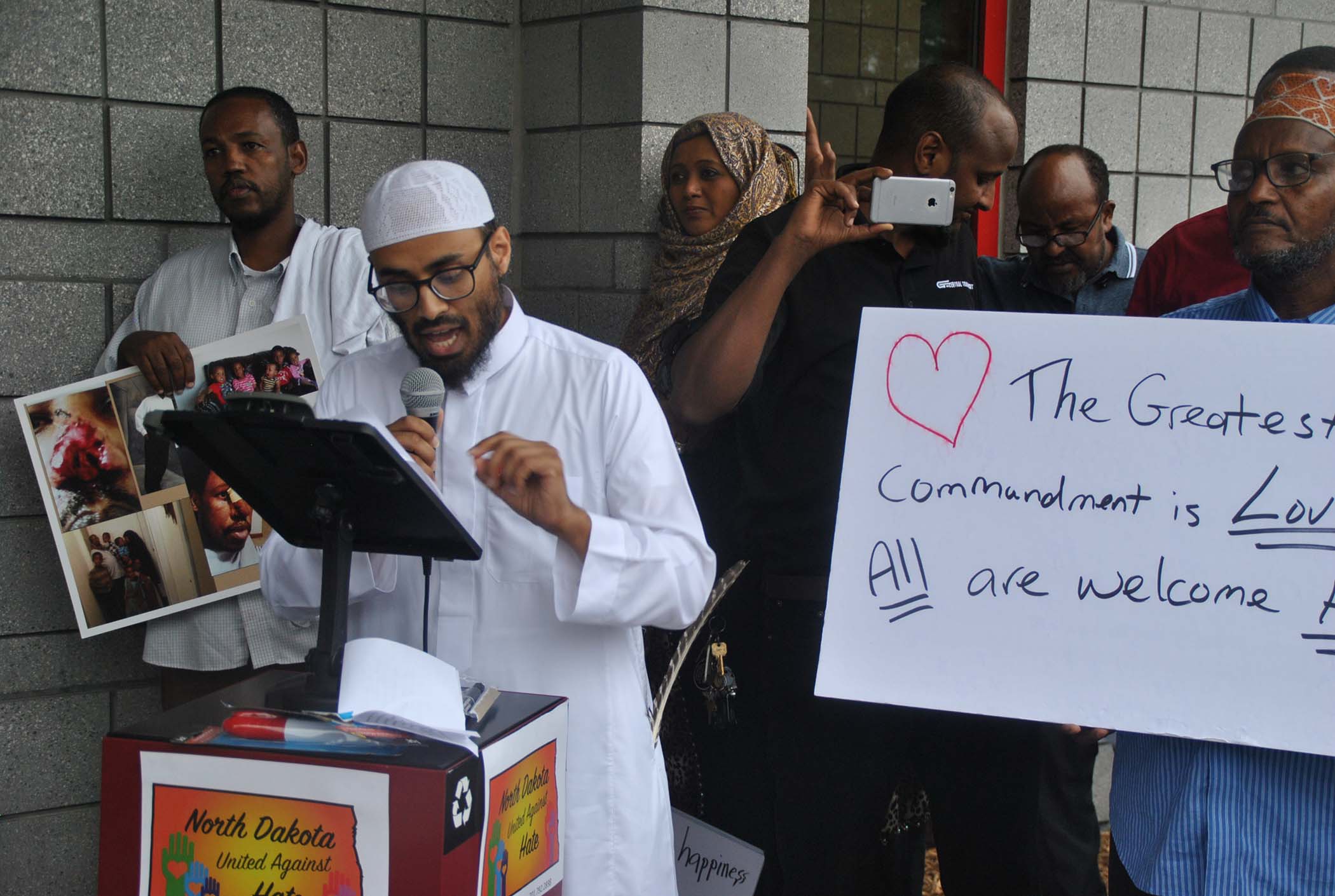 "Hate crime is not just emotional and instilling fear in the community," Barry Nelson of the North Dakota Human Rights Coalition said. "It also has dramatic economic impacts on the people who have been affected." Two people in recent years who were the victims of hate crimes can no longer work, Nelson said, and need help.
Fargo Mayor Tim Mahoney, whose message was read by Strand, said the city and the state have no choice but to grow.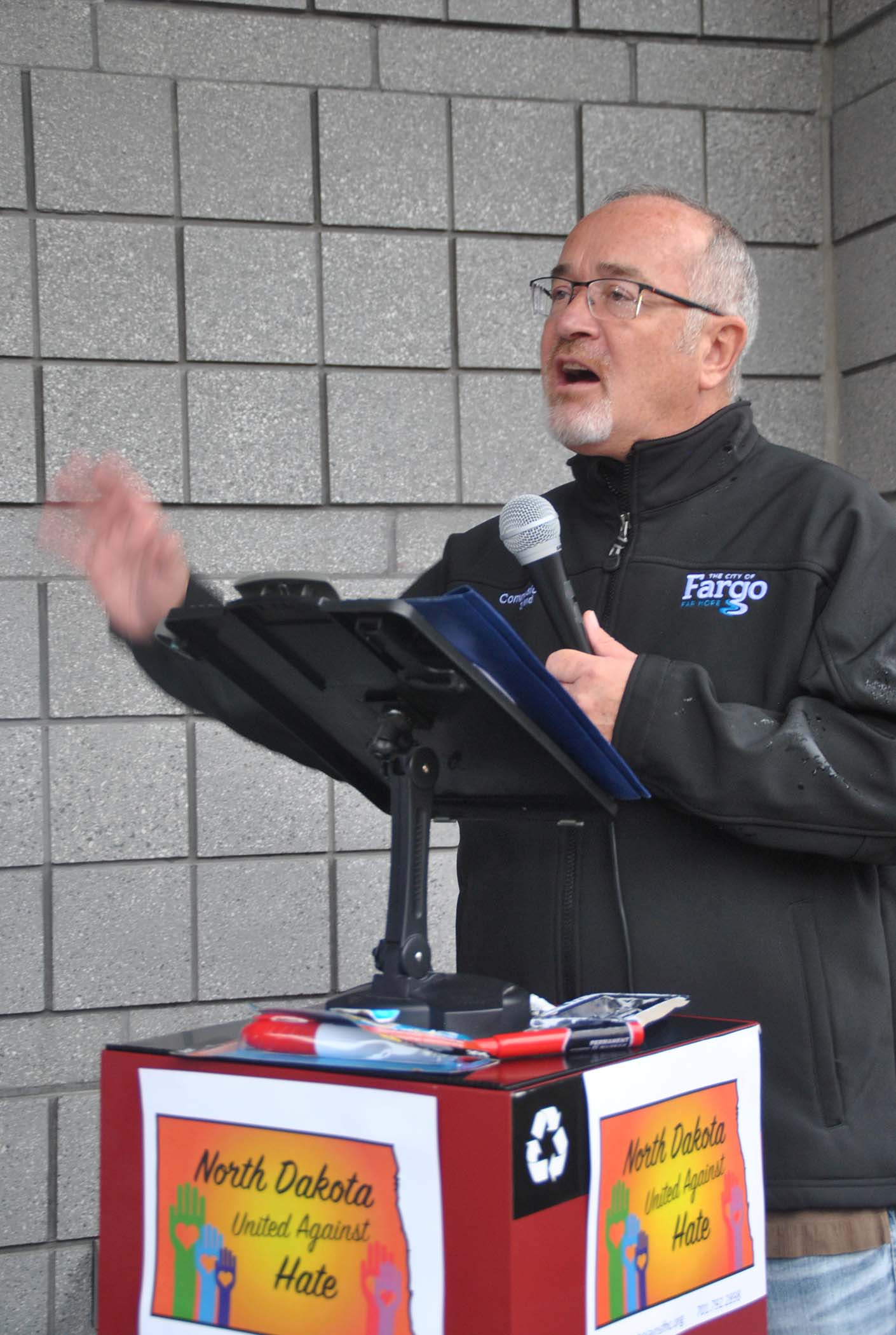 "The Fargo I know is a city that celebrates and promotes diversity, all while preserving and respecting our citizens' safety and dignity," Mahoney said. "We must commit ourselves to resist hate and violence in all forms. We need to agree that fellow citizens sometimes may need a hand up, and not a hand down. We also need to realize that someday, due to circumstances beyond our control, we could become refugees. It could happen to any one of us, and how would we want to be treated."
"We need to support victims of hate crimes and send a strong message that this behavior has zero tolerance here."
"Those of us who have been here so long we never talked about it [hate crimes]," Fowzia Adde, executive director of the Immigrant Development Center, said. "It's better for us to talk about it now, or our community will not grow. We want to hold hands. We want our children to have a future, here."