Justice for Savanna?
by C.S. Hagen | .(JavaScript must be enabled to view this email address) | News | October 31st, 2018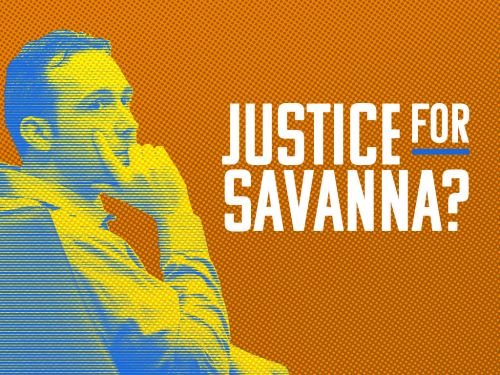 FARGO – Hours after Savanna Lafontaine Greywind's body was stuffed into a cramped bathroom closet, police came to search Brooke Lynn Crews's and William Hoehn's apartment. They found nothing suspicious, not then, not during a second search, nor a third.
The first time police arrived Hoehn was resting on the apartment's only bed, drinking a beer, playing a video game, with baby Haisley Jo, ripped viciously from her mother's womb, quiet, wrapped in blankets beside him.
After all, what did he have to fear? All bases were covered. The police didn't have a warrant. He had told his friends and coworkers that Crews was expecting a baby, naturally omitting the miraculous fact that she already had her tubes tied after having had seven children. The bathroom was spotless. Crews was high from smoking pot, talking happily a mile a minute to police. The victim, a 22-year-old Native woman, wasn't going to say anything. She was dead. Wrapped in cheap plastic garbage bags, rope, and duct tape covering the holes. The collusion with Crews began three hours earlier after he came home early Saturday afternoon from his roofing job, when he found Crews hovered in a pool of watery blood, a baby in a plastic tub sitting on the toilet, he said in court.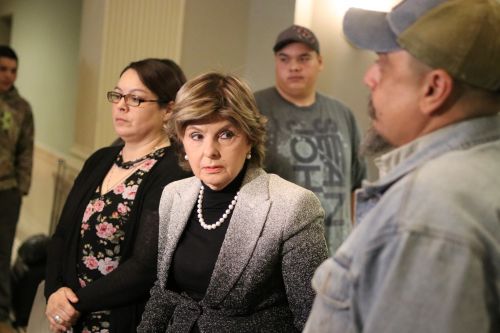 He did what came natural. Cursed. Then stripped down to his underwear and began cleaning up. Crews testified differently.
"I cut the umbilical cord and then wrapped the baby up in a towel," Crews testified. "I was sitting next to her on the floor when Will tried to come back in the door."
Hoehn couldn't open the door wide enough, so he stuck his head through.
"What the f*ck. Is she alive?" Crews testified Hoehn said.
"I don't know, please help me," Crews said was her response. "He then shut the door and umm… came back in his underwear with a rope. He put the rope around her neck and pulled it tight and he said: 'If she wasn't dead before, she is now.'"
Later, he showered with Crews while Savanna – still warm, and later determined to most likely have died from exsanguination – was hidden not more than a foot away. Their stories were aligned: Savanna walked 24 steps up to their apartment for a $20 sewing project, talked a little about not being happy, then left.
They didn't know she was deeply in love, and without a doubt intended to return to her home downstairs. They didn't know her family was protective of her, loved her to the point of enforcing curfews, called police two hours after they couldn't find her. They didn't know she had just bought her favorite pizza from Deek's before agreeing to help Crews with sewing project, a ruse. They also didn't know that she and her boyfriend had just paid $700 as a security deposit for a nearby apartment on Ninth Street North. They were planning a family. All her boyfriend, Ashton Matheny, had left to do was propose marriage, which he was intending to do on their seventh anniversary.
Hoehn's dream of starting a new family had come true. What else mattered? Certainly not Savanna, or the Greywinds and their terrorizing tactics; police would believe his stories over theirs any day of the week.
Had he insinuated that if Crews didn't come up with a baby he would leave her? Had there been an implied "elephant in the room" that he wanted Crews to commit murder on his behalf? Did he actually strangle Greywind with a pre-knotted noose-like rope found around her neck? A jury found Hoehn innocent of conspiracy to commit murder because of a lack of proof. The truth is somewhere in between a he-said-she-said cacophony, with nobody but the culprits the wiser.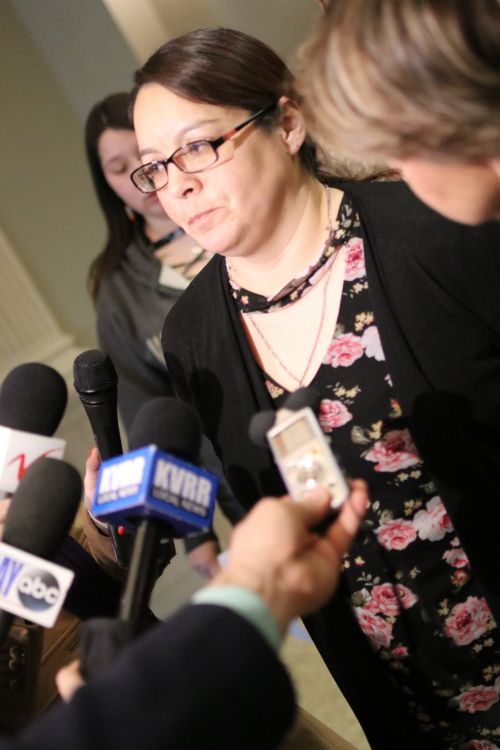 The second time police came on August 19, 2017, Savanna remained in the same spot: a cubby hole in the apartment bathroom. By the time Detective Phil Swan arrived for the third consent search more than a day later Hoehn had moved Savanna into a hollowed-out chest of drawers. Sawed off the troublesome parts, glued it back together.
Even after a tip that the bathroom had a secret compartment, Swan found nothing suspicious, and testified to that in court.
Later that same night, Hoehn and most likely Crews, although both people's accounts differ, dumped Savanna's body – dresser and all – into the Red River. Baby Haisley Jo, not yet three days old and never taken to see a doctor, was most likely in the front seat of their Jeep Cherokee.
They called Haisley Jo by a different name, Phoenix, which means to rise from ashes in the freshness of youth.
Hoehn's savage fantasies, however, were possibly only truly beginning. Testimonies from a former girlfriend and Crews revealed that Hoehn not only wanted to be a father again, but that he also dreamed of kidnapping, raping, and murdering a young girl. Hoehn denied the accusations, but he practiced bondage sex with Crews, liked a little strangling.
Only after police searched a fourth time on August 24 did officers find Haisley Jo, again wrapped in a blanket and lying on the bed. She was rushed to the hospital, later taken by Cass County Social Services and only after a month of DNA tests was she was reunited with her father, Savanna's boyfriend, Matheny.
'Still a monster'
While loading Savanna's intended coffin, the hollowed-out dresser, Crews dropped her end, she said in court. Carrying an approximately 155-pound woman inside a heavy wooden piece of furniture isn't easy late at night especially with Greywind scouts up at all hours searching for their missing loved one.
That night, an evil luck favored Crews. No one noticed the noise. Together, they finished hauling the dresser out the back door and loaded it into the back of her Jeep Cherokee. According to Crews, Hoehn drove off alone. Hoehn's story differs. Crews and baby Haisley Jo went with him to dump Savanna into the Red River.
Kayakers found Savanna's body north of Country Road 22 trapped against a protruding log in the Red River eight days after she went missing on August 27, 2017.
Both Crews and Hoehn's paranoia began long before they conspired to keep Savanna's murder a secret. Hoehn, a racist, and a fan of Alex Jones's conspiracy theorist "Infowars," began dragging Crews in the same direction. According to journals Crews kept she previously considered herself somewhat of an Amazonian feminist, who taught her children the good of all religions. Tried to believe in herself, was going for a masters in psychology.
Never finished.
Men always got in the way.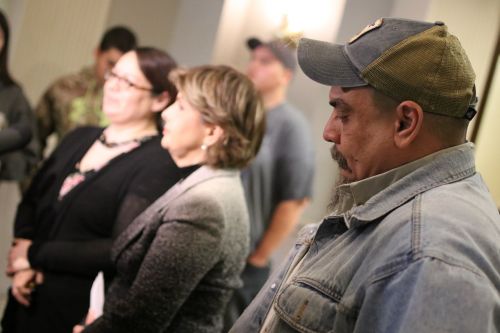 "Brooke's very smart, except when it came to the opposite sex," Crews's mother, Paula Nelson, in Ocala, Florida, said. "I gave birth to her. Something happened to her, I wish I knew what. Maybe I could have helped her somehow. I hadn't heard from her for six months prior to the crime. I didn't think anything about it, because she had gone longer without writing me."
Crews became pregnant with her first child when she was 14 years old, Crews said in court.
"She was living with her dad at the time," Nelson said. "She wanted to live with him, I guess because he let her do anything she wanted to. I know that she is hurting inside for what she's done, the girl that committed that horrible crime was not my child."
Nelson watched the trial online, and hoped Hoehn also received a life sentence.
By December 31, 2016, Crews reached a "whole new level of freedom," she posted to Facebook with a picture of a man giving an obscene gesture and stating: "When you truly stop caring what the f*ck anyone thinks of you, you will reach a whole new level of freedom."
As a child, Hoehn went through juvenile detention, and later believed the government was out to get him, a belief enforced partly by him pleading guilty to cracking the skull of his own three-month-old child in 2011.
Life was unfair. Life was hard. Always someone else was responsible for his mistakes: Big Brother, the "pigs," his upbringing, a girlfriend. Just about everyone was out to get him. The conspiracy to murder charge he beat in court never registered as a serious offense to him in telephone conversations he had with his former girlfriend, Tanith McCloud.
Instead, he complained to her.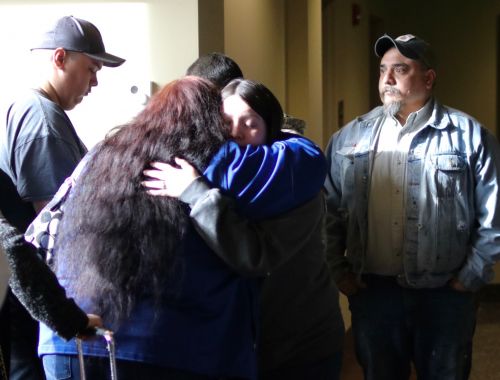 Jail was too well lit. Tap water was never cold. Bail was set too high. His new nickname, "Billy-mom," derived from his jailhouse recording, was somehow related to a police tactic to try and get him to confess. Torture was only a thought away.
On the day the collusion between Hoehn and Crews officially began, they allowed police inside, but not Savanna's parents, Joe and Norberta. The Greywinds smoked meth, he said. He told police they were terrorists. He barricaded the front door and only left the apartment when he had no other choice.
Although a jury found Hoehn innocent of conspiracy to murder, District Court Judge Thomas R. Olson sentenced Crews to life in prison without the possibility of parole in February, and Hoehn to life in prison plus one year with the possibility of parole on November 29. Hoehn pleaded guilty to conspiracy to kidnap and to lying to police.
"Serious harm was inflicted," Olson said. "The kidnapping was cruel and the secrecy hurt many… Hoehn and Crews took this kidnapped child with them when they dumped her mother into the river. He knew all this, he did all this, and yet he continued forward in an incomprehensible crime. When asked why he said he couldn't or wouldn't leave Crews.
"A false sense of modern day chivalry."
Now bearded, dressed in prison orange, handcuffed, Hoehn offered an apology that fell on deaf ears moments before Olson announced his verdict. After his apology, someone in the courtroom yelled.
"You are still a monster and you still have blood on your hands and it will never go away."
Judge Olson asked the woman for silence or he would have her removed. She complied.
Hoehn had ample opportunities to tell the truth during the eight days before Savanna's body was found, State's Attorney Leah Viste said.
"This was about protecting his own interests and his own desires," Viste said. "Dishonest, making excuses, claiming he is the victim all in the name of self preservation, did it in the name of love to protect Brooke Crews. He wasn't trying to save Brooke Crews; he was trying to save himself."
Viste argued for an extraordinary sentence – life in prison.
"If there was a case ever that demanded an extreme sentence it is this one," Viste said. "A family was disrupted. A community was disrupted. A nation was disrupted."
The defense, Bismarck attorney Daniel J. Borgen, argued that Hoehn should serve one year for every day he lied to police. Hoehn plans to appeal his sentence to the North Dakota Supreme Court.
Demanding reform
The Greywinds are registered members of the Spirit Lake Sioux Tribe. They have moved away from Fargo and have averted the press during their yearlong proceeding. The family lawyer, Gloria Allred of California's Allred, Maroko & Goldberg, is a discrimination attorney and considered one of the 50 most powerful women in Los Angeles law. She challenged the Fargo Police Department to apologize to the Greywinds for a faulty investigation riddled with racism.
"Compounding the pain that Savanna's family has suffered was how the Fargo Police Department handled or appeared to mishandle the search for Savanna and Haisley Jo," Allred said.
"They failed to find Savanna's body, which was hidden inside a chest of drawers there, nor did they find the baby, Haisley Jo, who was hidden in a bed… The most important question is how could the police have searched and failed to find Savanna's body and the baby earlier?
"These questions demand answers," Allred said. "Many individuals in the Native American community have expressed a concern that the police do not have the same concern about missing, deceased, or injured Native American women that they would have about victims who are Caucasian. The way that the search for Savanna was conducted simply deepens the mistrust that many feel in law enforcement."
Norberta Greywind said Savanna's Act, a bill proposed by U.S. Senator Heidi Heitkamp and named after Savanna, is a step in the right direction, but that change needs to begin at the Fargo Police Department, then move across the state. She and Allred demanded an exhaustive review of police protocols "so that they never, ever happen again," Allred said.
Fargo Police Chief David Todd did not respond to requests for a statement.
"Finding the words to express the enormous loss and pain that Joe, Norberta, and their children have suffered has not been easy," Allred said. "Just being in the same courtroom with Hoehn and Crews and seeing them alive, while knowing that they will never see their beautiful daughter again because of the horrific crimes the defendants committed against her is more painful than words can ever describe."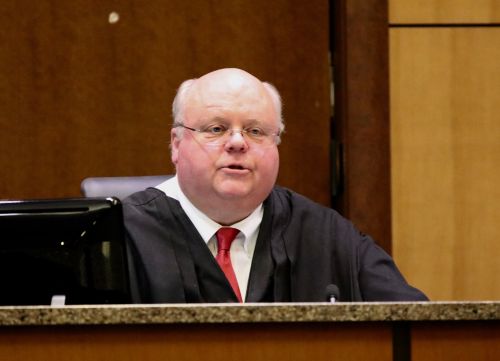 The City of Fargo, the state's most diverse and self-declared welcoming city, has already had an opportunity to raise its own awareness of Indigenous issues, which apparently did not succeed. Early February, Fargo Police made promises to undergo cultural diversity training after officers pulled occupants out of an Indigenous sweat lodge in sub-zero temperatures, arrested one man on an outstanding warrant for stealing a chicken wing from Cashwise. Promises were also made to develop the land on which the sweat lodge is located, but so far, almost nothing has been done.
"Norberta and Joe Greywind want to be sure that if any other pregnant Native American woman goes missing that there is a prompt, professional and thorough search done as soon as possible," Allred said.
"It is important that everyone in the community feels that they are receiving equal protection under the law and that if their loved ones are missing or are potentially the victims of violence, including murder, that finding them will be a priority."