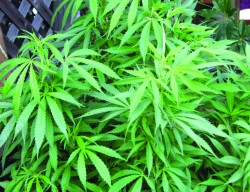 Moorhead has been selected as one of four distribution sites for medical marijuana by Minnesota Medical Solutions or MinnMed. The company was one of two organizations chosen by Minnesota's Department of Health to grow and sell the state's supply of medical marijuana under a new state law just passed in the last Legislative session.
MinnMed was among 12 organizations that originally applied for a license. It was the top scorer among the group among reviewers with expertise in public safety, public health, agriculture and other fields. MinnMed has already built a greenhouse and manufacturing facility in Otsego. Other cities included for distribution include Rochester, Maple Grove and Minneapolis.
Dr. Kyle Kingsley, the CEO of MinnMed, said meetings with local officials in Moorhead sealed the deal in selecting Moorhead as a distribution site.
"Obviously Moorhead is a population center there, and the other big driving force was some of our team members came and met with local officials in Moorhead that included some of the local politicians, law enforcement and some of the local legal representatives and it really was a good reception. They were obviously pro-business and they really liked our scientific and medical kind of patient-focused model that we adhere to," Kingsley told HPR.
MinnMed obtained a letter of approval from Moorhead officials, and company included it in its application. During the Legislative session, some Moorhead officials (in particular, law enforcement) opposed certain medical marijuana bills. But that opposition seems to have waned, at least as far as selecting the city as a distribution center, now that a more restrictive bill has passed. The law will only apply to an estimated 5,000 patients with severe medical ailments such as cancer, glaucoma, HIV or AIDS, seizures and Crohn's disease, among a handful of others. The select companies are allowed to grow marijuana or cannabis and transform it to a liquid, pill or vapor form to help patients.
Kingsley said because the Minnesota law is so restrictive, the distribution of the medical marijuana will be much different than what we've seen in states like Colorado or California.
"The big thing that's different is, number 1, the patient population," he said. "The Minnesota law is very restrictive. It's really sick folks that are going to be accessing medical cannabis. But another big thing is just kind of the model. We are a big fan of the clinic-type model where we have private consultation rooms for patients. My idea is not to have elderly patients with cancer waiting in a rope line to talk to some young person about medical cannabis. We're looking to very much change that into a medical interaction where they interact with a trained medical professional who understands our medications, our dosing and treatment algorithms and really it just takes it to a much more medical perspective. It's kind of medicine first, cannabis second."
Moorhead officials for their part welcome the selection of their city to be a distribution center. Moorhead Mayor Del Rae Williams told us she hasn't heard of any opposition to the plans yet.
"I was pleased. I know there's a number of people in our community that could use it. I think it's nice that it's in the area so that it's close for people in our community. I am good with it frankly," Williams told HPR.
Kingsley said their next approach is to make sure Moorhead is a perfect fit as a distribution center.
"It's just a matter of fine tuning and making sure that we are confident in the selected location and really ironing out details with the local officials and reaching out to the neighbors in the community and the immediate area to make sure it's a good fit. We do have a little bit of time with the dispensaries so it's really important to us to make sure it's a perfect fit, as perfect as possible. Generally speaking, we have found opposition kind of melts away when we tell them about the Minnesota law, which is very restrictive, these patients need options, and also about our model," Kingsley said.
While the law states that it wants patients to be able purchase medical marijuana by July 1 2015, not all distribution sites may be ready to roll on day one, Kingsley said.
"It may make sense to stage them just a little bit, it may not be exactly July 1st that we start in Moorhead, but our goal is definitely the summer of 2015," he continued.
Regardless, all of this will be welcome news for sick patients and parents of sick patients who were considering moving had this law not passed.