MN = Love
News | August 8th, 2013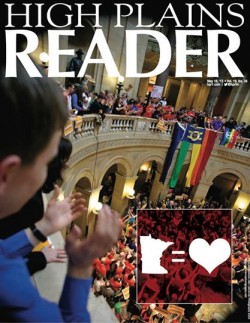 Train's "Marry Me" provided an appropriate soundtrack as the clock ticked toward midnight on August 1 and dozens quietly trickled into a Clay County courtroom.
A sheriff's deputy on duty said he'd never heard music in the courtroom before. But for a night of firsts that was a trivial aside. Shortly after midnight, 18 gay and lesbian couples became some of the first to exchange vows under Minnesota's new law that made it the latest of 13 states to allow same-sex marriage.
Judges Lisa Borgen and Michelle Lawson noted the historic nature of the nuptials and took turns dispensing advice to the couples, including to be patient, selfless and above all "love your spouse."
"We have great respect for love, marriage and the law," Borgen said. "We are honored to be a part of your weddings today."
After the couples repeated vows to each other, Borgen and Lawson smiled broadly and recited in unison, "By the power vested in us by the state of Minnesota, we now pronounce that you are legally married."a
The dense crowd of family and friends erupted with delight, some wiping away tears as the couples sealed their unions with kisses. Then the wedding mixtape returned, this time with "I'm a Believer" piping into the courtroom.
Many couples and their friends didn't believe this day would ever come.
"Not in my lifetime," said straight ally Kim Jore, a Moorhead artist. "It's good to see everybody else get this opportunity, too."
Just nine months earlier, Minnesotans narrowly defeated an amendment promoted by social conservatives that would have outlawed same-sex unions in the state constitution. In the same election, voters transferred control of both legislative chambers to the DFL. In May, with strong support from DFL Gov. Mark Dayton, the legislature -- mostly along party lines -- passed the bill making marriage gender-neutral.
In matching bow-ties, young couple Steven Goering and Chris Howe -- who changed his name to Goering post ceremony -- waited for the courthouse to open.
"We're both a little nervous but overall excited," Howe said.
They both noted the diversity of ages among the couples getting married.
"That speaks volumes for the whole movement," Howe said. "It's important that everybody sees it's not just 25-year-old men and women. It adds further legitimacy."
As the courtroom filled to capacity, the crowd outside the building continued to grow. When the newlyweds exited, the crowd cheered loudly. One supporter wore a rainbow cape. Another held a sign that read "You just made history. Let your love be one for the ages. Congratulations."
Police said there was not a single protester.
The organization Minnesotans for Marriage, which opposed the same-sex marriage law and promoted the constitutional amendment last year, issued a July 31 email reiterating its views.
"Gay 'marriage' supporters are hailing August 1 as a historical day for their misguided view of what 'equality' means, while over 1.4 Million Minnesotans who continue to believe in 1 man-1 woman marriage recognize that a gender-neutral society is not good for anyone (especially children) and that our state will be facing the consequences of what a few legislators forced on us for years to come — including a very clear and present threat to Minnesotans' right to religious liberty," wrote John Helmberger, Minnesotans for Marriage chairman and Minnesota Family Council CEO, in the email entitled "Keep Your Beliefs to Yourself."
But these views will become more and more the minority, say same-sex marriage supporters, including Brandon Goering who was on hand to witness his brother's wedding.
"Our country is progressing," he said. "Slowly but surely."
Celeste Carlson and Amber Allebach also made their union official in the eyes of the law in the midnight ceremony, although they had a church wedding in 2007 at Moorhead's First Congregational United Church of Christ.
Legal recognition provides "more security for our family," Carlson said at a pre-wedding bash at Usher's House. "That's very comforting."
The couple is interested in moving from their home in North Dakota -- where same-sex marriage is outlawed in the state constitution -- to Minnesota, but "It's going to take the right house at the right price," Allebach said.
The Minnesota marriage certificate "validates our relationship," said Barb Thielbar, who tied the knot with her partner of 10 years, Rhea Gross. "It's like our relationship is no longer illegal."
The West Fargo couple already considered themselves a spousal unit, so for them, legal recognition comes down to practical matters such as end-of-life care. Thielbar and Gross also plan to move to Minnesota or another gay-friendly state, but not until their teenage son Marcel graduates from high school.
Not all North Dakota couples who got married August 1 plan to defect across the river. Jan Titus and Bob Stone will keep living in Stone's childhood house -- "you can't move that," Titus said, adding it would also be difficult to move his massive koi pond.
Stone and Titus are hopeful that it's only a matter of time before the Supreme Court extends marriage equality to all 50 states, citing the two recent cases that expanded gay rights as a positive sign.
"This will become routine," Titus said at Usher's House a couple hours before getting married. "It's history-making today. It'll be routine after a while."
Cookie Welder said she longs for the day when her gay son returns home from Arizona to get married, ideally on their farmstead in rural Otter Tail County.
"That would be my dream," she said. "You have the same dream for that child as you have for your others. People don't understand that."