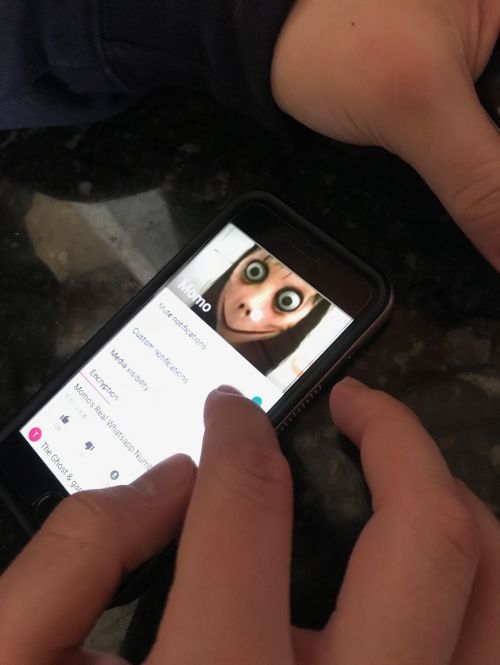 FARGO – Early morning, March 5, A.H. awoke complaining she hadn't slept well. Usually, she slept soundly, only bright lights and loud, terrible singing worked to wake her up for middle school.
"Why didn't you sleep well?" A.H.'s father said.
"Because I was thinking of Momo," A.H. said. "I'm not scared of her during the day, but at night I imagine she's under my bed."
"That's the first sign Momo has got you in her targets," A.H.'s father said. He liked to joke.
No more than a stoplight later, tears trickled down the little 13-year-old's cheeks. She knows the monstrous creature known as Momo is a disfigured Japanese art sculpture now taken down by Keisuke Aisawa after years on display. Momo's stick-thin bird legs are fake; the bulging eyes aren't real. A.H. knows this, but she's scared anyway. Her name has been withheld as A.H. is a juvenile.
The Momo Challenge, much like the 2016 Blue Whale Challenge, started as a hoax or a nonexistent social media challenge reportedly encouraging children to an intensifying series of dangerous tasks, self-harm, and eventually suicide. Momo first appeared in 2018 after an Indonesian newspaper reported that the Momo Challenge on WhatsApp caused a 12-year-old girl to kill herself.
During the past two weeks, Momo has been fed new life through renewed interest. YouTube has removed all alleged Momo videos from its platform. Police in the Philippines are trying to confirm the drug overdose of an 11-year-old boy is related to the Momo Challenge. Northern Ireland Police have issued warnings. Police in Great Britain say the challenge is being used by cybercriminals to obtain personal information.
In Fargo, school administrators have become aware that students are talking about the phenomenon, and they are concerned.
"We haven't done any announcements or messages sent out to parents," Ben Franklin Middle School Principal Shane Martin said. "There are kids that are aware of this, certainly our teachers are aware of this, but I can't say that we have a buzz, or a pressure on the balloon because of this, it's more like 'What's next?'"
Social media is a wonderful tool that can become negative, Martin said.
"We are watching our kids that are more susceptible or more fragile, if that's the word," Martin said. "It's a scary time to be raising kids which makes it more important for parents and teachers to come together."
AnnMarie Campbell, director for Fargo Public Schools, said she too is aware of the Momo Challenge.
"It seems that there are always different challenges that pop up and we need to be aware of them and act accordingly," Campbell said.
West Fargo Public School Public Relations Coordinator Heather Leas said the Momo Challenge is causing parents concern and distress among children. A warning to parents was published in the March 1 edition of West Fargo's parent newsletter.
"The Momo character — the disfigured face attached to a bird's body — was, in fact, a prop named 'Mother Bird' made in Japan three years ago for an art exhibition," the newsletter stated. "It was claimed that the Momo challenge was 'played' over WhatsApp. The Momo character allegedly asked would-be participants to contact 'her' and do a series of challenges — the final challenge being suicide.
"Although the Momo challenge is now being reported as a hoax, the reports, warnings, and disturbing images could still cause distress to children. It's important that parents talk to their children about it. The best way to start is to ask a general question about whether they have seen anything online that upset or worried them. Explain that there are often things that happen online that can be misleading or frightening and that some things are designed to get a lot of attention.
"Parents need to follow their child's lead — introducing a worrying subject to a child who isn't familiar with it might lead them to investigate. On the other hand, avoiding mentioning it won't provide a chance for a good discussion. Take your child's lead and whatever you decide about overtly talking about these kinds of topics, make sure that they know that contacting strangers and doing anything at all that they are asked to do online or off that makes them feel scared, worried or uncomfortable is not OK."
Troyd Geist, state folklorist and a member of the North Dakota Council of the Arts said phenomenon such as the Momo Challenge, or the Blue Whale that allegedly claimed more than 100 teen lives in Russia in 2016, are as old as Bloody Mary, and much, much older.
"They're not new, before the age of computers there were other kinds of games like this, or roots of these, so people have heard about it for years and years," Geist said. "For example Bloody Mary, when you look in the mirror and say her name three times and she appears. One is a literal mirror and the other one – in the age of selfies – our phones are our mirrors."
Online material mixed with folklore and belief spread faster than during the days when Bloody Mary games woke parents to screaming children in the middle of the night. Such lore shape shifts to fit the modern world, Geist said. Communities define the messages, which are commentary upon society, social structures, and microcosms of social worlds, Geist said.
"Children and adults use games to identify within themselves that these are the rules of the world," Geist said. "Think about football for instance. What is represented in football? Teamwork, we value teamwork. Games allow us to tell each other what are the rules of society, but we also try to test them too. If you think about that in context with the Momo game, what are the issues children are dealing with? Bullying, that is a huge problem, and they are being bullied online. And there are children who have been bullied online who have committed suicide. That's been documented."
Are hoaxes not real when everyone believes?
Sometimes urban legends, or modern folklore can take a life of its own even if proven a hoax, which can pose dangers to society. Folklore lives and shifts as a community process, and not an individual process.
Tall tales such as Bemidji, Minnesota's Paul Bunyan and Babe the Blue Ox, which possibly began as a logging company advertisement and morphed into legend with statues to verify the stories is another example of how communities shape folklore. Taletellers add bits and pieces until it touches something that resonates with people at that time, Geist said, and can live forever.
"We heard years ago growing up that if you go trick or treating there are people putting razors in candy," Geist said. "Might have happened, it might not have happened."
No cases were actually proven true of people putting razors in candy until many years later, long after the folklore had spread moral panic across the nation.
"Momo is the same kind of thing," Geist said. "With the internet, all these stories about social predators, which there are, and other predators online, and how freely children access those social platforms, that can be dangerous.
"Momo fits within that realm as well, teaching children that not everything online is safe. Whether Momo is a hoax or actually happened, I don't know if we will ever be able to figure that out."
Dr. Tim Kloberdanz, an author and anthropologist with a PhD in folklore, told a story of an educated couple that decided to be rational and not to expose their children to any legends, Santa Claus, the Easter Bunny, or any other mythical creature. They warned their children to stop mentioning such things or they would "get a syndrome."
"And then one night a child woke up and was screaming bloody murder, and said: 'I think there is a syndrome under my bed," Kloberdanz said.
"You got to be careful when dealing with this with your children," Kloberdanz said. "A lot of this has to do with peer pressure, and it's not unusual to find this sort of thing. What's different these days is we have cyber peer pressure, in addition to face-to-face peer pressure. It can influence bright children, in ways that can really negatively impact them."
He pointed to another personal story from the 1980s.
His wife went to Target and came home frightened. She overheard people talking about a woman shopping within the store with her young son, sitting in a cart. She turned her back for a moment, and cart and son disappeared. She panicked. Found a store manager who said he would push a button to seal the store.
The child was found shortly after, but his hair had been clipped short and dyed black.
"When she told me it horrified me because I had two little kids," Kloberdanz said. "But then as I thought about it I looked at the motifs, this mysterious button that seals the store…"
The story resembled old gypsy tales of kidnapping children 200 years ago. He called the local Target, who pinned the situation on Grand Forks, who said it wasn't them, that it happened in Minneapolis.
"We all were primed for that because there had been a film on TV which was extremely disturbing, based on a true incident about the disappearance of little Adam Walsh from a discount store, kidnapped and brutally killed," Kloberdanz said.
"We were very sensitive and suddenly there was a local threat. This is the dynamics of an urban legend and folk hype, and pretty much the same dynamics behind every urban legend.
"Momo, is it a hoax? I don't think it is completely, but there is an incredible amount of hype and misinformation which is propelling the phenomenon, the same thing that propels all the other legends."
Touched by ghosts
Troyd Geist, who co-authored "Sundogs and Sunflowers: Folklore and Folk Art of the Northern Great Plains" in 2010 with Kloberdanz, said that today people take words too literally.
"We're in the age of computers and we're talking as things become more and more specialized, deep knowledge about specific things, we've become literalists," Geist said. "Language wasn't always like that. Language has multiple layers of meanings." Especially when talking about the supernatural, of which Momo is a part.
"When we look at folklore, because we have a narrow meaning of what ghost means now, we hear of a supernatural thing and we dismiss it," Geist said. "But, within the folk tradition the word ghost is a lot deeper, it's not as specifically defined. As an example: Some people like some American Indian groups, some Germanic peoples, some people in the Amazon, believe there is this malady that occurs all around the world called bell's palsy, when half the face becomes paralyzed. People think it's a stroke, but it's also related to sleep paralysis, it's also said to be caused by a ghost.
"A ghost touches your face, or a spirit touches your face, and causes you to become paralyzed."
Doctors may say the malady stems from a virus. In China, many believe the stroke – which distorts the face – comes from wind through an open window. Others across the world believe bell's palsy is caused by a spirit.
"Well, the ghost is acting just like the virus," Geist said.
In Western medicine, bell's palsy, which can occur after traumatic life experiences, is treated with alkaloid-based plants, which happens to be the same treatment used by shamans and folk medicine practitioners.
"When folk people treat these kinds of things, they also really treat the social connections to it," Geist said. "They help usher them through that period of transition. Integrative holistic approach to healthcare, we don't have those social structures that help guide a person through those times."
And that is what is needed to help steer children clear of phenomenon like the Momo Challenge, Geist said. Like Asian funeral processions that have wailers and encourage people to cry. Healing is a process that doesn't only come from medicine.
"Why is all this going on now and in the Momo form?" Kloberdanz said. "We in the United States are living in a very trying time. Listen to President Trump and those who blindly support him; he is the chaos president. Listen to the things that surround him: fake news, the truth is not the truth.
"And Putin is the fear president. I think kids are affected by this stuff, they might not understand national politics, but what they pick up on is the anxiety and the uncertainty, which may manifest itself in other ways like the Momo thing."
Children also have their own methods of coping with trauma, such as creating jokes adults would deem uncouth.
"People are letting off steam and you know what? That's healthy," Kloberdanz said. Children created similar jokes in 1986 after the Space Shuttle Challenger incident claimed the lives of seven crew members, including one teacher.
"As a teacher it is your job to set them straight when they're telling those jokes that it is not something they should do," Kloberdanz said. "But at the same time understand this is a form of healing among kids. They're dealing with it, in their own crude, unsophisticated, folk-ish way, they're dealing with it."