More scared of cops than pimps
by C.S. Hagen | .(JavaScript must be enabled to view this email address) | News | October 16th, 2019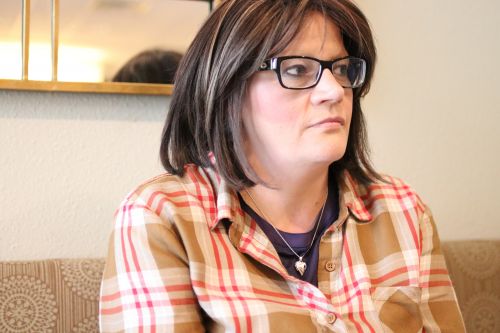 FARGO – LeeAnn Lemke's decision to become a sex worker came down to $2,100, she said. Survival drove her into the "world's oldest trade." She doesn't walk Fargo's streets looking for "Johns. Her clients – at one time up to a dozen local men a day – find her online, through relationships, and through pimps, because a "working girl" on her own won't last long in what was once known in Asia as the "broken moon society."
Although nobody forced her to turn to sex work, she has been trafficked, she said, because a pimp has "owned" her. He sells her to other men, and takes a cut of the profit. Speaking from the hotel where she was once handcuffed, put into a conference room for hours, and then told by police to become an informant, she has no place to go to for help, thinks about suicide, but her two children – which were taken away – need their mother, Lemke said.
Being an escort, or sex worker, doesn't make a woman a bad mother, she said. Her parents recently passed away so she understands what life is like without the familial wall. Out of necessity she still turns the occasional $200 trick, but she's fighting to get her children back and start a new life.
Lemke, approximately 41, works under a pimp because in today's world, there's no other way. Police offer no protection when she's in trouble, she said.
"Independence is impossible," Lemke's friend, who preferred to be called by her first name MJ, a local chaplain, said. "They will threaten you. They will find your kids. They will kill you."
MJ flipped through a website called Skip The Games, revealing picture after picture of male and female sex workers in the area. She knows many of them as she once helped coordinate underground shelters for scared women needing assistance. There's little a sex worker can do when in trouble, MJ said. Police aren't a viable option and many shelters in the area won't take them in, or they're kicked out for drug use.
"The police made my life hell," Lemke said. "The only people who ever hurt me are the cops. They just threw me to the wolves. When they pulled me out of 'human trafficking' they didn't help me."
She gave police all the information she knew pertaining to her knowledge of human trafficking, she said. She agreed to assist police in order to get her March 2018 charges reduced or taken away, she said. Police charged Lemke with three felonies of delivery of opiates and methamphetamines, but she said the drugs were for personal use, not for sale.
"I had a huge human trafficking ring I could give," Lemke said she told police. "They didn't want it. They said I was demanding too much. You report it to the cops and you report it to the cops, and they just don't do anything about it. Just because I'm a prostitute doesn't mean I am not a person. They treated me like garbage.
"I know I f*cked up, and I will do the time for what I did, but now I don't even know where to look for help."
"She's not treated as a human," MJ said. "They treat animals better than prostitutes in this town. When you are more scared of cops than of pimps that is something sad to say about your community," MJ said.
Pimps have many alternatives to escape charges related to prostitution or sex trafficking, MJ said. One method is to record a small portion of a sexual encounter and call it entertainment. Sex workers then become paid actors in a video, she said.
Lemke's problems started in 2016 after she ended an abusive relationship, she said. Formerly of Grand Forks where she had her own daycare business and rented a house, she slowly began falling behind in rent. Her decision to enter the sex trade was over $2,100 she owed in back rent, and couldn't pay.
"I begged every organization in the state of North Dakota for some help," Lemke said. "It took me eight years to get enough courage to leave, and I'm not proud of what I've done. Sometimes I just wish I could go back to getting beat, at least then I would have a job and a house."
Today, outside of a few tricks, she finds work cleaning up hotel grounds. Friends call her job LeeAnn's Landscaping, she said.
Some women are forced to perform up to 100 tricks a week, MJ said. She once tracked one sex worker who was with 1,227 men in one year, she said. Her dream would be to have a small house to raise her children and refurbish old furniture, she said.
Lemke's been a sex worker for three years.
"I'm tired of running," Lemke said. "I just want my kids back and be a normal person again. I don't trust anyone in this state, but if I don't have my kids, then I don't have anything to live for."
"There is a very little door with a little light for a way out," MJ said. "Women are victims and they are doing things to themselves. They can't come out and do a 9 to 5 job, it's impossible with the mental health issues and no resume, and it will never change when you are hounded by the cops.
"And none of the cops go after the Johns," MJ said. "They don't want anything to do with that. It's easy to find these people, if I could find them, why can't the cops?
MJ has stopped her underground safe house work, she said. She once had secret hotels and basements in Arizona, Los Vegas, Los Angeles, and North Dakota for women who sought help anonymously. She became involved because she too was trafficked when she was 18 years old. She went to a modeling shoot in Arizona and woke up in Tijuana, Mexico.
To escape, she said she had to become a mule for drugs. Once over the border, "I ran for my life," MJ said.
"I realized then that there are a lot of women who are hurt in this business," MJ said.
Later in life, she ran a topless club in Arizona, and tried to keep her girls safe. The stakes though are too large for her to fight any longer, she said. Now, she helps friends when she still can. She is looked down upon by law enforcement as a vigilante, she said.
"The last thing a girl wants is to tell you her name or have to screw someone," MJ said. "I gave up, it's a lost cause. Whatever is happening is not working."
MJ walks a thin line between trying to do good and danger. She has put herself in precarious situations repeatedly over the past 20 years, she said. Sometimes, when she's out together with Lemke, they both run across customers: a Catholic priest here, a man with his family in a Walmart, a hairdresser.
"I thought I should expose them all," MJ said. "But what good did it do?"
Public pillorying is not the best deterrent either, MJ said. Laws need to be made tougher against "Johns" and the men also need help, just like anyone else struggling with addictions.
Emily Schwartz, the director of the North Dakota Human Trafficking Taskforce, said her organization can help women in Lemke's situation. Anyone who enters the sex world as a worker under a pimp can be considered trafficked as they don't have total say where their money goes, Schwartz said.
"Hers is a story of a number of people who go into it on their own," Schwartz said. "There is help for everyone who wants out, and it doesn't matter how you got involved, we can help you get out."
The North Dakota Human Trafficking Taskforce has multi-disciplinary teams in eight areas across the state mostly along interstate lines, Schwartz said. Anyone who contacts the organization is directed to the team closest to where they are located.
Practitioners include social services, shelters, legal teams - "wrap-around services," Schwartz said.
"It can be really frustrating for those who want to leave to seek out these services," Schwartz said. "We try to arrange all of that on our own."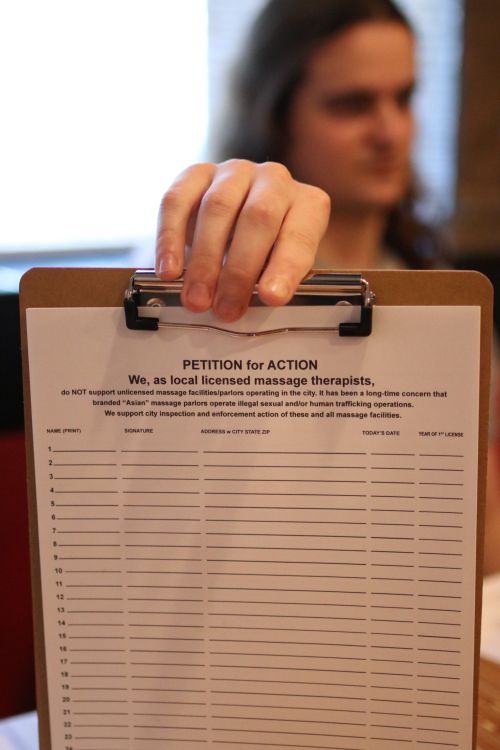 In late September, a licensed masseuse, Keith Coates, went public about his four-year private investigation into sex trafficking in local Asian massage parlors. Hedescribed his frustration with reporting information to police and law enforcement's lack of response. What Coates discovered was a massive, international ring that brings middle-aged Chinese women into the area for short time periods. They're not paid, or not paid much, and usually gone within six months.
Coates, his mother, Linda Boyd, who was a longtime executive director for the Fargo-Moorhead Symphony Orchestra, a city commissioner, and school board member who also ran for Fargo City Commission last year, is pushing for legislative change on issues related to human trafficking.
"I definitely cannot do this on my own," Coates said. "I think there is a way to outsmart the traffickers."
"If it works here then there would be other places that would follow," Boyd said.
UNSEEN development officer, Paul Finstad said public awareness is key to strangling sex work and human trafficking in the Fargo/Moorhead area. UNSEEN is an organization dedicated to fighting human trafficking.
"I really don't think most people know exactly what is going on," Finstad said.