​My Favorite Martins
by Sabrina Hornung | .(JavaScript must be enabled to view this email address) | News | June 5th, 2019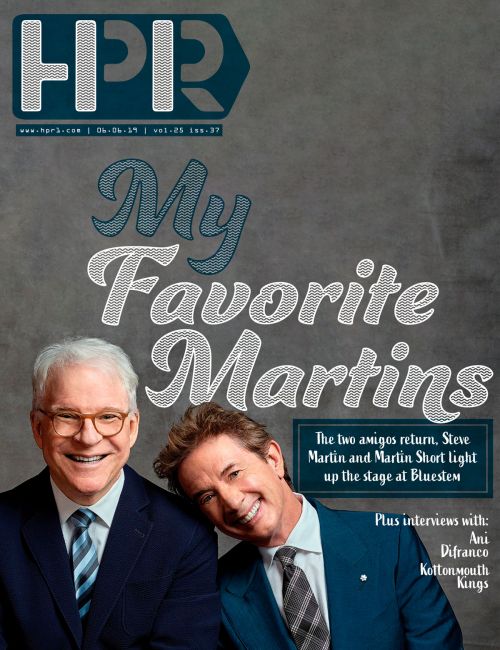 On Friday comedy legends Steve Martin and Martin Short will be bringing their unique variety show to the stage at Bluestem. HPR had the opportunity to chat with the two about their friendship, their careers and their big show.
High Plains Reader: Have you ever been to Fargo/Moorhead?
Steve Martin: About a million times, since the late 60s, I'd tour as a comedian. As an opening act for the Nitty Gritty Dirt Band, I feel like Moorhead was a part of the vocabulary of our travels.
HPR: From what I've read--the two of you met on the set of "Three Amigos?"
Steve Martin: Yes we did, actually not on the set we met way before that because we had to prepare for the movie. We got to know each other on the set of "Three Amigos" because on a movie there's just--there's a lot of sitting around and we got to talk and joke around and kid around with Chevy we all became really good buddies, we'd drive to work together in the morning and I'd have two other funny guys to hang around.
HPR: Was there a big bonding moment where you knew--ok we're going to be friends.
Steve: First kiss, I'd say first kiss.. (laughs)
HPR: I also read that this was the first movie role for Mr. Short--is that correct?
Martin Short: It's true it was my first movie given equal billing to massive movie stars.
Steve Martin: Sabrina, Can I ask you a question?
Sabrina: Sure
Steve Martin: Are you Canadian?
Sabrina: No I'm not, I'm from North Dakota!
Steve Martin: There's a similar accent between maybe North Dakotans and Canadians
Martin Short: That's true actually, I've been told that too actually--are you from North Dakota? No I'm not, I'm from Hamilton, Ontario.
HPR: To bring up "Three Amigos" again, I read that you, Mr. Martin learned how to trick rope while you were working as a teen in Disneyland?
Steve Martin: When I was 13 years old... I worked at Disneyland from the time I was 10-18, because I lived really close to Disneyland and Anaheim and they would hire little kids to dress up as 19th century boys or something and sell newspapers and guidebooks. When I turned 13 I went to Frontierland and I met a real cowboy who taught me how to trick rope and I would work with this guy who was a trick roper and I learned how to trick rope. I finally had a use for it in "Three Amigos."
HPR: When the two of you were growing up--how did you start your comedy careers? Were you class clowns?
Martin Short: If the teacher was weak I was a class clown.
Steve Martin: Yeah--that's the way I was!
Martin Short: Otherwise I was the best student of them all
Steve Martin: Yeah. Right. We were able to shift. I would actually alternate years. I'd go this year I'll be the class clown. THIS year I'll be the A student--though I was never an A student.
HPR: As far as roasting goes in stand up--is there an etiquette or an art to the roast?
Steve Martin: I definitely think there is. I find some roasts too...too harsh.
Martin Short: Yeah, Or too truthful!
Steve Martin: Too truthful? Maybe... Sometimes, but the roast has changed from polite digs--which is what we do, but even then, when we do our polite digs at each other you'll hear the others go--ooooooh! Like it was something awful and neither of us view it as being anything close to awful.
HPR: I always thought it would be tough to sit there and take a grilling!
Martin Short: They're really more silly jokes. You don't really express the truth of things.
Steve Martin: Even though we really do like each other--I think the audience enjoys it and we enjoy it so...we're not too cruel to each other
HPR: Speaking of the polite roast, how have you seen the comedy scene evolve throughout your career--Has there been a noticeable shift?
Steve Martin: It's been a huge shift but it's hard to pinpoint what it is because the comedy world is so diverse in terms of content. You can have one comedian be very extreme you can see another be extremely polite but funny and it's all over the place. You actually have the option to choose your comedy. I think when Marty and I were growing up you had three options.
HPR: Mr. Martin, you're quite the renaissance man.. You're a musician--well, you're both quite musical, you're a musician, and actor and a playwright, how do you balance everything? How does one artform inform the other?
Steve Martin: That's a hard question to answer but I can answer the first part easily. You say how do I balance everything.. It looks like I do a whole lot of things but when you think about it… I don't have a job! So, I wake up in the morning and the day is stretched out before me with absolutely nothing--mostly. I don't report to work at 8 a.m. and get home at 5. Show Business is very much one's own schedule and when you do work--this isn't accurate but our show is two hours long. Of course we rehearse for that for three hours before that every night, there's a lot of time in one's day--especially if you don't have a job. (laughs)
HPR: How would you describe your show, would you say it's a variety show?
Martin Short: It's been referred to as a "Children's show for adults," it's an endless stream of things coming at you whether it's comedic or oddness solo spots or brilliant music. It's a wide variety--and it's very original too.
IF YOU GO:
Steve Martin and Martin Short "Now You See Them, Soon You Won't"
Friday, June 7, 5 p.m. - 12 a.m.
Bluestem Amphitheater, 801 50th Ave S, Moorhead