'My spirit was broken'
News | March 21st, 2018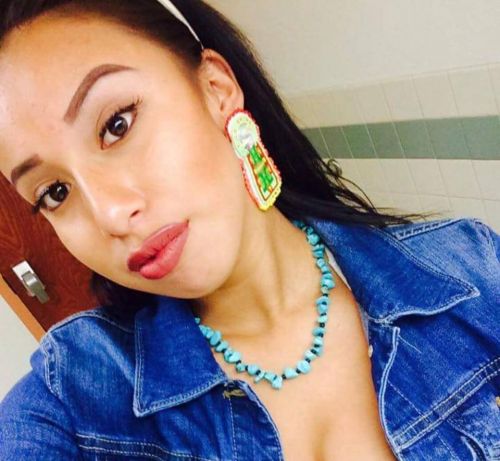 ST. PAUL – When Laycie Jean Williams accepted a train ticket to the Twin Cities in May 2017, she thought she was going to protest another pipeline. She'd already spent time on the frontlines at Standing Rock. As a new mother and a strong Dakota woman from the Crow Creek Tribe, eager to defend Native and environmental rights, she was tricked, she said, held captive for two weeks, threatened with knives, a long gun, beaten, raped, forced to kneel on a broomstick, and strangled into submissiveness.
She thought she was going to die, but she is one of the rare missing and murdered Indigenous women who was able to escape, she said. The trial for her alleged attacker, Derrick Jonathan Fasig, 24, is set to begin in less than two weeks, on March 26 in Ramsey County.
But her family say prosecutors are giving up. Witnesses in the case, which extend to family members and other activists at Standing Rock, have been deemed incompetent or cannot be found. The suspect's father believes his son is innocent.
Police promised her justice, she said, and she grudgingly believed them. Today, her hopes are threatened.
"It's sad because you don't hear of many people surviving," Williams said. "At first I had pity for myself, because my spirit was broken, and that is what he loved."
Charged with kidnapping, Fasig also faces charges of third degree criminal sex conduct, possession of ammunition and a firearm, felony domestic assault, and assault by strangulation.
"I put hope in them," Williams said. "A week and a half before my trial and they tell me nothing is going to happen. How am I supposed to be deal with that?"
From small-town North Dakota, Williams was a stranger in the big city last May. Surrounded by tall buildings, people she didn't know, she turned to the trust that had been established among activists, also known a water protectors, who protested during the months-long Dakota Access Pipeline controversy.
She originally agreed to the trip thinking others would meet her in St. Paul, from where they would travel north to other anti-pipeline camps. She met Fasig at the train station, she said, and was expecting others to show up. Nobody else arrived.
Williams first met Fasig months before at the Standing Rock camps, but she paid little attention to his advances, she said. She wasn't at the camps to find a boyfriend. Since the protest's ending, however, she had kept in contact with Fasig, among other activists, through Facebook Messenger. With nowhere else to go, she accepted his invitation to stay at a relative's house.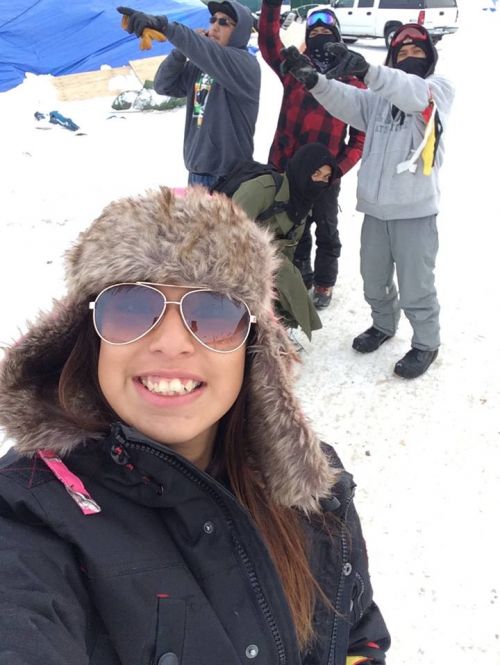 "And he was being real nice, saying she could trust him," said Williams' mother, Melaine Stoneman, a Sicangu Lakota woman from the Rosebud Tribe. "She was going to another protest, she had things to do the next week. It was supposed to be a quick weekend trip. It's kind of like a family thing, so we assumed everything was safe."
Nearly three days of "nice" turned increasingly violent when she said she needed to leave, according to Williams and the criminal complaint on file with the Ramsey County State's Attorney's office.
He told her that he had been watching her since the Standing Rock camps, Williams said.
"I always knew there was something weird about you, that's why I never talked to you," Williams said she told Fasig while she was packing to leave.
"As soon as I grabbed them [belongings], he grabbed my bags and unzipped them and threw them around the room." And the first slap shocked her, Williams said.
"I told him I'm not scared of you, my mom slaps harder than you. For the first few days I was defiant, 'How does that make you feel?' I think he liked that I talked back. And then he started choking me, for a really long time. At a certain point while he was strangling me, I lost my breath, my eyes felt like they were going to pop out of my head, and I was like, 'Oh my god, he's a psycho.' I felt like he was going to kill me."
At times, Williams said he made her her kneel on a broomstick.
"No one is going to notice that you're gone," Williams said she was told. "He broke me, and it seemed really satisfying for him."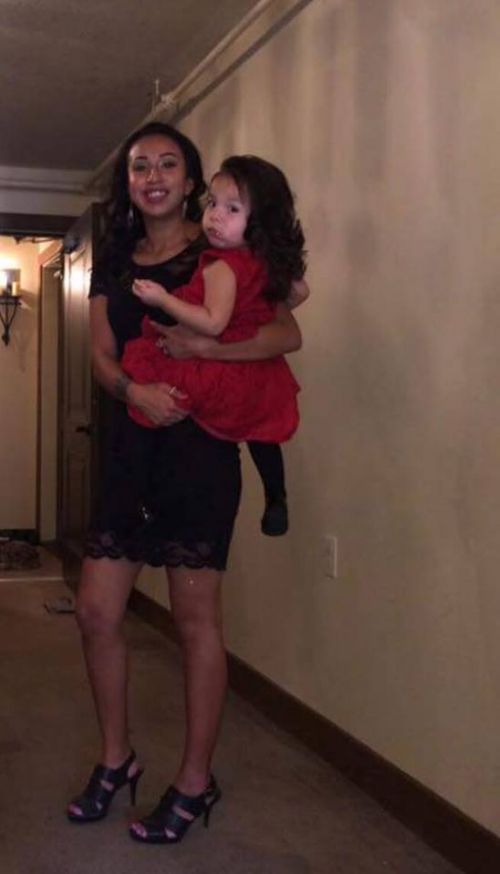 Criminal complaint
The criminal complaint filed with the Ramsey County State's Attorney's office described the escalating situation.
"She described the first few days with the defendant as 'really good,'" the complaint stated. "She then began to realize that he was very insecure. He became controlling and called her a 'whore' if she looked at other men. She became uncomfortable with his behavior and decided that she wanted to go home earlier."
Williams asked Fasig to buy the return ticket home, the complaint stated. He refused.
"He told her he was not going to buy her train ticket because she was not going anywhere."
Williams brought two cell phones with her that had not been activated. She asked to use his cell phone to call her mother and he again refused, then broke her cell phones, according to the complaint.
The next few days slowly turned into a nightmare for Williams.
"He became angry and assaulted her," the complaint stated. "He slapped her repeatedly. He punched her numerous times in the head and face and body. He kicked her in the back and stomach. He got on top of her and strangled her using both his hands. She said he squeezed so hard that she thought her eyes were going to pop out of her head. She said she could not breathe. He also held a knife to her throat.
"She said she was terrified and thought she was going to die during the assault. She stated that nobody else was home during the assaults. He continued to assault her daily when nobody else was around."
Williams tried to escape, but he held her captive, the complaint stated. "If she tried to leave the house, he chased her and dragged her back into the house and assaulted her. He began to zip tie her hands with black zip ties during the evening. He stayed by her at all times and was never more than 20 feet away from her."
Then Williams was raped, repeatedly, according to the complaint.
"She had sex with him because she was in fear that if she did not he would assault her. After the first time that he assaulted her, the sex changed, and he became violent. He pulled her hair extremely hard, slapped and spit on her. He threatened that if she did not do what he wanted, he would anally penetrate her."
She was also confined in a camper, front door locked with a padlock, according to the complaint. While inside the camper, Fasig allegedly took a Merlin [Marlin] long gun out, pointed it at her, and made the sound of a gunshot, the complaint stated.
"He told her that if she ever left him he would shoot her," the criminal complaint stated.
Her eventual rescue began when Fasig brought her to the Dakota 38 protest at the Walker Art Center where she saw a friend known as Slyfox.
"She secretly told him that she was in trouble and needed his help," the criminal complaint stated. "She told Slyfox to contact her mother in North Dakota. She did not try to leave with Slyfox because she feared what the defendant would do."
Williams was punched in the back of her head until she said she loved him, she said, and then he would continue until he felt that she meant it.
"As soon as he found out I was broke, he was satisfied, just like a horse. After he broke me, I had to act like I genuinely loved him."
Williams tried to escape on at least seven different occasions, she said. Once, after being ordered to wash the dishes, she examined the windows, but all had screens she could not fit through. She couldn't call home. Her cell phones were broken, but SlyFox was able to contact her mother, who posted a plea for help on Facebook.
Williams' mother, Melaine Stoneman, was active in the Standing Rock camp's largest kitchen. She had connections to the American Indian Movement, or AIM, who said they would begin mobilizing immediately to search for her daughter.
Due to the Facebook post, family members were alerted to Williams' plight, according to the criminal complaint. A family member drew Fasig's attention away long enough for her to use his phone to call home, Williams said.
"Help me." She remembered telling her mother. "'He has me in the basement. I'm tied up. Don't call back. I can't talk,' and I hung up."
Escape
With AIM in town, and the police alerted, Williams was taken to Fasig's family members' homes, she said. Her mother, Melaine Stoneman, filed a missing person's report with the Williston Police Department, she said.
Teams of activists and friends began searching for Williams, eliminating known addresses one by one that she could have been taken to, Stoneman said. At one point, Fasig called Stoneman telling her that she could talk to her daughter on May 31 if she took the Facebook post down.
She agreed.
The criminal complaint stated that Fasig and his family struck back with a live feed of their own, where Williams stated that she was not harmed. But something was missing in the video, Stoneman said. Her daughter wasn't wearing her glasses.
"I can't believe that he put my daughter on a live feed, and Derrick Fasig was standing there, and he specifically told my daughter that 'You are going to tell the world that you're not missing, that you're perfectly fine, that you're okay, that nothing happened to you.' We can look at that and say, 'That's not my daughter.' Where's her glasses? I always say that, 'Where's her glasses?'"
"On May 31, 2017, the defendant contacted Laycie Williams' mother and he was extremely angry because she did not remove her Facebook posts," the criminal complaint reported. "He told her that she was never going to see her daughter again. She stated that she contacted the defendant's father, who told her that her daughter was okay."
As official and online pressure grew to find Williams, she said she was told to gather her belongings before Fasig allegedly hit her in the back of the head with a wooden rifle, Williams said.
She woke up in a car, scared. Fasig and family members were talking about what to do, she said. She was first taken a garage, and then to another relative's apartment, where she remembered sleeping on the floor, she said.
"Any time I went to sleep he would hold me by my neck, and if I moved a little bit, he would start choking me out," Williams said. "I didn't think I was ever going to escape."
A friend of the family, who will remain unnamed, came to her rescue, she said. "She said we can leave right now. I said, 'Do you know how many times I've tried to leave and couldn't?' I tried to escape at least seven times, I ran from a light rail car, tried screaming for help on Rice Street and nobody came to help me.
"Anytime I got out, I would take off running and he would catch me," Williams said.
Finally, the family friend persuaded her to make the attempt. An altercation occurred between Fasig and his father, she said, and Fasig won. He slashed the car's tires, popping one, before they were able to drive away. She called her mother from an auto shop and told her to come get her.
Stoneman told her rescuers to bring her to the hospital or the police station, but those involved refused, saying they had pending warrants from the Dakota Access Pipeline controversy, Stoneman said.
"My mom ended up coming, and by the time she arrived it was night and I was exhausted," Williams said. "My mom was saying we have to go to the police station, but we ended up getting a hotel room, and went to the hospital, and filed the police report the next day."
Since the experience, Williams has contemplated suicide. She's seeking help from a psychiatrist.
"I'm not doing very good, I'm just here because I am really upset because I had no hope for any of this, nothing was going to happen because how well planned they had everything," Williams said. "This tears me apart completely, and then he may get away with it. I knew what the deal was; I am already broken.
"That was the only thing that kept me alive," Williams said. "Maybe he should have just killed me and then there would be some form of justice."
She wanted to be the voice for all the people who didn't escape, she said. Williams wanted to be the strong woman she felt she was during the DAPL protests.
"I knew they weren't going to do anything," Williams said. "I feel like I am back to square one."
"She's a mom herself, she hasn't been able to be a mom because of this," Stoneman said. "If they've taken anything away they've taken her motherhood away."
She walks on thin ice, Stoneman said, when discussing the case with her daughter, who is fragile. She's also taking care of her granddaughter when Williams can't.
When Stoneman's Facebook videos were posted, she said she received messages from other women claiming they were victims of the same suspect. She encouraged them to file police reports.
"I thank her for speaking out," Stoneman said of her daughter. "And wanting to help herself and wanting to get out of that relationship. The things that he did to her are not right. Maybe the first three days were okay, but after that she didn't want to be there, and many people knew she didn't want to be there."
After Williams' escape, while police searched for Fasig, the emotional abuse continued. Emails saying how much he still loved her "re-victimized" Williams, Stoneman said.
Other allegations
Since investigations into this story began, three other Native women stepped up to tell similar experiences, and all point their fingers toward Derrick Fasig.
Shortly after Laycie Williams' escape, Chasmin Olivia, an Akirara with the Three Affiliated Tribes, met Fasig at Fort Yates, North Dakota, and started chatting through Facebook in June 2017. She went through a similar experience – twice – one time in Bismarck when he refused to let her leave.
She went to Bismarck after she was assaulted because a part of her felt sorry for him, she said.
"He did hit me pretty good," Olivia said. "He bit me on the arm, and he bit my ear, and he bit my finger, and all drew blood. He was trying to choke me, and then when that didn't work, he grabbed a pillow and was trying to cover my face with it. So then after all, nothing worked, is when he hit me a couple times."
Fasig ran when her young son called police, she said. He was caught, charges were filed with the Bureau of Indian Affairs, but Fasig was released six days later.
The abuse didn't stop, she said. After Olivia's second scare in Bismarck, Fasig sent text messages, saying that he had nothing left to live for, and that he might as well go to the Minneapolis mall and "take out as many people as I can," Olivia said. She provided the text message as proof.
"Maybe I felt sorry for him, or something, but after the Bismarck thing, it was terrible. It's almost like a nightmare, how things like that are allowable."
An Ojibwe woman from the Red Lake Tribe in Minnesota who spoke on condition of remaining anonymous, said she met Fasig while at the Standing Rock camps. Just before the camps were evacuated in February, she said he raped and beat her, but she did not file a police report because law enforcement and the activists standing against the Dakota Access Pipeline were not on the best of speaking terms, she said.
A joke escalated into violence, she said.
"The next thing I know he's tying the doors shut, holding me by a knife, and wouldn't let me leave, biting me, punching me, burning me with cigarettes, and every time I stood up he grabbed that knife," she said.
She tricked her way out of the situation, she said, by saying they needed to talk to someone at the camp. As soon as she was free and surrounded by friends, she told him to never talk to her again.
"I feel guilty, I think that if I had said something then, maybe this would not have happened to Laycie," she said. "It's gotten worse every single time, the violence is getting worse. I'm worried the next girl he gets ahold of might not make it.
"We don't need a sexual predator."
MMIW – Missing and Murdered Indigenous Women
"Us Lakota women are of great value, such of a value back in the day when you're talking about a horse, and horses are extremely sacred, and you go all the way back to our creation story," Stoneman said in a Facebook video on June 5, 2017. "And men having a bad thought, doing things not appropriate, women are to be well respected. Some of our creation stories surround our women."
The #MeToo movement helped Williams understand she's not alone, a November 13, 2017 post stated.
Indigenous people represent less than six percent of the population in North Dakota, but Indigenous women are 10 times more likely to be murder victims than the national average, according to the North Dakota Indian Affairs Commission and the Centers and the National Crime Information Center. Indigenous women are also more than two times more likely than other women from all races to experience rape or sexual assault.
They're victimized because historically the perpetrators walk free, or are never found.
In 2016, 5,712 cases of missing Native women were reported to the National Crime Information Center.
"I can tell you that my daughter did not lie," Stoneman said in a public Facebook video. "I can tell you I didn't make her lie about anything. It's really heart wrenching to watch my daughter go through the things she has gone through. I feel really bad, little bit blame myself because I wasn't fast enough getting to her so that other things didn't happen to her.
"No woman deserves to have that kind of treatment. No woman deserves to be mistreated."
All efforts were made to talk to prosecutors with Ramsey County, but no comment was made regarding Williams' case.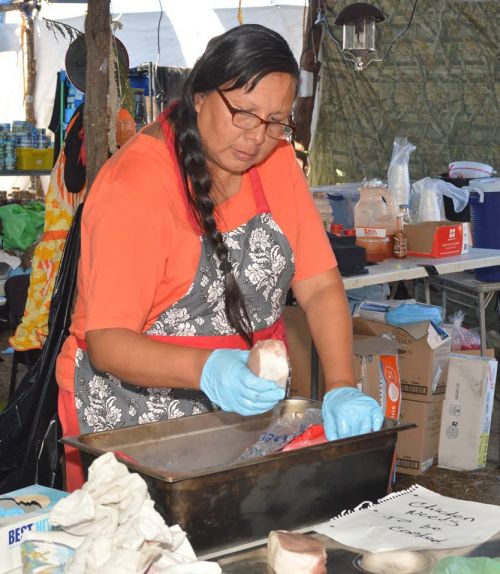 Fasig
Mike Fasig and his son, Derrick, have been estranged for years, Mike said.
"As far as Derrick goes, I don't know a lot about him because he left home at 16," Mike, a registered member of the Oglala Lakota from Pine Ridge, said. "He was out of my home for seven years now. I don't know where he hangs out, I didn't have much communication with him. I have four kids, and three of them are great, and he's the one that got into trouble."
Derrick served 45 days in Scott County Jail in 2014 for domestic assault, according to Minnesota State Court Records.
Despite the relationship's difficulties, Mike said that he doesn't believe his son is guilty, and that Williams is using the case to garner attention.
"I was only around Derrick and Laycie the last few days," Mike said. "I'm the one who sent Laycie home, and it was me, [and two others], and all three of us were together because we were working on the Morton County file, we called it the football."
Mike was active in security at the Oceti Sakowin camps, and has recently gained an online following for his work uncovering the relationship between private security firm TigerSwan and local law enforcement, including the infiltrators that were sent into the camps by federal authorities and private security companies.
A day after Williams told Slyfox about her predicament, Melaine Stoneman called him, he said.
"I didn't know Melaine was Laycie's foster mom, saying my son had kidnapped Laycie, cut her throat, and had her tied up in the basement. I was just shocked… I was trying to tell her to slow down, let me try to find out what was going on, that I ran into Derrick and Laycie just yesterday, but she started attacking me, saying that I am TigerSwan, I am an infiltrator, that I was running an escort service, trying to run Native women into the sex trade."
Mike said he tried to make Williams call her mother multiple times, and he tried to make her leave, but she refused. The live feed he posted to Facebook proving that Williams was alive was a last ditch effort to appease her mother, he said.
"The only marks she had were two hickeys on the side of her neck," Mike said. "She could have just asked for help. If she's being raped and kidnapped, in that two week period of time, there were over 100 people she could have went to for help."
The pressure became too much, Mike said.
"I gave Laycie an ultimatum," Mike said. "I said either you call your mom or at the bare minimum do a live feed with me so you can show the world you aren't being forced against your will. She didn't want to do any of those. I said at this point in time you have to, needed to do a live feed and show everyone that you are alive."
Soon after the live feed, SWAT knocked on his door. They searched the premises twice in one day, he said.
"Me and Melaine have fought so hard, now Melaine's agenda is to just come after me," Fasig said. "In the meantime my son is about to go to trial for kidnapping and rape."
Felony charges against Derrick Fasig hold maximum sentences of up to 20 years imprisonment for kidnapping, 15 years for criminal sex conduct, and another 15 years for possessing ammunition and any firearm.
When Derrick and Williams got into fights, Derrick would tell her to leave, Mike said.
"She would sit on the porch, locked out, crying. If you're being forced against your will, wouldn't you get up and walk away?" Fasig said. "Everything about it, it doesn't go along with what Melaine said."
The gun charge stems from a miniature rifle he confiscated while at the Oceti Sakowin camps, he said.
"The gun charge is even more preposterous," Mike said. "There was a kid's gun, half the size of a normal rifle, it's old, it's like a miniature rifle, made for a kid or something, and that got left behind in my truck from my camps. I took the gun and put it in my camper, and it sat in my camper for a long time."
Mike paid $50 a month to leave the camper at Derrick's sister's house. SWAT broke into the camper and found that gun, he said.
"Derrick wasn't even there, but they took that gun to charge Derrick with a gun charge."
Mike said that law enforcement checked the gun for fingerprints, and did a DNA test, and both came back negative.
"Derrick says he never raped or kidnapped her, and from what I saw, nobody had any reason to believe she was kidnapped. Laycie had every reason to avoid her mother.
"If she really believes my son did all this, why not attack him? Why does it always have to be Mike Fasig's son. I don't have a thing to do with any of it. I am not hiding anything. I'm easy to find, I'm right here."
Mike believes his rising popularity is one of the reasons he feels targeted.
"That's why I really feel bad," Mike said. "I feel like none of this would have been happening if I hadn't gotten so much attention. So many people were following and my name became well known in the movement."
[Editor's note: This story has been modified from its original version. Pictures have been deleted due to one person's request, and one woman's testimony was taken out due to request.]