ND Board files civil action against TigerSwan
News | June 22nd, 2017
cshagen@hpr1.com
BISMARCK - The morning after law enforcement cleared the "Treaty Camp" on October 27, 2016, hundreds of activists defending Native American treaty rights, water rights, and land rights, lined up north of three smoldering vehicles. Fifty yards away, construction trucks set the first cement blocks in a line, forming the second barricade on Highway 1806.
Weeks earlier and under emergency orders issued by former Governor Jack Dalrymple, the North Dakota National Guard manned the first barricade, more of a checkpoint for passing cars.
Tensions brewed at the frontline that day. Police or security personnel taunted activists through a megaphone, teasing them about being cowards behind masks. At their line sat military Humvees, a tan armored vehicle equipped with a sound cannon. Activists brandished plywood shields, and refused to budge. Most activists shouted peaceful messages; one man hurled insults at the police.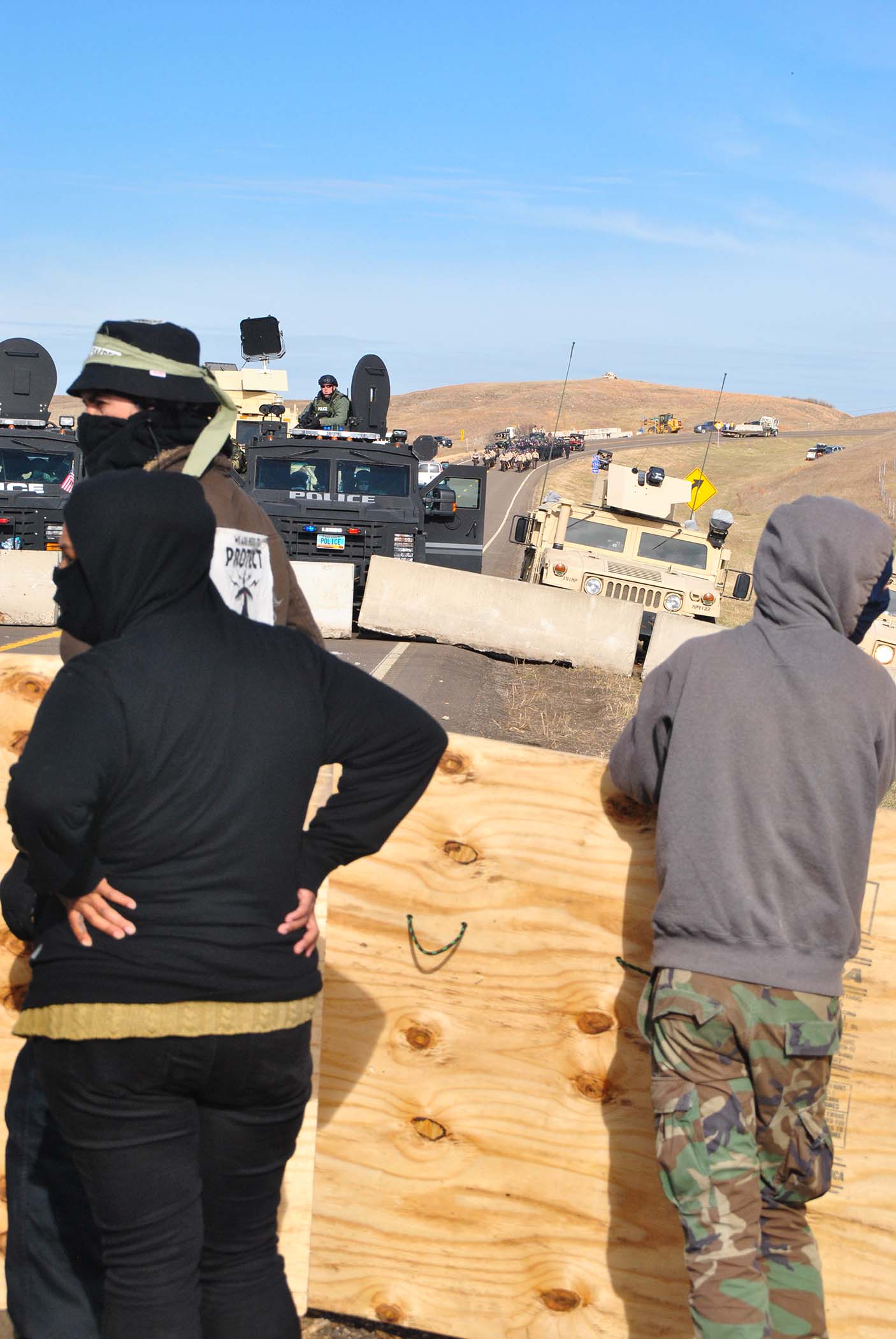 After police issued a final warning, law enforcement from five states decked out in sheriff deputy uniforms, riot gear, and armed with mace, pepper spray, rubber bullets, zip ties and clubs, some with live ammunition, formed a Roman-style phalanx and marched down the highway toward Backwater Bridge. Activists smudged each other with burning sweetgrass and sage. One woman sat amidst the crowd praying, crying so hard her shoulders shook. Two women hugged each other tightly as the marching police neared.
The day was saved by one man with snowy-white hair, smoking a pipe, and wearing a jogging suit, Miles Allard, an elder from Standing Rock. After negotiations, both sides backed down, but the near-altercation was a sign of bigger events to come.
TigerSwan, straight from the war-torn fields in Afghanistan, was in town. One of the first things the mercenary-for-hire company did was gather all the security companies and put them under a "unified command structure," according to a September 7, 2016 TigerSwan overview report.
TigerSwan operatives called security workers from Silverton International unprofessional and unarmed. Other security companies involved included: Thompson-Gray LLC, Knightsbridge Risk Management,10 Code Security, established in Bismarck in 2010, and RGT Security, LLC, registered in Plano, Texas in 2016, Iowa's Per Mar Security Services, SRC, Inc. in New York, and veteran-owned OnPoint Security Group LLC, from Iowa.
Not surprisingly, TigerSwan took the "fusion lead." Now, the mercenary-for-hire company and its founder, James Patrick Reese, face a civil action lawsuit filed by the North Dakota Private Investigation and Security Board on June 12, 2017.
"The Board has taken an administrative complaint which it has brought against EH and its principal, and that is pending," Monte Rogneby, attorney for Vogel Law Firm and the North Dakota Private Investigation and Security Board, said.
"The board is in the process of a civil action against TigerSwan, and that I believe is out for service. The board does have civil authority to initiate either administrative actions or civil actions under the Century Code."
A security company providing illegal security services in North Dakota is a Class B misdemeanor, Rogneby said. Class B misdemeanors can carry a potential sentence of up to one year in jail and $2,000 in fines, according to the North Dakota Century Code. The board's investigation is ongoing.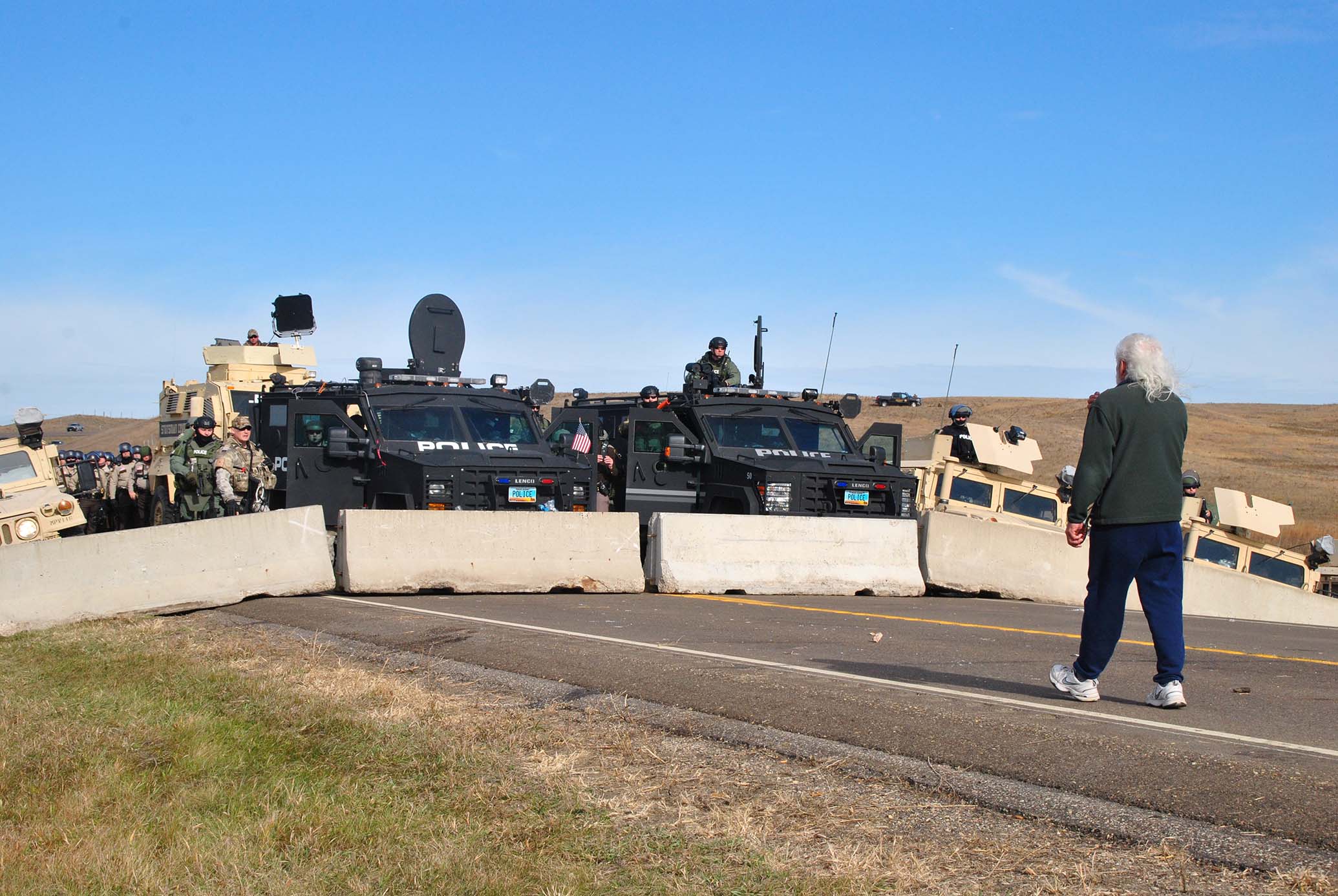 TigerSwan Inc., with offices in Iraq, Afghanistan, Jordan, Saudi Arabia, India, Latin America, and headquartered in North Carolina, has won more than 13 contracts with the U.S. Department of State, the U.S. Department of Defense, the Department of Homeland Security since 2014 worth more than $9 million, according to USASpending.gov.
The North Dakota Private Investigation and Security Board is a governor-appointed committee that licenses and regulates private security industries, according to its website.
EH Investigations civil complaint
According to the civil complaint filed by the North Dakota Private Investigation and Security Board, Jeremie Meisel is listed as the responsible license holder for EH Investigations and Security, LLC, a licensed security agency in North Dakota. In August, 2016, Meisel and EH Investigations were contacted by Leighton Security Services, Inc. to assist with security along the Dakota Access Pipeline.
"Leighton is not licensed or registered to provide private security within the State of North Dakota," the civil complaint stated. "Meisel and EH Investigations conspired with Leighton to assist Leighton in hiring and deploying within the State of North Dakota unlicensed or unregistered individuals to provide private investigative services in violation of North Dakota law."
In the fall of 2016, Meisel relinquished his responsibility to Leighton in violation of North Dakota law, according to the civil complaint. The civil complaint further mentioned some of EH Investigations employees: Richard Anderson, Jason Wentz, Chris Anderson, Eizabeth Marlow, Merry Jenson, and Kimberly Stuart. None were registered in North Dakota to provide security services at the times of their hiring.
The North Dakota Private Investigation and Security Board further requested a hearing to revoke the license and registration of Meisel and EH Investigations, or take lawful disciplinary action against them.
Calls were made and messages were left to EH Investigations personnel for comment, but no replies were made at press time.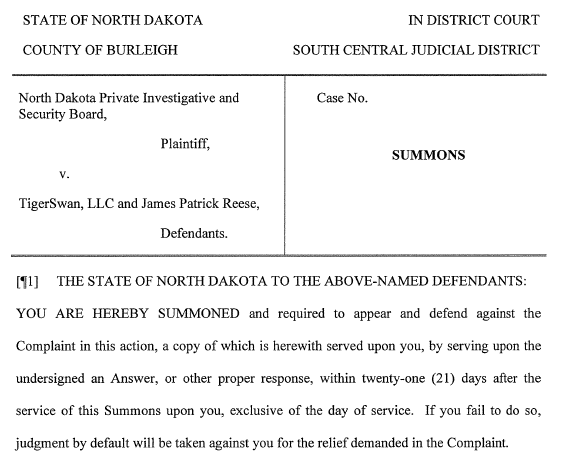 TigerSwan civil action
The civil action lawsuit against TigerSwan revealed the mercenary-for-hire company had a methodical and blatant disregard for North Dakota laws.
Energy Transfer Partners hired TigerSwan in September 2016, the civil action lawsuit reported.
Tig

erSwan's mission: conduct static and mobile security operations in support of the pipeline construction throughout North Dakota. The mercenary-for-hire company provided around-the-clock protection for DAPL, enlisting an "all elements are engaged to provide security support to DAPL" as its execution model, according to TigerSwan organizational paperwork.
Protect the DAPL contractors, protect DAPL machinery, protect DAPL material, protect DAPL reputation, was TigerSwan's rallying cry, according to TigerSwan operational reports.
On or before September 23, 2016, the North Dakota Private Investigation and Security Board notified TigerSwan with a letter that it was illegally providing security services in North Dakota.
TigerSwan's response: "TigerSwan is not conducting 'private security services' in North Dakota."
On October 5, 2016, North Dakota Private Investigation and Security Board sent TigerSwan the guidelines for licensure in the state, and on November 16, 2016, TigerSwan submitted its application on behalf of Reese, but its application was denied one month later.
TigerSwan was denied a license because it failed to provide positive criminal history for one or more qualifying offenses, it did not disclose adjudications of guilt, and it failed to provide sufficient information to the Board "to determine whether a reported offense or adjudication has a direct bearing on Reese's fitness to serve the public."
After an attempted review, TigerSwan's license application was rejected again on January 10, 2017, because the company failed to respond to the North Dakota Private Investigation and Security Board's request for the company's activities in North Dakota prior to its application for licensure.
TigerSwan's mercenaries, armed with semiautomatic rifles and sidearms, continued security services before, during, and after its license application was rejected, according to the lawsuit. The company also utilized international anti-terrorist strategies and tactics against NoDAPL activists.
"TigerSwan provides 'safety and security' services, utilizing claimed trademarked methodologies (F3EAR and NIFE) to identify and mitigate risks through the corporate operating environment," the civil action lawsuit states. "These services include providing in-depth analyses of cyber, workforce, facility, electronic, and environmental security threats."
F3EAR® - Find, Fix, Finalize, Exploit, Analyze, and Recur - former DELTA FORCE leaders who execute cyber and on-site infiltrations to identify weak spots in digital networks, employee bases, operations, and structural security.
NIFE® — Department of Defense compliant, military-grade data and human intelligence that analyzes networks, individuals, facilities, electronics, and the environment to manage risks associated with information security.
Daily, TigerSwan coordinated and provided intelligence to Energy Transfer Partners and "others related to the ongoing protests over the Dakota Access Pipeline construction project," which would include the representatives of more than 1,300 law enforcement officers from five different states who participated in the controversy.
Intelligence came in the forms of flyover photography, summaries of arrests, activist activity, numbers, alleged criminal actions, and equipment. TigerSwan also provided projections of activist activity including the surveillance of social media accounts, according to the lawsuit.
"TigerSwan provided private security services to Energy Transfer Partners concerning the pipeline, and coordinated with other security providers and local law enforcement in carrying out these activities," the civil action lawsuit reported.
TigerSwan maintained the Joint Operations Command Center to coordinate security and intelligence gathering, and organized a Quick Reaction Force to respond to activist activities. It was also the main force behind suspected cybercrime acts on behalf of Energy Transfer Partners upon the hacking group "Anonymous" and other threats against Energy Transfer Partners and the company's executives.
TigerSwan operatives targeted individuals within the American Indian Movement, the Red Warrior Tribal security. Operatives took keen interest in Native Americans from Standing Rock, Red Warrior Tribal security, Pine Ridge Sioux, the American Indian Movement, and others from Polynesia and Palestine.
"The presence of additional Palestinians in the camp, and the movement's involvement with Islamic individuals is a dynamic that requires further examination," a September 21, 2016 situational report stated. "Currently there is no information to suggest terrorist type tactics or operations; however, with the current limitation on information flow out of the camp, it cannot be ruled out."
Approximately 761 people were arrested by law enforcement from August 2016 until February 2017, and more than $38 million was spent by the state defending Energy Transfer Partner's Dakota Access Pipeline, which already has sprung two leaks.
Last week, U.S. District Judge James Boasberg ruled that the U.S. Army Corps of Engineers "mostly complied" with environmental law when approving the pipeline, but failed to consider some matters important to the Standing Rock Sioux Tribe. The Dakota Access Pipeline began shipping oil on June 1.
On June 7, a Freedom of Information Act request was made to the Governor's Office of the State of North Dakota pertaining to TigerSwan activities in North Dakota, and a second request was made on June 20. The Governor's office responded early this week.
Through emails between Morton County Sheriff's Department Public Information Officer Rob Keller and Office of the Governor Communications Director Mike Nowatzki, the governor's office was knowledgeable of TigerSwan's activity.
"I wanted to give you a heads up on this Energy Transfer and TigerSwan meeting with Kyle [Kirchmeier]," Keller wrote to Nowatzki on January 16. "I don't know the intent and the PIOs will not be there."
"If it is a closed session, it's fine,..." Nowatzki wrote back. "Our JIC PIO and Unified Command meet from 0830 to 1000 (CT) every Tuesday so that battle rhythm should be protected with our state team."