'No More Deaths'
News | July 2nd, 2019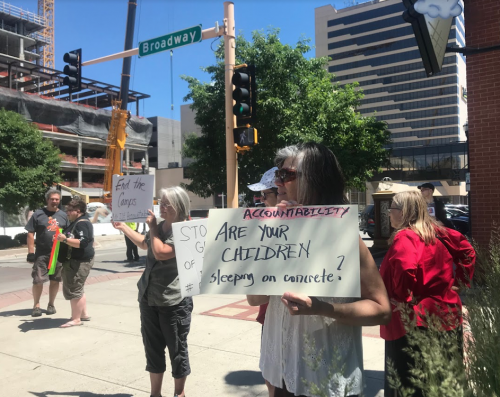 By Melissa Gonzalez
gonzalezme.mmj@gmail.com
FARGO - Tired of headlines broadcasting inhumane conditions in the "concentration camps" along the southern border, angry that state leaders have done little to voice opposition, nearly a dozen people gathered in front of Senator John Hoeven's office to make their voices heard.
Two days before Independence Day, nine people - including Representative Ruth Buffalo - displayed protest signs and handed out flyers with photographs of children who have died recently in ICE custody, or en route along the Texas/Mexico border.
The event was part of a nationwide protest led by Move On, United We Dream, American Friends Service Committee and Families Belong Together, to put pressure on elected officials to close the camps and stop the mistreatment of migrant children and families.
The protest comes amid mounting criticism of appalling conditions and deaths at various camps across the border.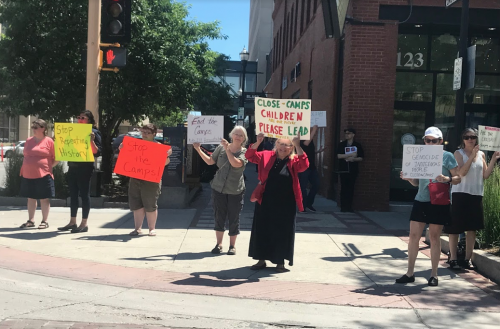 Friendly supporters honked their horns as they drove by and other people took flyers or thanked protesters. Others walked by in silence, or declined to accept the flyers.
"I do think it's weird celebrating Independence Day when there's a lot of really terrible things happening," Kate Lucero, of Fargo, said. "We're supposed to be celebrating freedom. People are coming to this country to be free, even though Europeans stole the land here. So to take children and their family members, put them in cages and celebrate the freedom of the United States is really, I don't really know how people can do that, to be honest."
Lucero mentioned Governor Doug Burgum and his support of President Donald Trump, saying that he agreed to send troops to the southern border if requested to do so.
Mark Staples, deputy communications director for Governor Burgum, referred to a statement released by the governor in April:
"The governors of states along the border are in the best position to assess if National Guard troops are needed to help secure the border, and the majority of them have welcomed the president's announcement," Burgum said. "We support them, and if North Dakota is asked to send National Guard soldiers to assist, we will answer the call. From historic floods to more recent events, we North Dakotans know from experience how critical it is for states to support each other in times of need."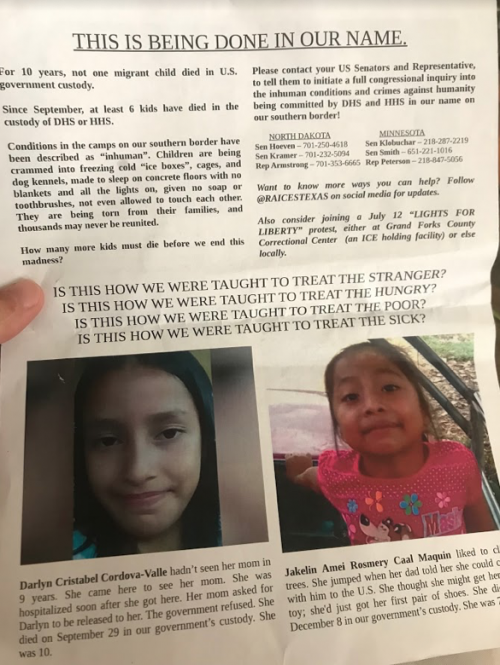 Claudia Murphy, of Moorhead, said she was angry and ashamed of the treatment of migrants and also recognized the occupation of Indigenous lands and the treatment of Natives across the continent.
"I think people here (in North Dakota and Minnesota) really need to be more aware of what's happening," Murphy said. "It's important to recognize that we all occupy Indigenous lands and that all the white people here are immigrants, and that we are guests on this land."
"Many people who try to come here are Indigenous to South America, for us to say they're not welcome, it's like "Who do we think we are?" Murphy continued.
Amanda Vivier, a member of the Turtle Mountain band of Ojibwe and a member of the Missing and Murdered Indigenous Women Task Force, joined the protest.
She, along with her son Travon Spears, sang "As I Pray," a Lakota prayer song while holding signs.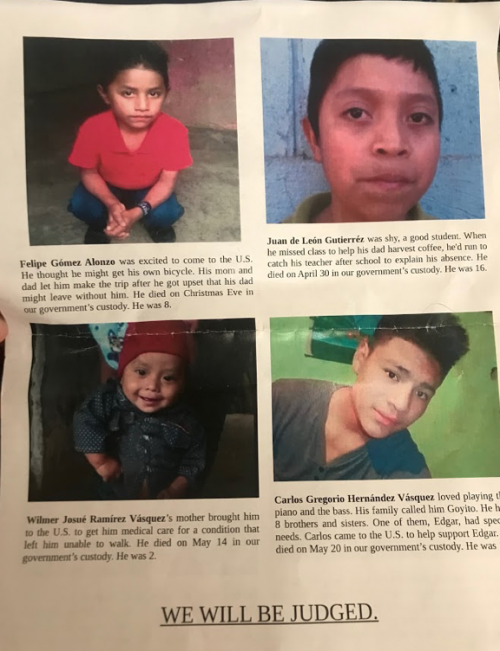 "It's a re-enactment," Vivier said. "The government is doing the same thing they did to Indigenous people. The exact same thing; what they did in Africa, what they did for resources. They're covering up shame."
"A guy is facing up to 20 years in prison for leaving food and water out in the desert for those coming across," Spears said. "That's pretty crazy, why would you even try to charge someone with that?"
Spears is referring to Scott Warren, a professor and member of "No More Deaths," who was charged in 2018 after helping hungry and dehydrated Central American migrants. According to azcentral.com, prosecutors with the U.S. Attorney's Office in Arizona will seek a retrial after Warren's original trial ended in a hung jury last month.
When asked about a possible response from Hoeven, Murphy and Reba Mathern-Jacobson, of Fargo, were hopeful that the senator would be paying attention.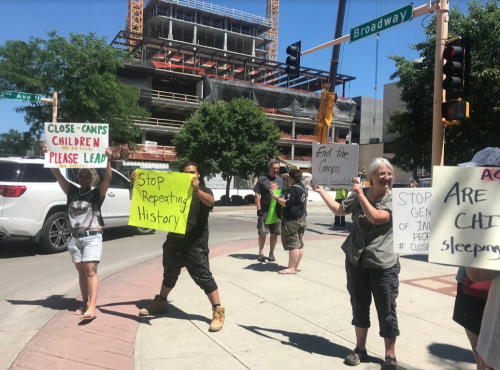 "They don't seem to be in tune with their indigenous constituents, ideas about climate change or standing up to the Trump administration in any way, so I don't expect much," Murphy said. "But I want them to know there are people who live in North Dakota, shop in ND, come to North Dakota who expect better representation."
"Regardless of personal feelings or history with a particular person, I hold out for hope," said Mathern-Jacobson. "As individuals we all have potential to do good. Some of us bear greater responsibility and burden than others because of our lot in life or what we've chosen for ourselves."
Senator John Hoeven replied to questions pertaining to the crisis at the border by saying some emergency funding recently passed by Congress will be allocated to help those who have crossed the southern border.
"We need to secure our borders and close the loopholes that encourage people to make this treacherous journey," Hoeven said. "An unprecedented 411,000 children and families have crossed the southern border in just the first eight months of FY2019, putting a serious strain on personnel, resources and facilities. That's why we recently provided $4.6 billion in emergency funding to address the security and humanitarian needs at the border. This funding passed both chambers of Congress with broad, bipartisan support, and will help border agents and officers to meet the demands of the humanitarian crisis at our southern border while also bolstering their efforts to secure the border, combat human trafficking and stop the flow of illicit drugs into our country."