​North Dakota joins nation in protesting immigration policies
News | June 30th, 2018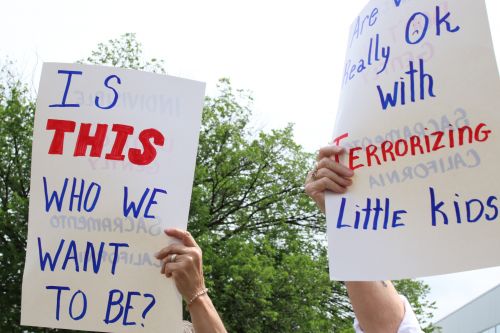 FARGO – Out of 750 protests against President Donald Trump's immigration polices across the nation Saturday, three of them occurred in North Dakota: Fargo, Grand Forks, and Antler, population 27.
President Trump's policy has ripped more than 2,300 migrant children from their parents at the southern border, and now after a court order to bring the families together, the system is still failing. Children as young as three years old are facing judges alone – without guardian ad litem– for deportation proceedings, others are lost, or have been placed with foster families and parents cannot be found.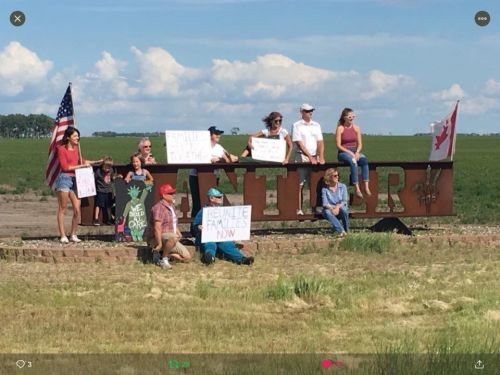 "This issue isn't over yet, despite what the administration says," rally organizer Beth Grahn said. "There are still more than 2,300 children separated from their parents."
On Wednesday this week, no rallies had been planned in the state, Grahn said.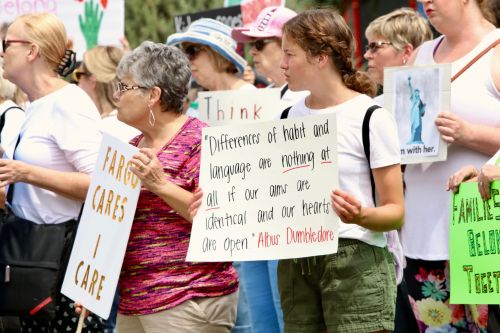 Fargo's rally, which was part of the MoveOn movement, brought in approximately 200 people to the lawn in front of the current City Hall.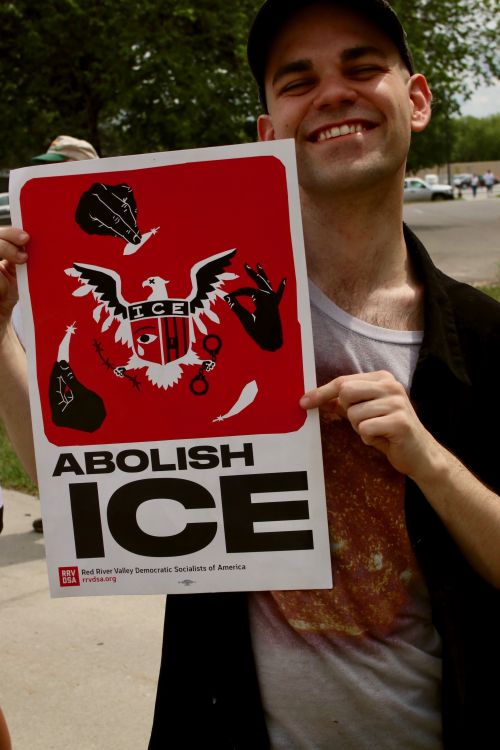 Martha Dille, a psychologist in Fargo, attended the rally because facts show separating children from their parents sometimes leads to adoption failures and can cause long term brain disorders in children.
"This is one of the most concerning issues that we are facing," Dille said. "All the research shows parents need to touch and hold their kids. Children have trouble self-soothing, and here we are creating this. We are doing this."
Immigration attorney Anna Stenson said ICE tactics occuring down south are also happening right here in North Dakota.
"This is what I deal with on a daily basis," Stenson said. "Even though we're talking about the southern border, families are being separated here because of Trump's policies."
Ron Saeger is a Vietnam War veteran, and retired from the military after 28 years of service. He wore a T-shirt warning people of fascism. He lived through the 1960s, when many young men were being drafted to serve in Vietnam, and said today too many people are not aware of the political climate.
"If you leave things for others to do, you might not like the outcome," Stenson said. "It's time to take it back. Just because we had the good fortune to be born here doesn't mean we should shut the door on everyone else.
"It's easy for people to be lulled in, we don't realize until it's too late, and our freedoms are gone."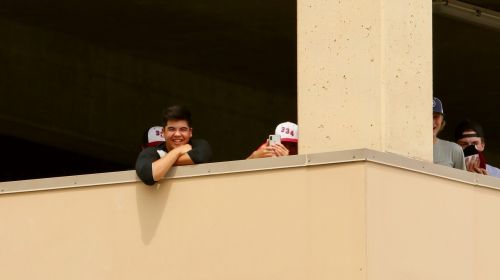 Buoyed by the recent Supreme Court ruling validating the current administration's travel ban against Muslim countries, Trump, during his "Make America Great Rally" in Fargo this week, praised deportation officials and proceedings, saying ICE agents were mean, but they had heart.
"Democrats want open borders, and crime, crime, crime happens when you open the borders," Trump said. "The Democrats want our country to be overrun, just take a look at what's going on, everybody comes in including the vile gang MS13."
Diverting from the issues by focusing on the gang MS13, Trump blamed the recent "attacks" against administration immigration policies on Democrats, further attempting to widen the ideological gap between the country's two main parties.
"We're sending MS13 out by the thousands. We're liberating towns," Trump said. "You know our ICE officers are tough, I gotta say it, they're not nice, but they're mean, but they have heart. But they go into these towns, and these are towns I have known all my life. Our ICE goes in there, they grab them by the neck, they throw them in the paddy wagon, we get them the hell out of our country. And the Democrats are constantly complaining we're too tough on ICE. "