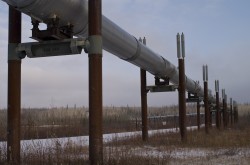 Cleanup underway but damage assessment from major spill unknown yet
Two spills affecting western North Dakota has environmental activists concerned and state regulators downplaying their effects. Earlier this month, 3 million gallons of saltwater generated from oil drilling leaked near Blacktail Creek outside Williston, making it the largest spill of its kind from the oil boom in North Dakota. Additionally 40,000 gallons of crude spilled in the Yellowstone River in Montana near Glendive, which could have some effect on drinking water in Williston. State officials have been testing the water near the spill at Blacktail Creek and drinking water in Williston and have found contamination but not at any levels enough to declare any of it unsafe.
"The complicating factor here is we're still finding areas that have ice on the creek and also on the Little Muddy (Creek) so it's very difficult to get a full assessment of the impact on the creeks at this point in time. We're getting some good information but I don't think it's a 100 percent assessment of the total impacts on the creeks right now," said Dave Glatt, chief of the North Dakota Department of Health's environmental health section, which include the state regulators doing the testing.
Another concern is what happens when all the ice melts and contamination locked inside the ice that might be released as a result. There is worry about the impact of the Blacktrail Creek spill on farmland in the region. And the chemicals from the saltwater spill can be very toxic for aquatic life.
Both of these spills were caused by pipeline failures, which are no doubt facing stress from increased use. But even one of the new ones failed here causing some to wonder if perhaps with all the need there was a rush to build them. Glatt said the spill at the Blacktail Creek was the result of a hole in a six-month-old pipeline.
"They did take that section of the pipe out to the laboratory to do some testing on it to determine, 'Was it a failure in the pipeline material?' Was it construction,'" Glatt said. "They are trying to find out why this happened. So we do know there was a hole in the pipe, we don't know how it got there. The pipeline is about six months old so that was kind of confounding to everybody. You don't expect a new pipeline to have any problems. But there's no 100% guarantees on anything and even with this six-month-old pipeline we did find some problems."
Democrat legislators plan on reintroducing previously rejected bills that would require flow meters and cut-off switches on pipelines that carry oilfield wastewater. Don Morrison, executive director of the Dakota Resource Council, is one of those advocating for increased measures to enhance pipeline safety in North Dakota.
"We need to make sure that pipelines are monitored, we need to make sure that there is enough state and/or federal inspections and standards for pipelines. We need to make sure those standards include a whole lot better monitoring of what's going in the pipeline and what's coming out so that we can find these spills more quickly. And the pipelines need to be built better so they don't leak. And they need to make sure that they are put in places that if they do leak, they are not going to get in our drinking water and they are not going to get in our water systems and our rivers and our lakes and our farmland. They don't have to put these pipelines that are in places that destroy farmer's fields or our drinking water," Morrison told HPR.
Morrison believes these spills are a direct result from oil companies going too far, too fast with the boom and not leaving time for infrastructure to catch up.
"We've already had 131 spills since the beginning of this year ... through the 26th of January in North Dakota of oil, the toxic oil wastewater brine and other chemicals. Certainly this one in Williston is the biggest but these things show a seriously lack of preparation for building the infrastructure to handle the chaotic, rapid oil development we've seen. And now we're seeing the consequences of how oil was developed in North Dakota as fast as possible with little or no regard for water and the people who live here. And now it's consequence time," Morrison said.
So where do we go from here? The spills don't seem to be decreasing. Yet is anything being done to prevent more of them? And at what point do we decide that what is happening isn't working. While Glatt said there haven't been many issues from the current spills, he feels there is room for improvement.
"I do think there could be some more work done. There should be some activity to take a look at what are some common sense precautions that we could be taking that we are not doing now. Putting in certain type of meters that can detect losses in product, I just think that should be looked at. I do think some companies are doing that now. Just because they don't want these kind of spills to occur because it costs their bottom line big time. This is going to be a very expensive cleanup. They don't want to have to go through this again," Glatt replied
Morrison told us he feels more North Dakotans need to speak out about wanting things to change.
"People who live in North Dakota really need to take it to heart that their voices are needed to get a handle on this. It's not going to stop oil development, it's not going to hurt our economy if we do the development of our resources in a much more common sense way. I think we can get there but there's obviously a need for more public pressure before we are going to get there. It's not going to happen without more public pressure."
One issue that has been highlighted recently in an extensive New York Times investigative piece about the oil boom is about how significant fines to companies for spills or pollution are rescinded after the company cleans up the problem. Some wonder if that provides no incentive for companies not to repeat bad behavior. Morrison said some legislators are looking to change that.
"When there are flagrant violations of the law for safety and health of the people, well then they need to fine them and make that fine stick and not waive the fine. There's also a bill in there that not allow the Health Department and the Department of Mineral Resources to waive 90 percent of the fines so actually if they are fined, they need to pay the fine. So we have an attitude problem in state government that if they are real nice to the industry than they got to able to do things right and it's not working very well," Morrison said.
Glatt believes that because of these recent incidents, change will come in how spills are regulated after the fact.
"The vast majority of the spills are very small and can be cleaned up right away so that's what I tell the public they are being handled right. It's the big ones that really hit the news and they are a problem. I do think that things change, every time one of these things happen, things change. So we'll be seeing some change for the better in tracking these and making sure these things don't happen in the future," Glatt said.
At what point will we see a reduction in these spills with all the changes remains to be seen. Morrison said it's all about North Dakotans deciding what they want their state to be and when enough is enough.
"One of the things that people should really keep in mind is that what are your values and what are your standards and what do you want North Dakota to be like, do you want North Dakota turned into an industrial zone?" Morrison replied. "If you don't, then you need to speak up."