​'Passing North Dakota around like it's a warm bottle of gin'
News | October 1st, 2018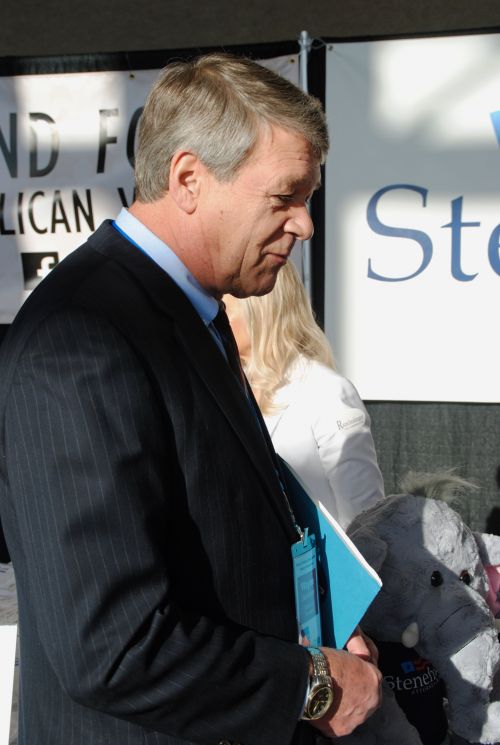 BISMARCK – Eight months after the state's Attorney General joined Texas and 18 other states in a federal lawsuit attempting to declare the Affordable Care Act unconstitutional, a Bismarck attorney filed a lawsuit requesting the state withdraw.
Thomas Dickson of Dickson Law Office and five other petitioners filed a suit against current Attorney General Wayne Stenehjem arguing that the Texas should not speak for the sovereign state of North Dakota, and that Stenehjem is breaking state laws.
"He is surrendering North Dakota to the Texas branch of the John Birch Society," Dickson said. "You have to follow the rules, we have to follow rule of law. North Dakota is a free and sovereign state, but he [Stenehjem] is passing North Dakota around like it's a warm bottle of gin at an all-night kegger."
If Texas, which is seeking a national injunction, wins the federal lawsuit, then starting on January 1, North Dakota loses, Dickson said.
"People with pre-existing conditions will lose, North Dakota children on their parent's policies will lose. North Dakotans who need lifetime care will lose. If Texas wins, North Dakota loses. This is serious.
"Stenehjem has crossed the wrong Red River," Dickson said. He didn't find out about the lawsuit until mid-summer, he said, and it was his wife who has a pre-existing condition who alerted him.
Then he started receiving calls from upset doctors and parents, which led to him filing the lawsuit on September 24.
The lawsuit has been a contentious issue for proponents of the Affordable Care Act, otherwise known as Obamacare, as they argue approximately 316,000 people with pre-existing conditions in the state will lose health insurance coverage if current laws are changed. Dickson filed a Writ of Mandamus, a highly unusual and rarely used legal action that seeks a court order commanding a public official to do or not to do something.
Those seeking health care coverage will be forced back into the "good old days" of reading the fine print, of risking refusal because of pre-existing conditions, and potentially suffer lifetimes of enormous hospital bills, if the Texas lawsuit is successful.
Republicans have tried repeatedly behind closed doors to repeal the Affordable Care Act, and they have failed. Since President Donald Trump's Tax Cuts and Jobs Act knocked the teeth out of the ACA after eliminating penalties for not obtaining health insurance coverage, the Texas lawsuit alleges that the entire law is now unconstitutional.
Little else is known about the lawsuit, or its progression through the federal district court in the Northern District of Texas under the conservative Judge Reed O'Connor. The North Dakota Attorney General's office has remained tight-lipped about the trial, and the office is referring all questions to Texas.
"The Respondent Attorney General has refused, through his staff, to provide public information concerning the State of North Dakota's participation in Texas v. USA," Dickson wrote in his lawsuit.
"The Respondent Attorney General has a duty to defend state laws and lacks legal authority to bring actions that threaten or jeopardize North Dakota state laws."
On September 20, the lead attorney who spearheaded the federal lawsuit, Austin Robert Nimocks, special assistant Attorney General, requested to withdraw from counsel.
Nimocks is a radically conservative lawyer against women's rights, who supports the criminalization of homosexuality, supports enforcement of "immigration laws," and has frequently defended big corporate interests in Texas. He has spoken repeatedly at Alliance Defending Freedom functions attacking gay marriage legislation, claiming that a "homosexual agenda" will destroy Christianity and society.
On Nimocks' Facebook page he listed himself as a special counsel for civil litigation for the Texas Attorney General's Office, and is a former senior counsel for Alliance Defending Freedom, named a hate group by the Southern Poverty Law Center.
Attempts to contact Nimocks were unsuccessful.
"The reason he withdrew from this case is because they knew we were going to sue," Dickson said. "And he was going to be an embarrassment. They wanted to keep him out of the line of fire."
Darren L. McCarty is the remaining lawyer working with the Texas Attorney General's Office and purporting to be representing the State of North Dakota. His views appear to be similar to Nimocks, according to his Facebook likes, posts, and interests.
Stenehjem, according to Dickson, is violating North Dakota law by allowing Texas lawyers to represent the state. Texas Attorney Generals are not allowed to practice law in North Dakota, and North Dakota Attorney Generals are also not authorized to practice law in Texas, the suit explained.
The lawsuit has prompted former state politicians to fight back, organizing under
Dakotans for Health, an ad hoc group of North and South Dakotans focused on maintaining and improving provisions within the Affordable Care Act.
Former U.S. Representative for North Dakota Earl Pomeroy said if the Texas court strikes down current law, then protections will disappear. He also stated that the lawsuit is a result of repeated legislative defeats, meaning Republicans went judge shopping.
"It clearly reflects Congressional intent that what remains on the books should remain on the books," Pomeroy said. "Because Congress repealed part, the rest has to go, that's just nonsense in my opinion."
"The one piece of this that is important is that I am profoundly disappointed that the Attorney General decided to outsource North Dakota's health issues to a courtroom in Texas, that doesn't make any sense," former U.S. Senator Byron L. Dorgan said. "I don't think that he consulted anybody before he did it.
"A whole range of benefits that now benefit North Dakota consumers who have health insurance are at risk of being obliterated by the lawsuit that wants to invalidate the Affordable Care Act."
Pomeroy and Dorgan have also had no luck obtaining information pertaining to the lawsuit.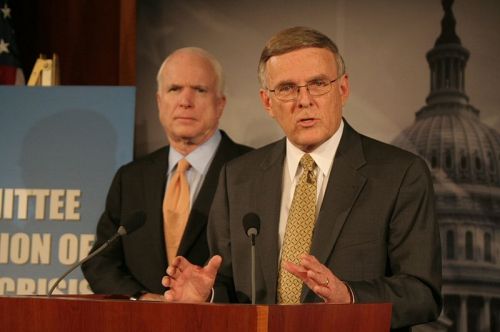 "It's impossible to follow it, because the Attorney General refuses to give anybody the information," Dorgan said. "It's sort of bizarre because North Dakota's interests are at stake. It's a disservice to North Dakota constituents to not being informed about what is happening especially as consequential as this one.
"All I know is North Dakota is participating in the suit, and they are being very close mouthed or don't care."
Others say North Dakota joining Texas in such a lawsuit is not only irresponsible, but reckless.
"That is saying that North Dakotan's health and health care is determined by Texas," former Deputy Secretary of Health and Human Services Mary Wakefield said. "I find that response incomprehensible. This is about North Dakota family health and health care and that any part of it should be decided in Texas, 1,000 miles away by people who don't know our families and communities, is an abdication of responsibility."
Farmers, who make up two-thirds of the total number of susceptible people in the state, will be especially hard hit if the lawsuit succeeds, Dorgan said. On top of losing protections for pre-existing conditions, financial losses from the current trade war with China will hurt them even further.
"The ability to get affordable health insurance even if you have a pre-existing conditions is 'Godsend,'" Dorgan said.
"A lot of things are coming down on farmers who are trying to make a go of it," Dorgan said. "Tariffs have really hit farmers very hard, farmers and others are at risk to get the right kind of health insurance they want. All of this is pretty unfair.
"It's a pretty tough time, and this puts risks on all North Dakotans."
Grand Forks attorney David Thompson, who is running to replace Stenehjem as the Attorney General, agreed that Stenehjem's actions are illegal, violating North Dakota Century Code.
"Stenehjem has illegally ceded his duties as Attorney General for the State of North Dakota to the Attorney General for the State of Texas," Thompson said in an email. "A gravely serious matter because the lawsuit itself – if it is successful – will potentially eliminate health care insurance for thousands of North Dakotans, and certainly remove pre-existing condition health insurance protection for thousands more citizens of our state. It is nothing less than an outrage.
"The illegal nature of Stenehjem's actions has now been brought squarely before a state District Court in a highly-unusual court action by North Dakota doctors, and by patients with pre-existing medical conditions, whose lives literally will be at risk if Stenehjem's Texas lawsuit ends up being 'successful' for Stenehjem."
Dickson seeks the "immediate dismissal of the State of North Dakota from the pending case in the federal court," according to the lawsuit, and that Stenehjem prohibits Nimocks and McCarty and any other individual from representing the state until they have been properly vetted.
Dickson is further seeking court action halting Stenehjem's participation in the lawsuit, and assurance he does not join similar lawsuits without proper consultation. He is also seeking reimbursement for court costs.