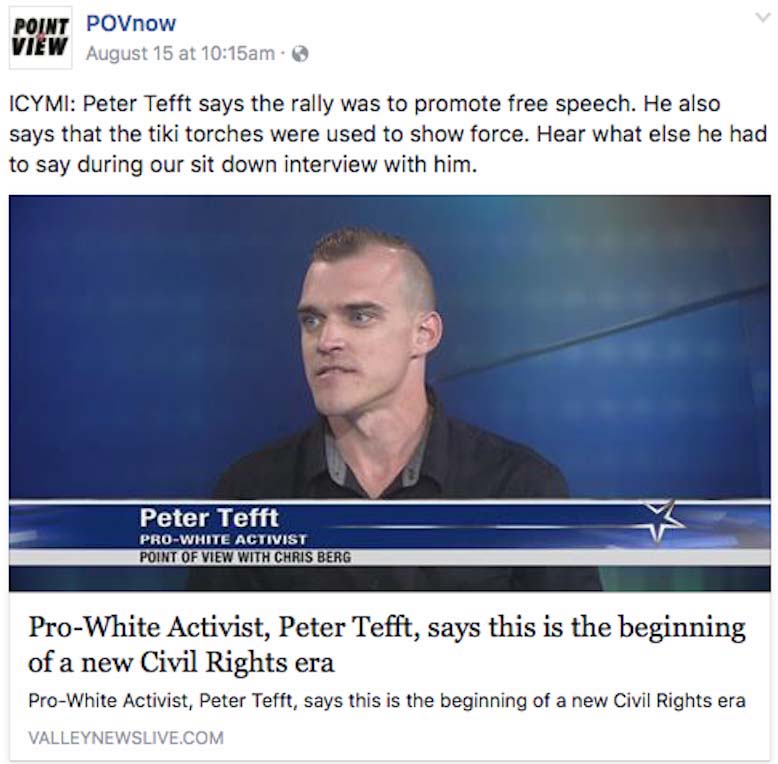 F ARGO – Expressing disgust over an interview with a local "pro-white activist" on Valley News Live "Point of View," concerned citizens have started a campaign to pull advertising from the show.
Concerned citizens are pointing to Chris Berg's POV interview with Pete Tefft, identified as a Nazi earlier in the year, claiming Berg attempted to normalize the alt-right ideology by refusing to acknowledge Tefft as a white supremacist. Tefft describes himself as a pro-white activist, saying terms such as Nazi, or white supremacist, are nothing more than modern day slander.
A message by a Valley News Live spokesperson to a concerned citizen said POV is not a news program.
"It's literally titled 'Point of View,'" the spokesperson wrote in a message. "It is an opinion show and Chris Berg is the moderator."
The station spokesperson further added that Tefft claims he is a pro-white activist, which "in our eyes, that's no different than referring to someone who is transgender by the gender identity of their choice."
The comparison angered the committee Red River Valley Democratic Socialists of America, or RRV-DSA, who initiated the reaction.
Kevin Ackley, who is on the elected governance for RRV-DSA, said Berg attempted to soften the conversation by normalizing potential hate speech.
"They gave him [Tefft] a microphone for 30 minutes, and let him set the terms by claiming to be a pro-white activist," Ackley said. And also equating that with gender identity, they didn't just simply cover his presence at the Charlottesville rally and inform the public. Our president does enough to normalize hate speech and intolerance of others, and we don't need local media doing that too.
"So our local advertisers need to know what they're funding."
Jim Wareham, vice president and general manager of KVLY-TV/KXJB-TV Valley News Live, said the complaints have no merit.
"I'm not intimidated by anti-free speech fascists," Wareham said. "These people have been harassing us on Facebook all week and they can't make their point. It's a nonsensical issue."
Kevin Latek, a former vice president for Gray Television, which owns KVLY-TV, and is now a member of the board of directors for CBS Affiliate Association, said he had not heard of the controversy.
"And there will be no comment, and even if I knew what you were talking about, I wouldn't comment on a local story," Latek said.
Berg refused to comment.
The North Dakota Human Rights Coalition is assisting the effort by sharing information on Facebook.
"By pulling their ads from POV, business owners are putting people over profit," The North Dakota Human Rights Coalition said in a statement. "It sends the message that they don't condone the rhetoric and violent behavior of the groups with which Mr. Tefft aligns."
Advertisements on news shows are aired randomly, and the companies involved had no idea their advertisements were slotted to run during the show's timeframe. The companies whose advertisements ran during Berg's interview with Tefft include: Medical Weight Loss Specialists, Jaeger Furniture in Fergus Falls, A Cutting Edge Jewelry, Toyota, Riverview Place, CHI Living Community, Subway, and The Bowler. All the companies were contacted for comment, and every one who spoke said they were previously unaware their ad had run during the interview.
"I don't control when my ad goes out," James Tandeski, bar manager at The Bowler, said. "I've called my media consultant, and he contacted KVLY and they do not even want our ads on that show."
Medical Weight Loss Specialists had a similar response.
"At this time we have decided to suspend our advertisement on the Point of View show," Medical Weight Loss Specialists Dr. Spencer Berry, medical director at the clinic, said.
Brad Jaeger, owner of Jaeger Furniture in Fergus Falls, said he had received emails about the advertisement, and has asked to have future ads not aired during the POV program.
"The way it works is your ads get put on a rotating schedule, computer picks a blanks spot and you drop into it," Jaeger said.
His company will continue to run advertising with the television station, just not on the POV show, he said.
Jeff, owner of A Cutting Edge, said he also had no idea that his advertisement ran during the POV show.
"I've heard some flack about it because they ran our ad," Jeff, who said he only wanted to be identified as Jeff, of A Cutting Edge, said.
"I'm not glad they gave him ad time, it doesn't reflect who we are or how we think," Jeff said. "Anybody in this day including our president that believes that racism has a place in America, is totally off track. This is not the direction America wants to go, this is not Germany 1936, and Americans are way more educated than that."
Jeff said he has spoken to Berg about his company's unhappiness, and is waiting to speak with KVLY-TV management.
Toyota USA was contacted for comment, and after asking for information said the company will investigate the matter, Aaron Fowles, with Toyota's public relations office, said.
"Toyota advertising is distributed through a variety of outlets in the interest of sharing its product news and information with a diverse consumer audience," Fowles said. "In addition, we feel that the ability to express different viewpoints through editorial content is an integral part of having a free press.
"That said Toyota does not condone discrimination in any form."
The fact that station spokesperson compared Tefft's "label" to gender identity is wrong, Ackley said.
"Gender identity is neurological, biological," Ackley said. "It's not hate, or a choice of activism. It's not a choice. Tefft's affiliation with all of the groups at the Charlottesville rally and his identification as a pro-white activist is public relations, it's not something that he was born as."
The issue comes after Tefft attended the Charlottesville, Virginia "Unite the Right" rally, where one person was killed after being struck by a car when it plowed into a crowd. Tefft said during an interview on August 14 that he plans to hold his own rally in Fargo to bring awareness to white rights issues.