​Politics of privacy
by C.S. Hagen | .(JavaScript must be enabled to view this email address) | News | October 17th, 2018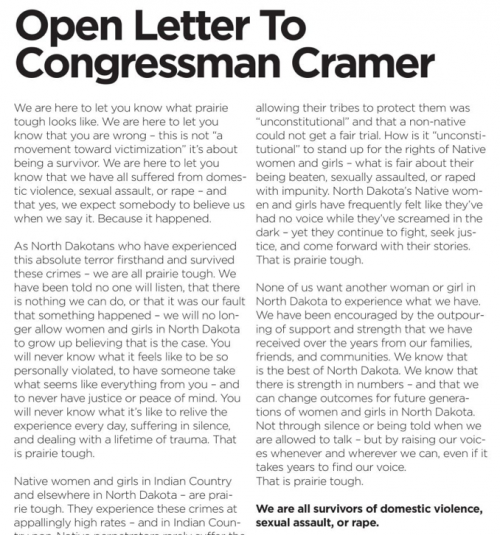 BISMARCK– Senator Heidi Heitkamp's open letter advertisement featuring survivors of sexual abuse to Congressman Kevin Cramer was well intended, but not well managed, she said.
Heitkamp, known as the most endangered Democrat in the nation, is in the final weeks of a heated race against Cramer for her Senate seat. She knows forgiveness might not come easily, but is taking responsibility for her office's lack of due diligence.
"The trauma of people being named when they didn't want to be named, that's on me and I have to atone for what we did," Heitkamp said in a statement. "We have to own the mistake, we have to tell the victims that this is a horrible mistake, and we couldn't feel worse about it, but that's not going to satisfy some of the folks and we're going to keep trying to do better and try and fix this problem."
A total 127 women's names or initials were featured in the advertisement. A large majority of the women had given permission, but some claim that they either did not authorize the use of their names or are not victims of sexual assault.
"We are here to let you know what prairie tough looks like," the open letter stated. "We are here to let you know that you are wrong – this is not 'a movement toward victimization' it's about being a survivor. We are here to let you know that we have all suffered from domestic violence, sexual assault, or rape – and that yes, we expect somebody to believe us when we say it."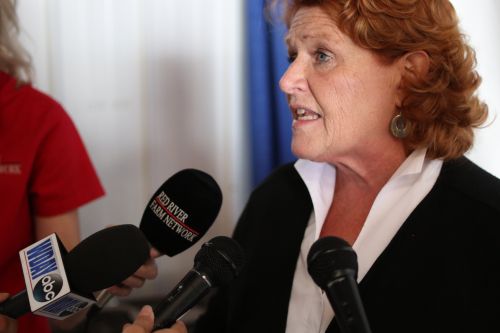 Heitkamp's intent was to alert Cramer to the fact that survivors of sexual abuse are not weak, as Cramer implied in a New York Times article. Cramer stated that Ford's claims were "absurd" and said his own wife and daughters were "pioneers of the prairie" and could not understand the "movement toward victimization."
Heitkamp voted against Justice Brett Kavanaugh's appointment to the U.S. Supreme Court after hearing Dr. Christine Blasey Ford's testimony and watching Kavanuagh's temper tantrum before the U.S. Senate. Heitkamp also told reporters that her mother was a sexual assault survivor, and that the attack "didn't make her less strong."
A campaign staffer has been fired because of the incident, Julia Krieger, communications director for Heidi Heikamp for North Dakota, said. Krieger could not say how many women are claiming their names were used without permission.
Some of the women named in the letter took to Facebook to share their resentment about being named saying they were "disgusted" and "furious" to see their names in the advertisement. One woman claiming the outing goes against Marcy's Law is looking into hiring an attorney.
"Sexual assault is a serious crime – and one that too many North Dakota women have experienced," Heitkamp said in a press release. "In an attempt to bring awareness to this issue and push back against dismissive comments toward sexual assault survivors by Kevin Cramer, our campaign worked with victim advocates to identify women who would be willing sign the letter or share their story. We recently discovered that several of the women's names who were provided to us did not authorize their names to be shared or were not survivors of abuse. I deeply regret this mistake and we are in the process of issuing a retraction, personally apologizing to each of the people impacted by this and taking the necessary steps to ensure this never happens again."
The North Dakota Republican Party tweeted that a group of abuse survivors featured in Heitkamp's advertisement said their lives have been "downright ruined."