​Prairie Public may be blocked by Kilbourne high-rise
News | July 17th, 2018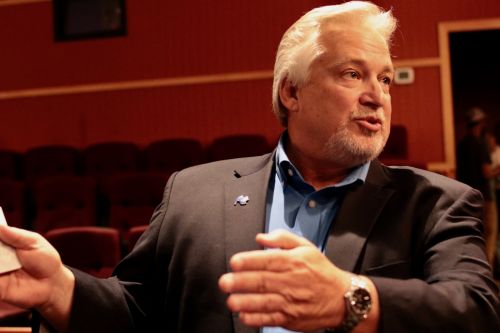 FARGO – Kilbourne's long-term dreams of a Dakota high-rise stirred resentment on Tuesday when the real estate company announced construction on Block 9 will begin next month, and could soon block Prairie Public's broadcasting signal.
Discussions between the Kilbourne Group and Prairie Public have been ongoing for at least five years, but the pressure is mounting as Prairie Public has approximately nine months to find a solution.
Prairie Public is a television and radio station focused on family entertainment providing shows such as "Mister Rogers" and "Downton Abbey," along with news reports, in depth investigations, and family entertainment. It is publicly owned, meaning it depends on membership fees and donations to keep its business afloat.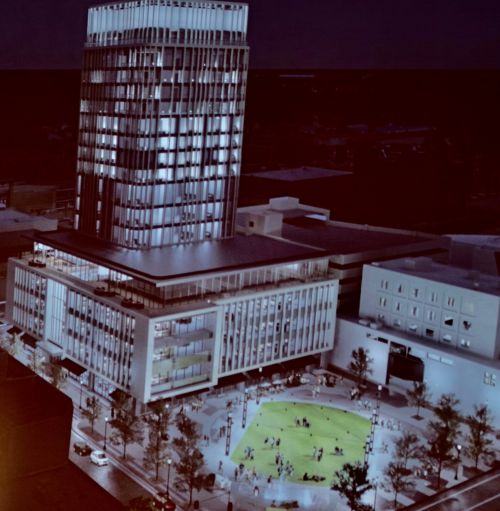 Prairie Public CEO John Harris said if the station's signal is blocked, he will have few options but to spend money that may be difficult to find, including erecting a new tower, or installing underground fiber optic cables, which could cost the company upwards of $600,000.
Prairie Public is more than half a century old, and it moved to its downtown location in 1985, Harris said. The company is simultaneously facing a separate possible financial crisis to pay $750,000 to purchase radio licenses from NDSU and UND in order to continue broadcasting to eastern North Dakota. To make matters worse, the state legislature slashed funding to Prairie Public by 29 percent, or approximately $500,000. Thirteen positions within Prairie Public were recently eliminated and people lost their jobs.
Backup signal transmitters will not be adequate in a pinch, Harris said, and a number of transmitters would receive no signal if it's blocked.
"But it's nice to hear the timeline, this time it may happen for real and it's getting real serious now on what we need to do to take care of our situation," Harris said. "I'm anxious, whatever, nervous, because once they start digging we definitely have a timeline. We only have a level when they get to a hundred-and-some-odd feet where we have to have a solution. We probably will have to have a temporary solution."
Resentment during the hour-long announcement meeting at the Fargo Theatre came from listeners who spoke of growing up with free public radio and television, and didn't want to see it lost. One young girl stood up and asked why the Kilbourne Group wanted to erect an 18-story building in the middle of downtown.
Kilbourne Group project manager, Keith Leier, said because it will add family-focused entertainment, more than 300 jobs, extra hotel rooms, office space, parking, and dining to the city's charm.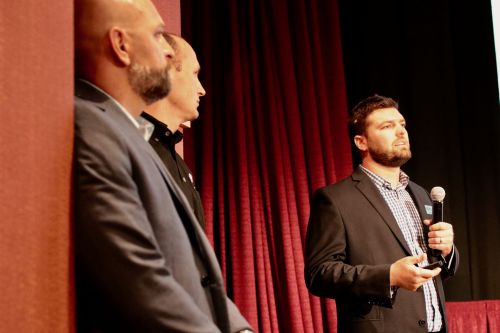 The truth, according to Prairie Public, is that Block 9 will block its radio and television signals that bring free educative, informative, and entertaining broadcasts to the state. Additionally, the state's emergency alert system would be affected.
Leier was not aware that the state's emergency alert system would be affected, he said.
Programs such as Sesame Street, PBS Newshour, StoryCorps, and local news would be lost.
"You are certainly going to lose a lot of less than good will if this ends up not being a good deal for Prairie Public Television," an onlooker spoke up from the crowd listening to Leier speak.
"Yes, we aren't walking away from this," Leier said. "We're not saying this is a Prairie Public problem they can deal with it on their own, we've been engaged with them and the city and with some consultants and I've done my own construction estimates on it and have done studies on where we can place the line-of-sight service. We're actively trying to find a solution and I'm confident we will."
The approximate $117 million Block 9 18-story high-rise might not reach the sky, but it's muscling its way into the area. Some residents and business owners, including the owner of King House Buffet, have complained about unfair treatment, rents tripling. Others are thinking of moving across the river into Minnesota.
The Kilbourne Group is a real estate rental and development company, which Governor Doug Burgum founded prior to taking office. Burgum has come under fire since taking office in 2016 for accepting approximately $37,000 worth of Super Bowl tickets and after the state auditor reported his office was wasting taxpayer money by using state aircraft unnecessarily.
Partners in the Block 9 Project are private and public, including RDO Companies, the Kilbourne Group, and the City of Fargo, according to Leier. The Aparium Hotel Group will be running the hotel, and McGough, out of Minneapolis/St. Paul, has been hired as the building contractor.
Mike Allmendinger, Kilbourne Group president, said fixing the situation is a high priority for the Kilbourne Group. He is aware of some amount of dissatisfaction in the downtown area among residents and business owners, and wants to learn more.
"I can just tell you we have 50 team members in the projects we're involved in," Allmendinger said. "We all live in the area, so we all believe we're working on a city that the broader community wants to have. That is our goal. It might not be 100 percent alignment with everyone.
"There are changes happening, we have been working with them [Prairie Public] for many years, but there has not been a real explanation of all of the options," Allmendinger said. "I think what we're going to find is that there will be a low cost option, which will put Prairie Public at risk when the next 18-story building goes up in downtown Fargo. And they will be in the same position again. There's going to be a higher cost for a long-term solution, and we will all have to work together to see where that will lead. So I think that is why we're seeing a pause."
No guarantees that Prairie Public won't lose their signal, Allmendinger said.
"It's hard to guarantee anything, not because I don't want to. I guess this is where we rely on professional engineers, but it is a priority for the project. We all love public radio. We just don't have the answers right now for solutions."
Harris said one option is for the Kilbourne Group to pay for the necessary changes.
"We've been at the table, we've had conversations, but those conversations have just been about options," Harris said. "We kind of know what our options are. One option is to build a new building and leave downtown, that's an extreme option and not one we're evaluating.
"There may be no ideal solution right now, but for Prairie Public it does become an issue of cost because if the Kilbourne Group says they're not going to help us in any way financially our decision might be much different than if they're willing to say they're willing to fund it.
"We would hope for that, that we would be good neighbors, and so far, things haven't been too bad, but we'll see how things work out in the future."
Ashland Wright, 18, said the Kilbourne Group should not be responsible for paying for Prairie Public's potential broadcasting problem.
"I grew up listening to Prairie Public, but they bought in a place that they knew would have growth," Wright said. "Take responsibility for the decision they made."
Instead of investing in broadcasting equipment, perhaps Prairie Public could move more toward podcasts, she said.
[This story was modified from its original version.]