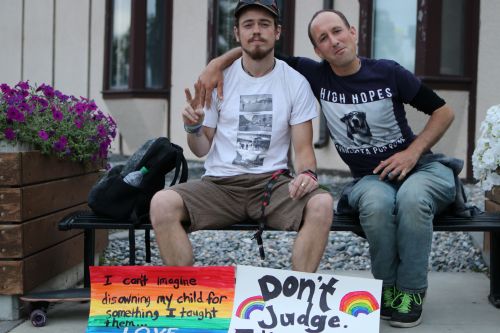 FARGO – When Holiday Mathena was in sixth grade, she knew she was different. Growing up in an open family she found the support she needed, Mathena said, but when she first came out as bisexual, she was ostracized at school.
Now 18 years old, a pansexual, she is also a drag king who enjoys the thrill of dressing to perform her male role as "Spencer Ship." With only a few performances under her belt, two with Pride events, she's aware of the controversy surrounding drag shows including children in the lineup, but said as a child the events gave her courage.
Critics call drag shows for children - abuse, or adult entertainment for kids. Proponents say it's all about offering LGBTQ children support who have historically never had such help before.
"Growing up here with North Dakota Nice where everyone is supposed to be nice, people really need to figure out their implicit bias, the biases you don't know you have," Mathena said.
Pride Week is a time for celebration, but it's also an opportunity for those who don't understand the LGBTQ community to ask questions and find a friend, she said.
"It's a time for everyone to get together to celebrate who they are," Mathena said. "It's good to celebrate everybody. It's just a place to have fun and let people be themselves, especially if you are struggling with your sexual identity."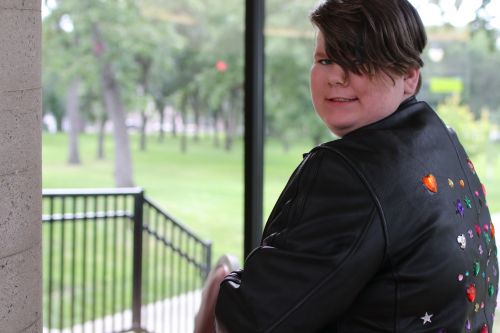 "I think Pride is important because it's good to have a safe place for everybody," Elizabeth Kinzer, Youth Pride coordinator said.
What about the other 51 weeks of every year?
"The fact that we even have to ask that question speaks a lot," Kinzer said.
Before the show started a member of the National Socialist Movement and seven others with placards came to protest the event, saying that parents were forcing their children to perform drag and have boys dress as women. One protestor carried a sign saying John 9:42, which correlates to the Bible verse saying those causing children to stumble "would be better for them if a large millstone were hung around their neck and they were thrown into the sea."
"I don't understand why everyone gets mad about drag," Kinzer said before the event. "It's theater, and it doesn't have to be a gay thing. All of that is misinformation. They see it is a LGBT event and they're against the LGBT community. We will keep on having these events. We will not be scared. If he wants to hold a sign up and is not hurting anybody, then he's just holding a sign, but it just stinks that he feels the need."
Nearly all performers came to her asking to dance, she said. Strict guidelines regarding song picks and dress kept the family-friendly program clean; there is more skin in a Hardee's commercial featuring a woman with a hamburger.
"I want to offer the youth that want to see this a way to express themselves," Kinzer said. "This is a safe zone, this is our judgment free zone."
Holiday Mathena is studying to become a multimedia journalist, and is also aware her home state doesn't seem to want to protect her and others in the LGBTQ community through legislative processes.
"How would you like it if everyone was gay or lesbian and you were straight?" Mathena said. "Imagine if the roles were reversed and people were legislating who you could marry or where you could work. Imagine if that was your life and you had to date in secret?"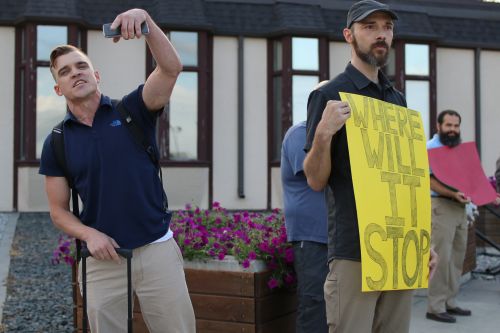 One of the protestors, Pete Tefft, the unit leader for the Nationalist Socialist Movement or the Nazi Party in Fargo, used the online name Chad Radkersberg, to target the All Ages Drag Show as early as June 6 after posting his views.
"All ages drag show in Fargo August 9th," Tefft wrote. "Making a list of all attendees."
Two days later he posted about the same issue, this time saying he was trying to prevent another holocaust. A few weeks later he posted again, implying the country belongs to his generation. Days before the event Tefft messaged event management asking for verification of the ages of participants.
"And do you think opposition to the even is correct in their assertion that participation will lead to social ostracism?" Tefft wrote.
Last year an All Ages Drag Show was cancelled because participants dropped out after a blog writer sexualized the event.
The afternoon before the show Tefft was spotted downtown Fargo passing out fliers – copycat images of Pride week's High Plains Reader cover – but with changes.
"Adult entertainment for kids," was written on one side of the flier. The logo was changed to "HBD." One meaning of the word is human biodiversity, which is a piece of the so-called "Alt-right" puzzle of bigotry that harkens eugenics policies regulating the races socially and through legislation. It is a benign-sounding word that is simply "pseudoscientific racism updated for the internet age," according to a 2016 article written by Ari Feldman for Forward magazine.
Tefft, and seven other protestors, arrived at The Stage in Island Park in an attempt to turn people away. Inside, hundreds prepared for the night's festivities that featured six performers with 20 songs. All proceeds will be donated to Pride 2020, Elizabeth Kinzer said.
Early in the evening Tefft tried to preach to the crowd claiming his views were based on science. Some attendees snapped back, but police were on site and no altercations occurred.
"It's not a show; it's child abuse," Tefft said. "Please do not encourage your kids to do this. Do not get gender reassignment surgery or take hormones."
Jay Scott, a transgender female, confronted Tefft after he said people who are working through LGBTQ issues should be institutionalized.
"Should I be in a straight jacket and put in a padded room?" Scott said. She knew she wanted to be a woman since she was 12 years old, but never heard the term transgender until 18, she said.
Children playing across the street also confronted Tefft, asking him why he hated black people. Tefft said he didn't hate black people and denied being a Nazi.
"Nazi is a slur word for white people," Tefft said. "I think unity is better than diversity.
"The only man who cares about the working man is Tucker Carlson," Tefft said. Carlson is a conservative political commentator on Fox News who was recently criticized for saying the rise of white supremacy is a hoax.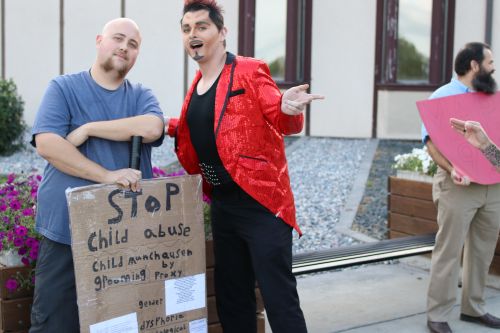 Not far away two people who called themselves peacekeepers carried their own signs calling for peace.
"I feel like acceptance is the main goal, unconditionally," Dustin Wilkinson, a peacekeeper, said.
"Development of community where honest expression is the norm," is what another peacekeeper, Jameson Dargen, said is important about Pride. "Not having that has gotten us to this."
While protestors argued their cases outside, more than 300 people enjoyed the show inside The Stage at Island Park. A drag queen named "Luna Muse" followed Holiday Mathena's act, and when she finished her act the crowd went wild. Children, including one girl in a burka, hurried to the stage to offer tips.
Between songs during the performance, Elizabeth Kinzer took the stage.
"We all saw the protestors outside, and they are still there," she said. "I know they are saying mean things but please don't give them a platform. We don't need to be awful."
The idea that parents should be afraid of their children turning gay because they attended a drag show is ridiculous, Raul Gomez, HPR publisher said.
"Adult entertainment for kids, if you applied that same standard, is it because you have drag queens in smaller sexy clothing, so if we have cheerleaders at a sporting event should kids not be allowed at sporting events?" Gomez said. "Should we not allow kids around any of those kinds of things? If we are going to be that pious, we should be that pious across the board.
"There is a constant push to paint LGBT activity as dangerous. Part of Pride for me is the comfort to be in public and not have to hide, like I am doing something wrong, like I have to hide my love away and be ashamed of it. I am a human being. I am being myself. There is nothing to be ashamed of. Kids don't have to be ashamed and they don't have to hide and that kind of thinking will save young people's lives. Growing up I didn't have that support in my life. As adults in LGBT we can foster that space for them."