​Puddles keeps on keepin' on
by Sabrina Hornung | .(JavaScript must be enabled to view this email address) | News | March 21st, 2018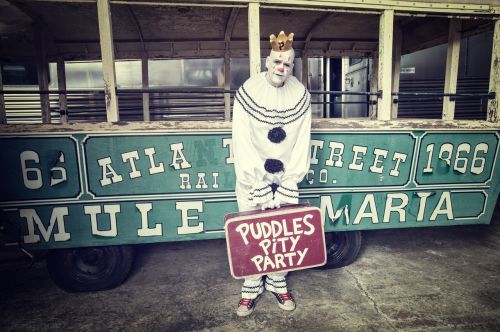 The High Plains Reader had the opportunity to interview Puddles of Puddles Pity Party. The clown is known for his golden singing voice but chooses to remain silent in his everyday life -- but granted us an exclusive interview via email on his performance on America's Got Talent, his experience with Postmodern Jukebox and what fuels his sadness.
High Plains Reader: Where or rather how did you find your golden voice?
Puddles: My MeeMaw says I came into this world singing a respectable G4.
HPR: What fuels your sadness?
Puddles: MeeMaw always said "Life is a series of disappointments" and she'd look right at me when she said it.
HPR: Are you silent because you prefer to communicate through song?
Puddles: The world is full of so much talking already. A little less conversation, a little more action, please.
HPR: You have such great versatility as an artist. You've performed comedy festivals, music festivals and theatre festivals such as Edinburgh Fringe. I know it's difficult to play favorites, but is there one type of festival you prefer over others, and why?
Puddles: Festivals in general can be fun because there is always so much going on backstage and it's a great way to make new friends. I enjoy the month-long theatre festivals like Edinburgh and Adelaide Fringe in that they allow me time to workshop things and play with new ideas. But it's a tough environment for performers if they're hoping to make any money.
HPR: How do you choose your cover material--are you struck more by the writing, the irony or...
Puddles: Sometimes it's the words. Sometimes it's the melody. Sometimes it's the beat of the rhythm of the night that lets you dance until the morning light and forget about the worries on your mind…
HPR: Was there a clown that inspired your paint?
Puddles: Paint? What paint?
HPR: What other performers, clown or not, have inspired you?
Puddles: So many performers have inspired me. Too many to name. But here are some off the top of my noggin. Red Skelton, Carol Burnett, Benny Hill, WC Fields, Judy Garland, Freddie Mercury, Oscar Brown Jr, and, of course, Kevin Costner.
HPR: What is the significance of your lantern?
Puddles: To see where I'm going, 'cause I already know where I've been.
HPR: What was your experience like on America's Got Talent? Your performance was breathtaking and it was fun to watch the judges watching open-mouthed.
Puddles: AGT was awesome! I love those guys. Some people give the judges a hard time. That makes me sad.
HPR: I'm a big fan of Postmodern Jukebox and the work you did with them. What was it like collaborating with them?
Puddles: I loved collaborating with Scott Bradlee and PMJ. He would arrange the band and I would come in and just do my thing. He leaves so much room for a singer to arrange their own part. It's like a partnership.
HPR: What do you think the future will bring for Puddles Pity Party?
Puddles: I don't know exactly. I do hope it will involve plenty of coffee & pie. I'll just do the only thing I know how to do. Keep on keepin' on like a bird that flew. Hey! That sounds like a song.
IF YOU GO:
Puddles Pity Party
Tuesday, March 27, 2018 8:00 PM
Fargo Theatre, 314 Broadway N