​'Pure evil does exist'
by C.S. Hagen | .(JavaScript must be enabled to view this email address) | News | September 20th, 2018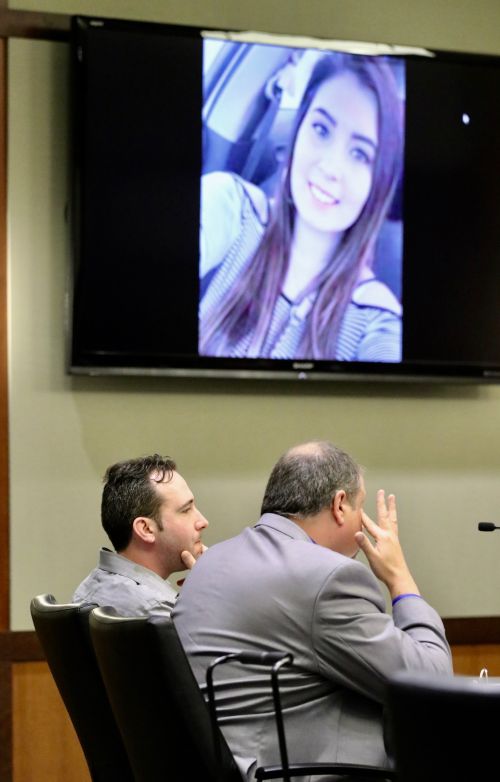 FARGO – At times, William Henry Hoehn's conspiracy to murder trial flows like an episode from "Law & Order." Jurors and observers are on seat edges, necks craned, listening to Hoehn's mumbling lies and hesitant admissions of guilt during his recorded interviews with police 13 months ago.
Each morning, defense attorney Daniel James Borgen wheels a rolling tote laden with boxes, duffle bags, and notebooks into the courtroom, coughing frequently as he's at the tail end of a severe cold.
The prosecution led by Ryan Younggren, Leah Viste, and Tanya Martinez, who was in charge of the case against Hoehn's former live-in girlfriend and co-conspirator, Brooke Lynn Crews, arrive with less baggage, usually only a laptop or notebook. Fargo Police Detective Philip Swan precedes them, and as lead agent for the case against Hoehn and Crews his job is to provide the prosecution with information as needed.
As onlookers began entering the courtroom Wednesday morning, a Native woman pointed to Hoehn and said, "Why isn't he handcuffed, shackled?"
The court granted Hoehn's petition to appear in plan clothes and restraint free on August 22, one year and three days after Greywind was murdered.
Hoehn, 33, appears cool and collected, always dressed in khaki dress pants and a long-sleeved shirt. Two burly bailiffs, or using the words of District Judge Thomas R. Olson, "trained cat herders," follow him everywhere he goes.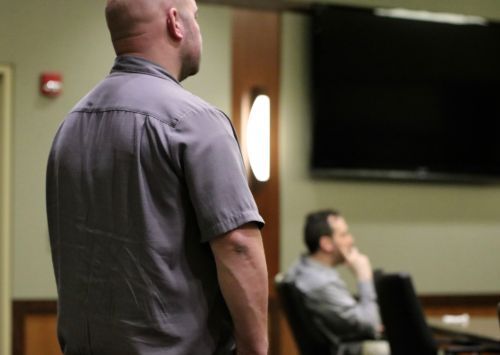 Police and court testimony are verifying many of the rumors circulating after August 19, 2017 pertaining to Greywind's murder by upstairs' neighbors Crews and possibly Hoehn.
Still, many questions remain.
The couple initially pleaded not guilty to conspiracy to murder, but Crews changed her plea last November and during the hearing prosecution concluded that the 22-year-old Native woman was murdered for the eight-month-old baby inside her.
There are only 24 steps separating the Greywind's former basement apartment to where Crews and Hoehn lived at Apartment 5, 2825 Ninth Street North. On August 19, while family were cleaning their home and doing laundry, their front door was left ajar, and both of Greywind's parents, Norberta and Joseph, testified they saw Crews poke her head in and ask their daughter for help with a sewing project.
She promised $20, but instead took her life and her baby daughter, naming her Phoenix, which means rising from the ashes of a predecessor.
What is known so far is:
- Greywind ordered and paid for Deeks Pizza – her favorite – before going upstairs to Crews's apartment. Messages between Greywind and her mother, Norberta, show that she was supposed to drive her brother to work.
- Greywind died from blood loss due to her wounds from having her body cut open.
- Crews had a medical procedure to ensure she could not get pregnant, but told Hoehn she was pregnant to keep them together, according to police.
- Crews was actively studying midwifery.
- Hoehn told coworkers and his boss, Jesus "Jessie" Rios, that Crews was pregnant long before Greywind was murdered.
- Hoehn helped Crews clean up after the murder, throwing the bloodied towels, shoes, into a dumpster in West Fargo.
- Hoehn purchased duct tape at Ace Hardware, a fact that is important as Greywind was found eight days after her murder wrapped in blankets, garbage bags, and duct tape in the Red River.
- Police searched Hoehn's apartment twice while the baby was in plain view, hidden in a suitcase on top of the bed. The baby made no sound however, because she is good-natured and rarely cries.
- Hoehn actively attempted to deceive police and lied on numerous occasions about what he saw when he came home early from work.
- Hoehn eventually admitted after getting caught in his own falsehoods that Greywind was in the apartment when he returned home from work Saturday, August 19, 2017.
"She was dying," Hoehn told police during the final interview. "There was so much blood."
"I think you saw Brooke doing some things, and instantaneously you're in over your head and you don't know what to do," a police detective said.
He then expressed concern for the baby. During the interview, Hoehn was fidgety, frequently picking at the table, scratching his chest, shifting in his seat, gulping down water.
"I lost everything in my life, repeatedly," Hoehn said after a long silence. Hoehn was previously convicted of child neglect in Grand Forks County in 2015.
"What did you see?" the police detective asked.
A long silence ensued.
"What did you see, Will?"
Hoehn began to break, shook his head, looked up and down, ripped a napkin in two.
"She said this is our baby, this is our kid."
He tried to convince police that Greywind had already left, and although he walked into his apartment discovering watery pink blood all over the bathroom, he assumed Crews already had her baby. Approximately 20 minutes later, however, both Crews and Hoehn were in the shower together, he told police, an explanation the detectives did not buy.
The couple had ups and downs, were drug users, and liked rough sex, assistant State's Attorney Ryan Younggren said.
"Even choking was part of their relationship," Younggren said. "Brooke had her tubes tied after birthing seven children. Will knew this, he told police he knew this. In January 2017 Will left, and Brooke wanted him back. So she devised a lie and told Will that she was pregnant. How is this medically possible?
"There are serious questions from the start and Will will admit that, but Brooke went all out and maybe even to herself to prove that she was pregnant."
Crews downloaded a fetal heartbeat and sent it to Will. She used fake ultrasounds from previous children.
"The rocky relationship continued until days after the murder," Younggren said.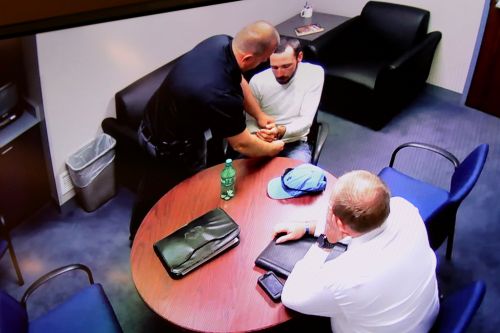 Murderer or simply a co-conspirator?
Defense attorney Daniel James Borgen is trying to paint a picture that Hoehn was deceived because he was in love, and did not participate or have prior knowledge of Crews's plans to murder Greywind.
The prosecution is arguing that Crews could not have murdered Greywind alone, and that Hoehn used a length of barn rope as a garrote to strangle the woman while Crews used a box cutter knife in the crude surgical procedure. Crews's testimony says that a shoving match ensued between herself and Greywind, and Greywind fell, knocking the back of her head against the sink. Medical examiners did not find corresponding injuries to the back of Greywind's head, Younggren said.
What is also known is that Crews had ambitions for a master's degree in psychology, she was meticulous and cunning, and she kept journals and earmarked books on midwifery, a practice both she and Hoehn thought was better than giving birth in a hospital.
Chaos followed the days after Greywind's murder. Hoehn began to drink heavily. The couple was involved in a hit and run at Moorhead's Walmart while driving Hoehn's boss's pickup truck. Hoehn was arrested on an outstanding warrant, and his boss paid for his bail. After the police searched the apartment a third time, five days after Greywind's disappearance, and found baby Haisley Jo, he was arrested again.
But before his final arrest, Hoehn told police that he and Crews barricaded themselves inside Apartment 5.
"What was the barricade for?" a police detective asked.
"To keep the Greywinds out."
"How did you keep the baby from crying?"
"She was a really good baby."
Apartment #5
Norberta Greywind knew that Crews had played a role in her daughter's disappearance, she said in court. The day her daughter went missing she asked Crews repeatedly to search the apartment, but Crews refused. As the days passed more and more relatives and friends came to the Greywind's apartment and searches began over the Fargo/Moorhead area and beyond, and tensions between the neighbors mounted.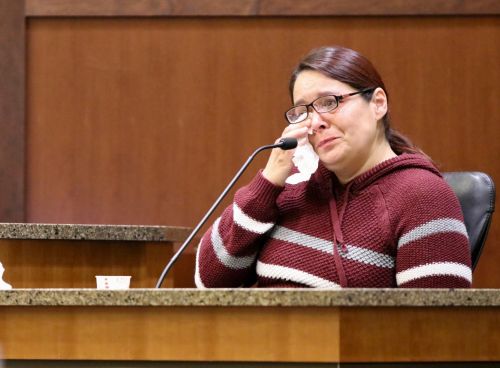 Joseph Greywind went upstairs and knocked on Hoehn's door. Crews answered.
"She was being real defensive, and I asked her if I could go in and look and see if my daughter was there," Joe, 41, said. "I said, 'I'm a parent and I want to know if my daughter is in there, parent-to-parent.' And she said 'I don't feel comfortable with that.'"
After days of searching with no results, both parents grew frantic and knew Greywind had gone missing from their upstairs' neighbor's apartment.
"We knew she was gone," Joe said. "I knew something happened to her and she was missing. I had a lot of anxiety and a lot of anger, but I wanted to two face this guy and see what his body actions were. He came up and said 'I'm sorry what happened to your daughter,' and I said, 'What happened to my daughter?'"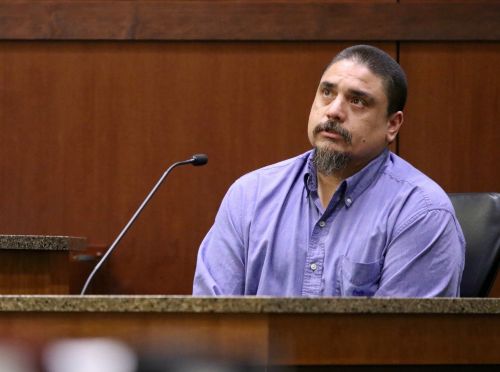 When Norberta went upstairs to ask to look a second time, she was again refused entry, and she too became frustrated, admitting in court that she wasn't happy with the police department's first search of Apartment 5.
"Police did investigate and found nothing," Younggren said in court.
Norberta wasn't pleased with the results.
"What is your plan?"
"Going to look for my daughter," Norberta said. She frequently had to fight back tears during her testimony.
"Where did you believe she was?"
"Upstairs in number 5."
The night Hoehn was arrested for the first time, Crews left her boyfriend hurrying into the apartment building clutching a large bag to her chest.
"It seemed she was carrying something in that bag," Norberta said. "But she said 'I'm sorry Mrs. Greywind, this is unrelated.'"
"What did you think about Savanna, did you believe her to be alive?" Younggren said.
"I didn't think so, but I hoped."
'It looks bad'
Hoehn spent his last few days before his final arrest looking over his shoulder on the lookout for the Greywind family. He was "terrorized" by the Greywinds, he said. A note was slipped under his door saying 'We know you did it,' he told police.
"They had scouts posted around the building," Hoehn said. "Had one person at each corner of the building, at the back door. I'm trapped. I didn't know what to do. All I had was this little baby and a bad explanation for it.
"It looks bad, it looks f*cking horrible," Hoehn told police during his final interview. "I wasn't worried about you guys showing up, you guys aren't going to beat me to death."
During recorded interviews, Hoehn frequently belittled himself, saying that he wanted a family, he was trying to take care of his family as a traditionalist white male who was also called racist at times, he said, but now he had no future.
"Pure evil does exist," a police detective said. "This is eating you up inside, it's all over your face. She's eight months pregnant, and all of the sudden you have a tiny Native American baby in your house… and she's gone. This is pretty straight forward as far as that part of it."
Police frequently told Hoehn he had been manipulated, that what he felt toward Crews was not love.
"She really, really wanted a family for us all," Hoehn said. "I wanted a family for us all."
"It's hard that you are in the inside, but until you get on the outside and look in with a clear head it is kinda hard sometimes to see things for what they are," a police detective said.
Crews will be put on the stand to testify later during the trial. It is still unclear if Hoehn will testify as he would be cross examined by the prosecution.