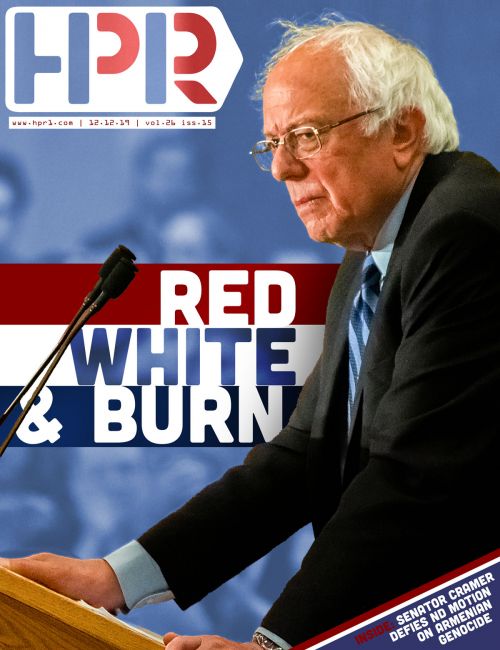 FARGO — Since 2016's Dakota Access Pipeline controversy, Vermont Senator Bernie Sanders has said very little about North Dakota. Until now.
Never an essential swing state, North Dakotans feel overlooked, at times, and appear mostly proud of being partisan. The state threw 63 percent of its weight behind President Donald Trump in 2016, but North Dakotans have not always bled red. In fact, as the most socialistic state in the Union, North Dakota has voted for Democratic presidents such as Woodrow Wilson, Franklin Roosevelt, and Lyndon B. Johnson. Nearly half the state voted for Barack Obama in 2008.
In the eyes of many supporters, President Donald Trump has placed North Dakota back on the map. His visits and rallies seem almost regular. He personally backed former Congressman Kevin Cramer for the U.S. Senate, helping him oust Democrat Heidi Heitkamp. Few national leaders have vied for North Dakota's attention like Trump has, but Sanders says he has a plan he believes North Dakotans can get behind.
The differences between Trump and challenger Sanders, now a Democratic frontrunner in the 2020 Presidential election, couldn't be more stark. Trump, double-chin, wildly groomed hair, likes meatloaf sandwiches, four McDonalds burgers at a time, even serves Big Macs to quarterbacks when they come to visit the White House.
Sanders once liked late night cheesecake, but now prefers fruit, nutty snacks, and Tandoori pork, and although they both have frazzled hairstyles — perhaps the only similarities they share— the parallels end there. Trump doesn't skimp on hairspray, according to Playboy Magazine; Sanders gives off the impression that he has bigger worries than his hair.
Trump, and his Rapid Response Team, shoot dozens of emails every day, especially during times of controversy, focusing on widening the political divide with "Do-nothing Democrats," "witch hunts," and "sham impeachment circus." He's focused on his rural base: white evangelicals, self-identified conservatives, and blue collar workers.
Sanders's team also makes sales pitches, all politicians do, but he's focused on revolution and reinventing American government with ideas like: "College for all, Medicare for all, Jobs for all, and Justice for all." He's focused on the working men and women, and has drawn his line in the sand against America's wealthy, Wall Street bankers, and monopolies.
Trump's war chest for the 2020 campaign has surpassed $125 million, according to the New York Times. Much of his money has come from corporations, PACs, extravagant dinners where donors pay up to $5 million a ticket to dine with him, and he's also peddling Trump branded plastic straws and "Bull-Schiff' t-shirts.
So far, Sanders has raised more than $40 million from more than one million donors who on average give $18, a fact he is more than proud to talk about. He's also selling cotton canvas "Bernie for Planet Earth" tote bags, t-shirts, hats, and cups.
"Paid for by Bernie 2020 (not the billionaires)," Sanders's website states.
Trump calls himself a millionaire; Sanders was arrested in 1963 during a civil rights protest.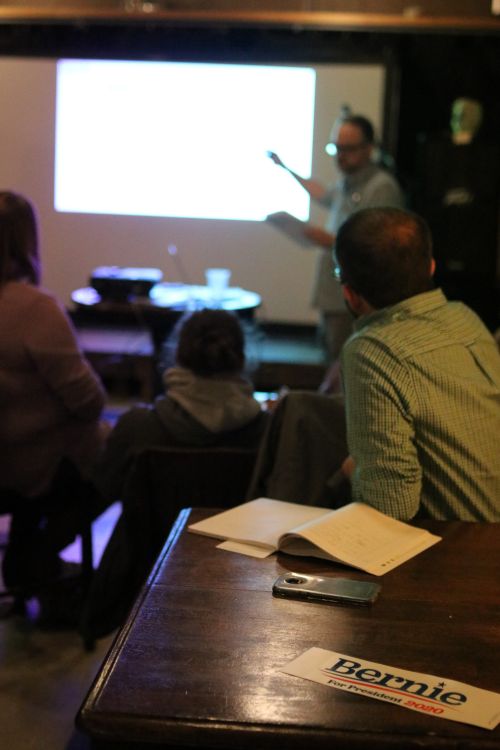 Although the term socialism conjures Cold War imagery and is also misrepresented as a right-wing war cry against so-called totalitarian communism in North Dakota, longstanding democratic socialist policies have been enacted in the state for a century.
North Dakota has three state-run institutions that have saved the state multiple times during emergencies since 1919: the State Bank of North Dakota, the North Dakota Mill and Elevator Association, and the governor-appointed Milk Marketing Board, established in 1967 to stabilize milk prices. North Dakota also has an 87-year-old anti-corporate farming law, which seeks to help family farms against competitive threats from predatory corporations, a law Sanders seeks to expand.
Sanders, a self-proclaimed democratic socialist, believes his policies fit North Dakota. At 78 years old, he plans on leveling the playing field for farmers and farmworkers. He will end "get big or get out" approaches to agriculture, enacting and enforcing "Roosevelt-style trust-busting laws" to stop market monopolization.
As many predict a devastating farming crisis while Trump's trade war with China continues, and climate change or at the very least — adverse weather — has ruined beets, potatoes, hay, and soybeans across the state, Sanders said one of his main priorities is to ensure the American family farmer survives.
"Agriculture today is not working for the majority of Americans," Sanders said in a press release. "It is not working economically for farmers, it is not working for rural communities, and it is not working for the environment. But it is working for big agribusiness corporations that are extracting our rural resources for profit."
In America, four companies slaughter 85 percent of beef cattle, four soybean sellers are responsible for 76 percent of the market, and after the Bayer-Monsanto merger, the company now controls 78 percent of corn seed market, Sanders reported.
"If Teddy Roosevelt were alive today, you know what he would say to these behemoth agribusiness companies: he would say, break them up," Sanders said. "And working together, that is exactly what we are going to do."
Sanders also plans to reestablish grain inspectors and overhaul the packing industry, ensure farmers have the "Right to Repair" their own equipment instead of catering to "the greed of companies like John Deere," reform patent law to protect farmers, allow slaughtered meat to be sold across state lines, and reestablish trading partners.
Food security would be classified as a national security issue.
"Over 800 million people worldwide are affected by undernourishment or food deprivation, including millions of small farmers threatened by climate change, volatile prices, and unfair trade practices," Sanders said. "By 2050, food demand is expected to grow by 60 percent while at the same time the amount of arable land is estimated to shrink due to climate change, urbanization, and soil degradation. While we are in the White House, food supply security will be the core of our national security."
Food deserts are not a far away crisis; they exist here in the Great Plains, or the nation's breadbasket. Less than 100 rural grocery stores still operate in North Dakota, which creates food shortages — especially healthy food during the winter months — in many rural areas across the state.
Sanders plans on reforming agricultural subsidies so more federal dollars will go to small and mid-sized family farms. He hopes to pass comprehensive disaster coverage, provide relief to help independent family farm bankruptcies, which are at their highest level in a decade, and help farmers from all cultures and races obtain access to land, including new farmers where government and private interests would combined to create "incubator farms."
More than two percent, or approximately 25 million acres of American farmland are in foreign hands, Sanders reported, "and the pace of investment seems to be picking up. This is a national security issue and we must treat it like one."
Sanders is also in favor of raising the minimum wage to $15 an hour, and he wants to remove "Right to Work" laws in favor of fair labor laws.
In a nutshell, Sanders plans to help community banks, family farms, credit unions, and rural investment, and not bail out Wall Street, he said.
"If there is going to be class warfare in this country, it's about time the working class won that war," Sanders tweeted on August 21, 2019, a quote that has been turned into a bumper sticker.
Trump ignores climate change; Sanders believes the Green New Deal is a moral imperative, and plans to create 100 percent renewable energy with 20 million new jobs by 2030 if he's elected. He believes that "we have less than 11 years left to transform our energy system away from fossil fuels to energy efficiency and sustainable energy, if we are going to leave this planet healthy and habitable for ourselves, our children, grandchildren, and future generations.
"As rising temperatures and extreme weather create health emergencies, drive land loss and displacement, destroy jobs, and threaten livelihoods, we must guarantee health care, housing, and a good-paying job to every American, especially to those who have been historically excluded from economic prosperity."
Sanders plans to spend $1.52 trillion on renewable energy and $852 billion to build energy storage capacity, he said in a press release, and it will all be publicly owned managed by the Federal Power Marketing Administrations, the Bureau of Reclamation, and the Tennessee Valley Authority and sold to distribution utilities with a preference for public power districts.
"This plan will stop the building of new nuclear power plants and find a real solution to our existing nuclear waste problem," Sanders said. "We know that the toxic waste byproducts of nuclear plants are not worth the risks of the technology's benefit, especially in light of lessons learned from the Fukushima meltdown and the Chernobyl disaster. To get our goal of 100 percent sustainable energy, we will not rely on any false solutions like nuclear, geo-engineering, carbon capture and sequestration, or trash incinerators."
A climate emergency is what Sanders plans to declare: a war on carbon greenhouse gasses, including methane and hydrofluorocarbons. To combat rising pollution Sanders plans on fully electrifying and decarbonizing the transportation sector, and will offer $2.09 trillion in grants to low-and moderate-income families and small businesses to trade in fossil fuel dependent vehicles for new electric cars.
"For decades, fossil fuel corporations knowingly destroyed our planet for short-term profits," Sanders said. "Yet, they kept going. Instead of working to find solutions to the coming crisis, the fossil fuel industry poured billions into funding climate denialism, hiring lobbyists to fight even the slightest government regulation and oversight, and contributing to politicians who would put the interests of fossil fuel executives over the safety and security of the planet. They have evaded taxes, desecrated tribal lands, exploited workers, and poisoned communities."
Sanders plans to prosecute and sue the fossil fuel industry for damages, create a National Climate Risk Report to target the worst hit areas, end fossil fuel subsidies, implement sanctions against corporations that violate domestic climate goals, ban offshore drilling, and keep fossil fuels in the ground, he said.
Workers in the fossil fuel industry will not be overlooked, Sanders said. He plans to authorize $1.3 trillion to ensure such workers receive strong benefits, a living wage, training, and job placement.
Climate change is a global emergency, Sanders believes, and more than the Amazon rainforest burning, or Greenland's ice shelf melting, or fires in the Arctic region. People here in North Dakota will also be affected by extreme weather, droughts, floods, which will change ecosystems, economies, and the North Dakota way of life.
Thousands of North Dakotans have expressed support for Sanders, Sarah Ford, the deputy communications director said.
"North Dakotans have long faced the burden of failed politics and policy and, too often, have been overlooked in national politics," Sanders' deputy communications director said. "Our campaign is not overlooking the state. Throughout his career, Bernie has fought for those disenfranchised by our political and economic system. And as president, he will be on the side of working people and fight against the influence of the powerful billionaire class and giant corporations who seek only to further their own greed at the expense of everyone else."