​Ruth Anna Buffalo: Woman of the Year
by HPR Contributor | .(JavaScript must be enabled to view this email address) | News | October 2nd, 2019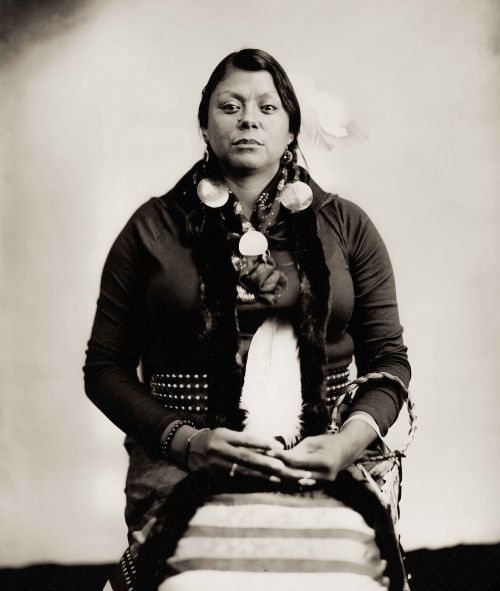 By Lonna Whiting
lonna@lonna.co
"It's always like this. Always busy," Ruth Anna Buffalo said during a speaker phone interview while driving a rented cargo van from Bismarck back home to Fargo.
Buffalo, the first Native American Democrat elected to the North Dakota Legislature and a longtime public health advocate, had recently been in Washington, DC, for the Native American Legislators Caucus where she spent time attending roundtable discussions and panels with members of Health and Human Services and officials from Indian Affairs.
A member of the Mandan, Hidatsa and Arikara Nation, noting Buffalo's recent whereabouts and goings-on quickly becomes a blur after she casually mentions her recent podcast on The Nation, keynoting the St. Paul and Minnesota Facing Race Awards, a writeup in the MinnPost and an MPR piece about violence against women.
With more media exposure in a week than most receive in a lifetime, Buffalo speaks just after completing one last pit stop in Bismarck before she can get home to her family in south Fargo.
"The van was all they had left at the rental place. It's just me in here," Buffalo said. She chuckled.
A week prior, friends, family and a wide array of community supporters gathered in Fargo for a banquet to celebrate Buffalo being awarded the North Dakota Women's Network (NDWN) 2019 Woman of the Year.
"I had family come up from Kansas," she said. "In-laws and family from Mandaree came, and friends from Bismarck and across the state and Grand Forks. My advisor from grad school at NDSU attended with the chair of the department. That was really neat."
Buffalo ticks off attendees as though it's a family reunion. Perhaps it's her humble way of dismissing the fact she's become one of the region's most influential female leaders.
As a seminal force for the rights of Native Americans, Buffalo is deeply passionate about voting rights and violence against women, particularly when it comes to the alarming number of missing and murdered indigenous women. These are some reasons NDWN nominated her for 2019 Woman of the Year, but not all.
"We were able to see how well-rounded Ruth's work was," Kristie Wolff, executive director of NDWN, said. "Her work in the legislation and work with the murder of indigenous people and human trafficking aligned really well with our mission."
Wolff said nominees are carefully vetted by the NDWN board in categories that align with the organization's mission.
"We look at the sustainability of their work, or how long their work will have an impact," Wolff said. "We also look at the overall impact of their work and longevity, how long they've been doing their work."
To reference a few, Buffalo has been involved in several leadership initiatives and mentorships across the state. In 2017, she received the Executive Education Certificate through Harvard's Kennedy School of Government's, Leadership, Organizing, and Action program.
Buffalo mentioned her work with the National Education for Women's Leadership Institute Northern Lights chapter at Minnesota State University-Moorhead as being one of the more influential programs of her personal and professional life.
"I feel like that really planted a seed for me," she said. "I recruited so many women to attend that program and I've also been a reference. I became a volunteer on the program committee and volunteer on the admissions committee."
The residential program is a five-day nonpartisan training for women to gain leadership experience. The institute focuses on empowering underrepresented voices in the community, particularly women of color, low-income women and women with disabilities.
In between then and now is a long list of achievements, activities and accolades. Although Buffalo does her best to describe them as she ticks off the miles driving home towards Fargo, she's just done so much that it's nearly impossible to commit to memory.
"I do have a fellowship coming up," she said, a casual reference to the internationally-recognized University of San Diego's Women PeaceMakers Fellowship, which will take her to California in early October. After that, she's back in North Dakota to further her advocacy at the legislative level and beyond - work that will largely be focused on change.
"I know change takes a while for things to happen but I believe that just from the level of excitement and the number of visitors I've had at the state capitol this past year, it's exciting to think of the future," Buffalo said.
For her, a big part of that future is to continue her path for change, but also to encourage other women to get involved on topics and issues they're passionate about, and not to put labels on them.
"I'm not a political but I believe in wanting to make change for our future generations after seeing things that needed to be fixed in my hometown community as a young age," Buffalo said. "Find ways to help the greater good, you know, and thread the needle towards justice for everyone."
[Editor's note: Lonna Whiting is a writer and owner of lonna.co, a content experience studio located in Fargo, ND]