​Second DAPL whistleblower to testify
News | July 19th, 2017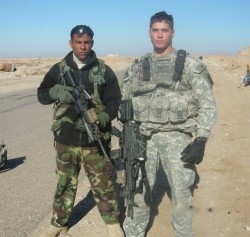 BISMARCK – When Kyle Thompson decided to speak out against tactics used along the Dakota Access Pipeline, it wasn't because of a change of heart.
"I've always tried to look out for the best interests of everyone," said Thompson, the former program manager for Leighton Security Services, Inc. "Just because I did security for the pipeline, that doesn't mean that I necessarily wanted the pipeline in the ground. I didn't really have a view on the pipeline."
He waited half a year to speak out because he didn't want his name dragged through the mud any more than it has been in recent months.
"I figured it's time now, and everyone's court cases are coming up soon," Thompson said. "Coming out now didn't really give people a chance to discredit my side of things. I waited so long so that people couldn't talk more shit about me. I knew once I came out, there were people on water protector side that hate me, and I get it. There's a lot of people that got charged that were just trying to help each other out."
Thompson, 30, took his first step on July 12 during a live feed with Myron Dewey, owner of Digital Smoke Signals, promising information pertaining to security work along the Dakota Access Pipeline. Less than a week after Thompson went live, the state dropped charges against Brennon Nastacio, the Pueblo Native American who was arrested for terrorizing after disarming Thompson while the security employee was en route to Standing Rock's main camps.
Thompson was on his way to photograph burning trucks, he said, property he was charged to protect, when he was run off the road by another vehicle. He fled, AR-15 in hand, toward a nearby pond where Nastacio and two others approached him.
"It was just me out there, I was by myself," Thompson said. "He did go overboard a little bit, he had his knife out, and I had my gun on him, I had it out because all these people were coming down on me. I didn't know what to do, I guess, I did what I had to do to keep everyone back then and there. I'm not necessarily doing this for him personally, I'm just doing it because I don't believe he should have a felony charge for what he did.
"In his mind he was looking out for the best interest of the people. I'm glad his charges got dropped."
The decision to speak out was not taken lightly, he said.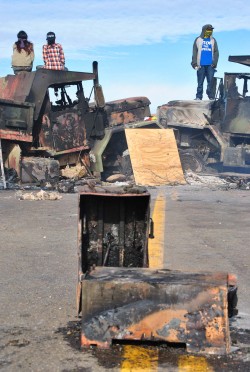 "I hate to say I'm coming out, I'm not out for everyone," Thompson said. "There were some protesters that were aggressive, antagonistic; there were people on both sides doing it. Tensions were high. There are two sides to it: Pro-DAPL and No-DAPL. And if you're going to be out there, people expect you to be on one side or the other."
A friend introduced Thompson to the security company in August 2016, and when he began working, TigerSwan was already firmly in command of all security companies involved. TigerSwan operatives led the daily briefings, which were attended by law enforcement, and coordinated intelligence reports.
Soon after he began working for Leighton Security Services, Thompson met Kourtni Dockter, who became a security employee with EH Investigations, and became the first former security worker to blow the whistle on TigerSwan's illegal activity on June 8.
As a former veteran, serving three tours in the Middle East, Thompson received an honorable discharge in 2013 as a sergeant. He's also a recipient of the Purple Heart, and he never expected to come back home safely.
"I made it my personal mission to ensure that everyone made it home before I did," Thompson said. "However, that wasn't always the case. I always felt I was well prepared, mentally and physically, to do whatever needed to be done to look out for everyone around me.
"The only thing that was difficult for me was having to witness the families of those who never made it back."
Once, he had to return a friend's wedding band to family, his friend's wife, after he was taken off life support in Germany, he said.
Native Americans call Thompson War Eagle, for being a veteran and a warrior. While working security, coworkers called him "DAPL Apple," for being part Lakota Sioux, or "red on the outside and white on the inside," he said.
Thompson and Dockter broke up shortly after he was arrested on domestic abuse and drug paraphernalia charges last April. He also quit his job with Leighton Security Services the same month. For approximately three more months, Thompson and Dockter remained apart, but recently patched their relationship, admitting drugs had no more room in their relationship.
"She does mean the world to me," Thompson said. "I'd do anything for her."
The couple isn't in hiding any longer, but Thompson is taking extra precautions to make sure they're safe.
"Hopefully more of these charges will get dropped," Thompson said. "So it will prove that I'm not out for anyone. I'm not trying to go against security or law enforcement, I'm not trying to go against the protectors, I'm just trying to do the right thing for the right people."
While working along the pipeline route, Thompson's main goal, just as it was during tours of duty in Iraq and Afghanistan, was to look out for everyone involved, he said. "My personal mission was to look out for people in general. I wasn't really scared. I was more worried about our guys getting surrounded, or overtaken by protesters. I didn't know the reality of the threat out there, I was more worried about the guys under me."
Thompson had at least two-dozen employees he oversaw, he said. Never once did he train with TigerSwan or the North Dakota National Guard. He went into the camps twice – more from curiosity than for any kind of mission, he said.
His daily routine included driving between construction sites, relaying information, scheduling, and ensuring construction workers were brought to safety, he said.
"I would do whatever I could to get the workers out," Thompson said. "They knew where my heart was at."
Soon after the October 27 incident with Nastacio, Thompson was involved in an argument with a TigerSwan operative, he said.
"They talked down on our company," he said. "We were just tasked to watch out for construction workers and equipment, but it kept getting under my skin and our guys were actually doing more reporting than anyone else at the time. I was always on top of it, we weren't out there for any other reason."
During a morning meeting he decided he'd had enough.
"One day it just got to me, and I said f*ck it, I don't need this and walked out. We didn't work for the other security elements. We didn't work for DAPL directly, even from the beginning the owners of the company and my boss told me not to get affiliated too much with other security elements.
"They didn't want to get tied up with anything illegal or have any more headaches."
Leighton Security Services is an active private security company based out of Texas. Kevin Mayberry, the owner and president, feels confident his company left as good an impression as possible on locals and Standing Rock leadership and activists. Leighton Security Services was subcontracted to EH Investigations and two other companies along the Dakota Access Pipeline.
"Kyle is a good dude," Mayberry said. "We've done a lot for Kyle and his family, and he did do a good job while he was out there, and then he went south a little bit. He'll get his life straightened out."
Mayberry's company steered clear of the drama while in North Dakota, he said. "We told our people to stay away from that crap. There was a lot of stuff up there that happened that's 100 percent true," Mayberry said. "And there's a lot of stuff that went on up there that is 100 percent false. I couldn't put my finger on exactly who did what, but I was made aware of different situations and we put two and two together and figured out who it was."
He once received an anonymous email from someone claiming to be a TigerSwan employee who leaked that the international security company was actively trying to sabotage other security companies in the area and shift blame, Mayberry said.
"TigerSwan didn't have a license, and everyone they used didn't have a license and we wondered for months how they were even operating up there," Mayberry said. "They had hundreds of guys who were carrying weapons and all types of military equipment that wasn't even licensed to carry in that state. Energy Transfer didn't know half the crap that was going on.
"TigerSwan was out there running crazy."
TigerSwan Inc., with offices in Iraq, Afghanistan, Jordan, Saudi Arabia, India, Latin America, and headquartered in North Carolina, has won more than 13 contracts with the U.S. Department of State, the U.S. Department of Defense, the Department of Homeland Security since 2014, worth more than $9 million, according to USASpending.gov.
TigerSwan, its founder James Reese, and EH Investigations currently face civil lawsuits filed by the North Dakota Private Investigation and Security Board, a governor-appointed committee that licenses and regulates private security industries in North Dakota.
When called to a site that included activists, Mayberry said that Standing Rock leaders and activists showed him and his company respect.
"We would go out there and they wouldn't do anything to us, we were just doing our job," he said. "But if any other security company went out there, we would have to like break it up. They respected us and we respected them."
When asked about illegal tactics used by TigerSwan or other security companies, Thompson said he needed to wait to testify in court. Intelligence reports were an integral component of daily security briefings he attended.
"TigerSwan controlled the way the meetings went, it was common knowledge that they were running the show," Thompson said.
He has only one regret, he said. "I wish I could go back to October 27 and not drive up to take that picture. It's almost embarrassing because people think I was doing so much more."
Despite working odd jobs since working security for DAPL, Thompson isn't uncertain about his future. He is quietly confident, answering questions briefly but succinctly.
"My plans for the future will continue to be to help others in need," Thompson said. "I'll do whatever I can in my power to achieve that goal."