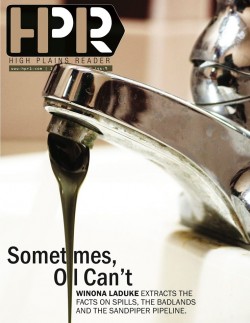 By Rick Abbott
For Winona LaDuke, it's personal.
A proposed 610-mile pipeline would bring crude oil close to her Minnesota home. That's part of the reason why she's now speaking out about what she says are dangers caused by North Dakota's burgeoning oil business.
A recent report by the Associated Press brought to light nearly 300 pipeline spills in North Dakota since January 2012 that were not reported to the public. These were part of 750 undisclosed oil field "incidents" since 2012, according to The Atlantic magazine.
"The oil is there, we know that. But there is no reason to be so excessive and greedy in its extraction. North Dakota does not need to be a national sacrifice area and that's what they're turning western North Dakota into," LaDuke said.
LaDuke, an activist, conservationist and former Green Party vice presidential candidate, has recently been part of horseback rides along proposed pipeline routes in Minnesota and South Dakota.
"I became concerned about pipelines and so we rode those pipelines. We rode the Enbridge Alberta Clipper and then my family and my organization, with the Lakota people, rode the proposed XL route and we're going to ride the Sandpiper," in the next few weeks, she said.
LaDuke was in Grand Forks at the University of North Dakota last week to deliver a lecture and informational session.
"It's a reflection of our spiritual teachings. I didn't ride (the pipeline) to protest. I rode it because I believe, in my spiritual practice, that this is how you do this. We rode against the current of the oil," she said.
LaDuke ran for vice president on the Green Party ticket headed by Ralph Nader in 1996 and 2000. She is the executive director of the Honor the Earth organization and the White Earth Land Recovery Project at the White Earth Reservation in northwestern Minnesota.
Her efforts have taken on new significance after a pipeline rupture spilled 20,000 barrels of crude oil in a northwestern North Dakota wheat field in late September. The spill near Tioga, about the size of seven football fields, is one of the largest in the state's history.
Now, North Dakota officials want to know what the pipeline's owner, Tesoro Corp., knew about potential problems with the pipeline. In documents obtained by the Associated Press, North Dakota's top oil regulator, Department of Mineral Resources director Lynn Helms, said that inspection results of the pipeline by Tesoro "show a serious problem where the leak occurred."
Another state inspector wrote that a Tesoro official told him the company "had the results of the pipeline inspection for several months," according to the Associated Press.
"This spill, while serious, was an aberration. Energy companies have been moving oil and natural gas across North Dakota safely for decades," said Tessa Sandstrom, communications manager for the North Dakota Petroleum Council.
"The Tioga spill should not have happened, but you have a self-monitoring oil industry ... We need to know where our pipelines are before they push more stuff through,"LaDuke said.
"Generally speaking, the response to the spill was quick and aggressive to mitigate any impact on water sources. This event is regrettable, but the industry trains extensively to prepare for any of these rare incidences," Sandstrom said.
The proposed Sandpiper pipeline would run from south of Tioga, N.D., across northern North Dakota to Grand Forks, then to Clearbrook, Minn., down to Park Rapids, Minn. and east to Superior, Wis.
The company proposing the Sandpiper project, Enbridge, is a major part of the ongoing oil boom in North Dakota. The Sandpiper line would follow an existing Enbridge pipeline route across the state.
Katie Haarsager, community relations adviser for Enbridge, said that the company is taking the safety of the project seriously, using a pipeline control system, a "comprehensive and evolving preventive maintenance program," and an "inventory of emergency response equipment coupled with entity-wide training of personnel and the retention of third party emergency response contractors."
According to LaDuke, relying on private companies and state officials to ensure safety in the oil industry hasn't worked.
"I feel that North Dakotans at some level were hoping for the best. And then they realized that that was actually not what was going on," LaDuke said. "Their regulatory agencies have looked the other way and put North Dakota in danger. North Dakota's water supply is in very great danger."
The Tesoro-operated pipeline near Tioga, N.D., had a quarter-inch rupture. In comparison, three years ago, an Enbridge line in Michigan had a six-foot rupture that leaked more than 870,000 gallons of tar sands oil into a Kalamazoo River tributary.
Tesoro received federal approval late last week to resume pumping oil through the line near Tioga. The company said more than 4,500 barrels out of the estimated 20,000 had been recovered and cleanup costs could reach $4 million.