​'Standing Rock will vote'
by C.S. Hagen | .(JavaScript must be enabled to view this email address) | News | November 5th, 2018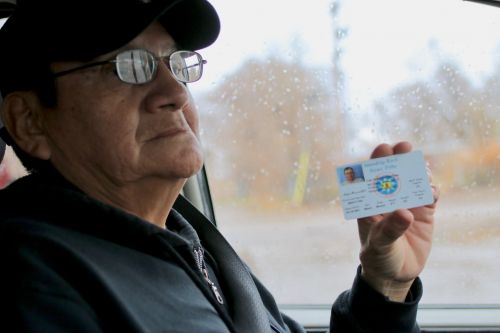 FORT YATES – The Standing Rock Sioux are not angry. After centuries of unfair treaties and mistreatment they're shrugging away the latest government attempt to suppress their votes, and heading to the polls in record numbers.
Absentee ballots have quadrupled this midterm election from previous years with 320 received by the Sioux County Auditor's office by November 5. More than 1,480 Standing Rock Sioux have already voted, and at least 650 more will vote November 6 after they receive their new tribal identification cards.
Despite a rain and snow mix early the morning before Election Day, nearly 50 volunteers and paid workers gathered at a makeshift office. They stood in a circle, smudged themselves with sage from an oyster shell before a woman broke out into traditional song and prayer. Two Standing Rock busses advertised their purpose outside.
"Standing Rock will vote."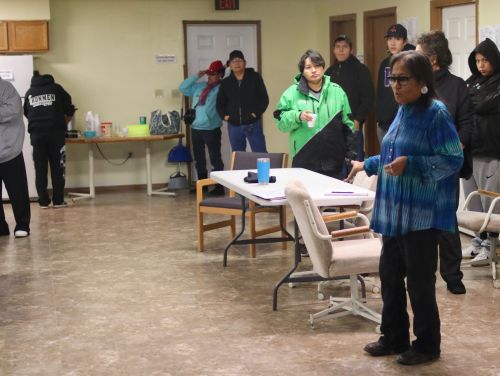 The signs were planted beneath newly-named street signs, along intersections, and heavily taped to house siding. In addition to issuing new tribal IDs for free, the Standing Rock Sioux Tribe is also paying $15 an hour for people to knock on doors asking: if people are interested in voting, if they have the proper ID card with a physical address and post office box address, and if they need transportation. So far, the state has not helped the tribe financially, and until a press conference last week denying any voter suppression, has remained quiet on the issues.
If they do need a ride, workers drive them three miles or so to the nearest polling station.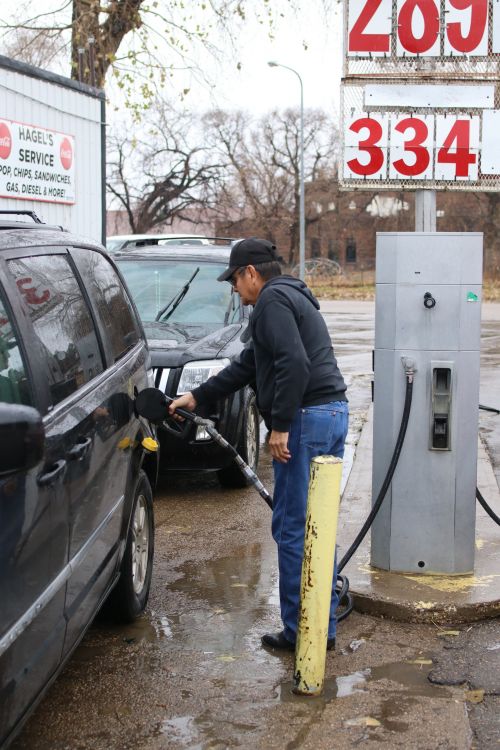 Dale Brave Crow has to return to McLaughlin, South Dakota to vote, he's made all the arrangements, but he's working north and has knocked on more than 20 doors. A former police officer, Brave Crow has never seen such energy prior to Election Day.
"Of all the people I talk to most are excited to vote," Brave Crow said. "A lot of people here still have a post office box number, so we get a street address on their IDs, with a P.O. box number underneath it."
Brave Crow pulled out his tribal ID and pointed to where he has both addresses listed. The fight against voter ID laws during the past few months has been a legal tug-of-war that reached the U.S. Supreme Court. The Supreme Court sided with the state and Secretary of State Al Jaeger in the original lawsuit filed by the Spirit Lake Tribe saying the plaintiffs were no longer disenfranchised. A second lawsuit acting as a temporary restraining order against the restrictions was denied by U.S. District Court last week.
Darlene Chasing Hawk takes care of her eight grandchildren, and her veteran husband fighting cancer from the effects of Agent Orange, she said. In September, her tribal ID only had a post office box address, but she was able to cast her vote using additional information, Google GPS locator software, and her 911 coordinator allocated address. She lives on Gold Eagle Avenue in a house with no number.
Chasing Hawk sees the voter ID law as an attempt to suppress the Native vote, and she's working to encourage tribal members to vote. In September she rode in a helicopter working with Google GPS locator software to identify houses with no numbers, she said.
What was once a desperate 14th Amendment issue at Standing Rock has now mostly been remedied, she said. The tribe began helping people sieve through a faulty state address-locator program, an inconsistent Google GPS system, 911 and post office box addresses, to discover where they lived in order to safely cast their votes.
"We were saved by the new IDs," Chasing Hawk said. "This came in and really helped a lot of us."
Outside the Sioux County Courthouse Sheriff Frank Landeis was finishing a cigarette and joking with two Native people.
"GPS isn't up to date," Landeis said. "But if they want to vote we will get them everything they need to vote."
He once tried to help an area that has 25 households figure out their addresses, but even GPS software says the houses do not exist. When called to respond his office doesn't rely heavily on GPS or 911-coordinated addresses, he said.
"We pretty much rely on the fact that everybody knows everyone around here," Landeis said.
Sioux County has approximately 4,376 residents, according to the U.S. Census Bureau.
Jessica Yellow Hammer voted for the first time in her life, she said. She and others have noticed a rise in hate speech since the Dakota Access Pipeline controversy ended.
"The new law made me want to vote," Yellow Hammer said. "It seemed they were trying to shut us down again. It is time for change."
When she lived in the country her address was known as "the house across the street from the powwow grounds," she said.
The voter ID law isn't new, it was proposed by Republicans in 2012 after Senator Heidi Heitkamp narrowly beat Republican Rick Berg for her current Senate seat. Republicans deny the accusations of voter suppression saying voter fraud is the reason for the regulation.
Inside the Sioux County Auditor's Office, Barbara Hettich, the county auditor, said she's been fielding "millions of calls from the media," but only four journalists – nearly all from outside the state – have arrived in person. Once the Standing Rock Sioux Tribe started issuing IDs, her workload has lessened, she said.
She too can't depend on Google software, she said.
"Google is off, it's very off," Hettich said. "So here we ask them if they've moved, and if their address is on their ID, if it's not, we switch them to where they say they like."
Proof of residence required, she said. The Standing Rock Sioux Tribe is also working to provide necessary documents people need in order to vote.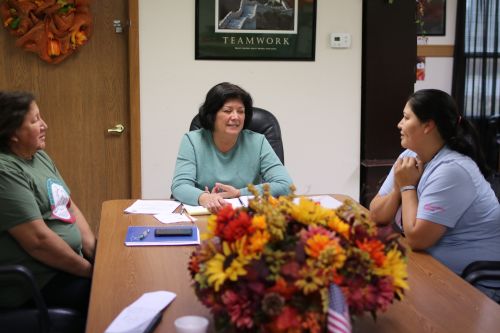 Inside a center that looks after tribal elders, coordinator Carol Nichols, administrative assistant Nadine Yellow, and home visitor Etta Brave Crow are busy brewing coffee and going about their daily routines. Although they don't push the need to vote to seniors, they help if they're asked.
"Some of our elders don't have any kind of phone, landline, or anything," Nichols said. "This is an attempt at voter suppression. I think so. I saw an interview with Al Jaeger and they were saying something about the Native vote and he tried to sound so sincere. He wasn't sincere at all. He was only trying to make himself look good. Heidi Heitkamp won on the Native vote, so they had to do something to stop the Native vote."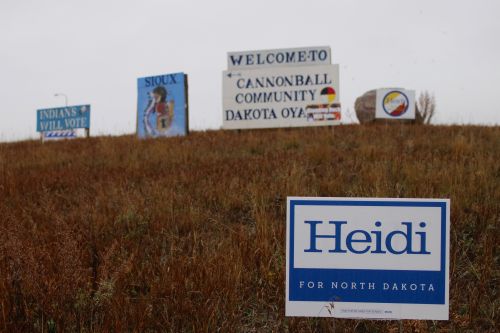 Throughout Cannon Ball and Fort Yates, "Heidi" signs are everywhere. Some Native communities have blamed Heitkamp for her silence during the Dakota Access Pipeline after they were the ones to help boost her into office.
"That was really hurtful what she did with the No DAPL," Nadine Yellow said. "Everybody was hurt and angry about what she did with the No DAPL, but compared to Congressman Kevin Cramer… well, with Cramer we would be worse off, we will be sunk, he is pro-Trump on everything. I don't think he feels that he is representing us, Natives aren't a part of his world."
Cramer is running against Heitkamp for one of the state's two spots for the U.S. Senate.
Yellow has also seen a sharp rise in racist comments toward North Dakota's Indigenous, and believes social media, President Donald Trump, and the No DAPL movement are the causes.
"It's getting worse because Trump is really allowing this to happen," Yellow said. "He really is voicing his racism and all these people who were hiding their hatred, now they're not being shy about it.
"Nobody helps each other anymore. It's really sad. We're supposed to teach children to love and be supportive, but now, no longer, and social media is a huge part of it."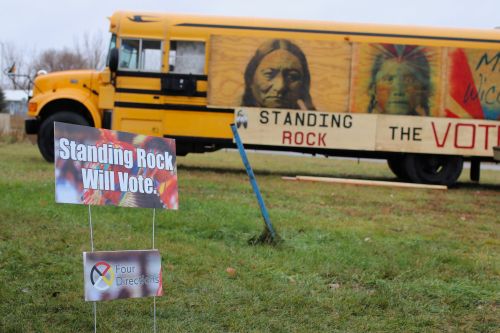 Although the state may be attempting to suppress the Native vote, most Natives have no anger, Yellow said. "That's just not part of our culture, it's not part of our beliefs.
"With this thing to suppress votes, we're all getting together to prove a vote is more powerful than lashing out," Yellow said. "Every life matters. Every vote counts. They're afraid of being the minority, so all of us minorities must go out and vote."
Dale Brave Crow chuckled after telling a story how people near Mandan cursed at him when he drove by in the tribe's blue "Water Protector" bus on Sunday. He waived his hand in the air signaling it was all water under the bridge.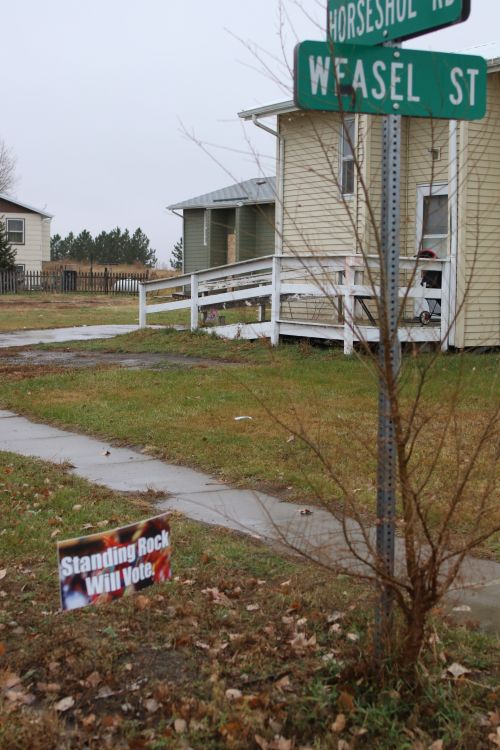 Standing Rock is known as one of the poorest reservations in the nation and with approximately 8,200 people its borders straddle North Dakota and South Dakota. Many residential homes and businesses including gas stations and grocery stores are boarded up with plywood. The Prairie Knights Casino and Resort is the tribe's major employer.
For those who are volunteering or working to help the Indigenous vote, however, there is only hopeful defiance against what they consider is just one more attempt to erase their existence.
On Monday evening, Attorney General Jeff Sessions sent out a press release saying the Civil Rights Division of the Department of Justice will be monitoring voter fraud and compliance with federal voting laws by deploying to 35 jurisdictions in 19 states. In North Dakota, agents will be in Benson and Rolette counties.
Any complaints related to disrupting a polling place should be reported to the local election officials. Complaints including violence, threats, or intimidation at a polling place should be reported to police.