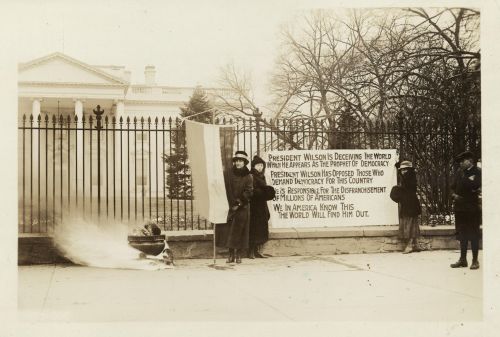 BISMARCK – Forty-three years ago, North Dakota became the 34th state to ratify the Equal Rights Amendment, and now white male legislators want to take it back.
Republican Representative Chuck Damschen proposed House Concurrent Resolution 3037 to the Sixty-sixth Legislative Assembly, to withdraw the state's ratification of the 1972 bill.
The proposal comes at a time when many states are whipping up support for the Equal Rights Amendment, as adoption of the ERA into the U.S. Constitution is only one state away from completion, according to the Washington Post.
In order for the bill to become federal law, a minimum of 38 states must ratify the bill. After 46 years of debate, 37 states have agreed. In 1975, North Dakota passed its support for the amendment in the House of Representatives with a vote of 52 to 49.
Sponsoring legislators say that the ERA is no longer needed because court verdicts, federal and state laws already provide protections for women, and legislators take issue with how gender is defined. Critics also say the ERA would include homosexual and transgender rights in the U.S. Constitution, because the word in the amendment is "sex," and not "woman."
The issue has become a hot topic in Minnesota, where legislators are trying to get an Equal Rights Amendment into the state's constitution and persuading Congress to lift the next deadline to support the final ERA ratification to the U.S. Constitution. A bill matching North Dakota's has also been filed in the Minnesota legislature.
Deadlines – which have come and passed repeatedly – are another reason some North Dakota legislators believe the state should withdraw support, according to the resolution. Established deadlines have not held firm, making a "sad mockery of the entire concept of time limitations," according to the resolution.
"Whereas, in 2019, the United States, women and men have achieved equal legal rights through alternate means in the absence of the 1972 Equal Rights Amendment..." the resolution states.
"Whereas, in today's world, it is not entirely certain how federal judges would construe the word 'sex' as contained in the proposed 1972 Equal Rights Amendment; and the massive transfer of power away from the states and over to the federal government by the 1972 Equal Rights Amendment's second section would doubtless divest North Dakota and other states of the ability to legislate in conformity with each state's own unique needs…
"It is important North Dakota lawmakers not be idle and mum relative to efforts underway in other states to resurrect the long-expired 1972 Equal Rights Amendment, as that doctrine stipulates that silence equals consent; and whereas, whatever positive features or laudable attributes the 1972 Equal Rights Amendment might possess aside, the North Dakota Legislative Assembly wants no part of this Equal Rights Amendment revivification experiment that potential could launch irreversible consequences of high constitutional magnitude…"
The attack appears to be connected to the state legislature's disdainful refusal to offer sexual discrimination protections for all gender identities, preferring the traditional definitions of man and woman. The Democratic-NPL, senators, and representatives are currently investigating the resolution in an attempt to discover the true reason behind the bill's introduction.
Representative Joshua Boschee, a Democrat from Fargo, said current protections fall far short of what is needed to protect all people from sexual discrimination.
"I assume it is one of their fears," Boschee said. "We've shown time and time again North Dakotans have been discriminated against based on their sexual orientation."
When those with complaints turn to the Department of Labor and Human Rights for redress, too many are turned away because current laws are insufficient. The agency doesn't have the power to help, Boschee said.
The only bill left that does address these issues is House Bill 1441, another anti-discriminatory bill proposed to the state legislature.
"And it doesn't include gender identity," Boschee said. "It's a well-intentioned attempt to try to pass on gender discrimination but it divides our community. To think we would support legislation that doesn't support all of our community is not possible, and that is concerning."
Senator Joan Heckaman, a Democrat from New Rockford, couldn't comment on what the bill's true intentions are, but is investigating the issue.
"The unknowns are scarier than the knowns on this," Heckaman said. "I don't know the reason for this. What we don't know is a little bit alarming.
"We need to find out why it came forward and what it is attempting to accomplish. If it is what it looks like, it is not good for the state of North Dakota and it is not good for the nation."
Primary sponsor for the resolution, Chuck Damschen, a Republican from Hampden, said the most disturbing aspect about the recent push to ratify the ERA into the U.S. Constitution was that more than 40 years have passed since its initiation.
"Somebody just got the idea that they could push it through and we're not really sure what the drive is for them," Damschen said.
"Women have well proved that they don't need that amendment to be equal. I think it's degrading to say they need that amendment. This is a bill that people are trying to pass in several states."
If the ERA is ratified into the U.S. Constitution, then on principal every other proposed amendment could be brought back to life and ratified, Damschen said.
Damschen said gender identity is not an issue for him when he proposed the resolution.
"For me, it is not really knowing what their goal is on this issue," Damschen said. "Sex is a lot harder to define it now-a-days than it was back then.
"I don't' see any exceptions, I think everybody has equal rights right now and I don't think we should ever grant rights to any group on the basis on preference. I think our forefathers included everyone and not to discriminate against anyone. We can't compare this to slavery because slaves were considered property, that's like human trafficking and we're fighting that here right now. I don't see a comparison."
Representative Mark S. Owens, a Republican from Grand Forks and a member of the American Legislative Exchange Council, or ALEC, is a cosponsor of the resolution and didn't realize that the ERA could include transgender or those with different sexual identities.
"That didn't enter my mind," Owens said. "Are we saying the Equal Rights Amendment, which is about women's equal rights in the '70s, a time when I was around, I remember everything about it. Until you asked that question I didn't think of it applying to transgender and that population.
"To me the situation is based on sex and if a transgender showed up as a woman at work then I think it would be protected, they would be identified as a female, and thus treat them that way, and that's what I would expect, and I know what I expect and reality is sometimes different, and that's why we have laws."
He signed on to the resolution because he doesn't believe the ERA is necessary.
"We already have protections against sex discrimination," Owens said. "The bill itself is not necessary anymore. It just seems redundant to me. I understand about wage equality and that is something that still needs to be fought not only in government but in the work world as well. I don't see making another amendment to the U.S. Constitution based on what already exists is necessary."
North Dakota's Concerned Women for America Legislative Action Committee, an organization that seeks to bring "Biblical principles into all levels of public policy," has spoken out against protections for transgender people. Recently, Linda Thorson, state director, said such laws including SB 2303 are not necessary, and that the bill creates discrimination.
"The LGBT movement strategy has been to transform morality into a form of bigotry, and then use government power to eliminate that 'bigotry," Thorson said on January 23.
"If we allow 'sexual orientation' and 'gender identity' to become a matter of law and policy, it will reach into our workplace, our schools, and our families, creating a society that no longer has 'equal protection under the law.' This will surely challenge the common sense, the strength of character and founding principles on which this great nation and state were built."
Thorson referred to the 1971 Reed v. Reed U.S. Supreme Court case that prohibits unequal treatment on the basis of sex discrimination, saying that current laws are enough.
"I am in opposition to the passage of the Equal Rights Amendment," Thorson said. "It is not needed for women to succeed further. Women are already protected by legislation and by the courts."
On January 9, Toni DeLancey, the state director for Concerned Women for America of Virginia, said passage of the ERA would have disastrous effects on women in the military, and degrade military readiness.
"If passed, a future war might require hundreds of thousands of women to be drafted and forced into close combat with the enemy," DeLancey said. "The current system works and provides opportunity for women and men without mandates. I stand with women across our country and our state in opposition to the passage of the Equal Rights Amendment."
But what about anti-discrimination protections for transgender people or those with a different sexual identity?
In a letter to the Minnesota House of Representatives Government Operations Committee, Meredith Campbell, director of public policy for the Minnesota Family Council, opposed ratification of the Equal Rights Amendment to the state's constitution.
"Instead of protecting the rights of women, the revived ERA attempts to prohibit discrimination 'on account of gender,' while refusing to define 'gender,'" Campbell wrote. "If, like the original ERA, the revived bill used the word 'sex,' few would claim that the ERA was necessary in 2019 because of federal and state laws which already guarantee women equal protection."
The Minnesota Family Council believes that the Equal Rights Amendment does not support equality for all Americans and that the protections afforded by the 5th and 14th Amendments, among other laws, already prohibit sexual discrimination.
"The efforts to revive the ERA aren't about women's rights; they're about trading a common-sense definition of sex in state and federal law for an unverifiable 'gender identity,' preventing the government from protecting bodily privacy rights in public accommodations like domestic violence shelters and school locker rooms, mandating taxpayer funding for abortions, and threatening the status of churches and religious organizations."
The primary sponsor of the resolution is Representative Chuck Damschen. Co-sponsors include: Representative David Monson, a Republican from Osnabrock, who is also an alternate member of the American Legislative Exchange Council or ALEC Education Task Force; Representative Mark S. Owens; Representative Don Vigesaa, a Republican from Cooperstown and member of ALEC Energy, Environment and Agriculture Task Force; Senator David A. Clemens, a Republican from West Fargo; Senator Robert Erbele, a Republican from Lehr; and Senator David S. Rust, a Republican from Tioga.
All sponsors were contacted for comment, and only Owens and Damschen replied.