Surviving hate
News | August 9th, 2017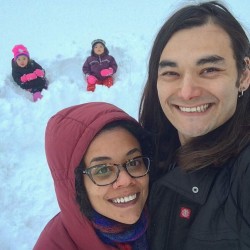 A former North Dakotan speaks about life as a racial target
VALLEY CITY – The hate Matthew Kinslow experienced while growing up in North Dakota reads like someone's long and horrid to-do list.
Half Korean, half German, Kinslow was smaller than other children his age. He was quiet. Dark haired, brown eyed. An easy target. Poor. Sometimes people thought he was gay because he dressed differently.
"Since I travelled and saw the world I couldn't really understand the people I grew up around," Kinslow said. "And of course, they couldn't understand me. I had a world-is-tiny view, and they lived in a bubble."
A bubble of racial stereotypes, he said, that left him on the receiving end of scorn and fists at Valley City High School.
"I remember in school when we were learning about the Vietnam War, all the kids in the school started to hunt me like I was an enemy," Kinslow said.
"They'd ask me stupid questions about rice paddies and eating dog. Had guns pulled on me. My friends and I got put in the hospital because we were listening to rap music. I've been held down and spat on, called all kinds of names. I was always called racial slurs growing up, literally almost every day. I used to hang around Native Americans a lot because I could blend in a lot more."
In the early 2000s, when the Nationalist Socialist Party of North Dakota was attempting to gain a foothold in the state, Kinslow had a cousin with a white supremacist message – "14 Words" – tattooed to his forearm. The racist group met secretly in a barn outside of the city. The reference "14 Words," is a white supremacist slogan originally 88 words in length and straight from Adolf Hitler's Mein Kampf.
"I've been told if 'you ain't white, so you ain't right,' a few times."
His biggest 'mistake' in his adolescent years was to hug a white girl that was dating a friend.
"Her cousin called her a race traitor," Kinslow, now 38, said. "I started talking sh*t to him and he got a shotgun out."
Thinking quickly, Kinslow wrestled the shotgun away, and threw it into a ditch, he said. Later that month, police charged him with theft of a firearm, and Kinslow spent two weeks sitting in Barnes County Correctional Facility to ponder how the charge was possible.
He couldn't afford the $1,000 fine. LaMoure County Sheriff's Department incident reports state that two weapons were taken from Casey Kuska's vehicle, parked at a Cenex in Dickey, North Dakota. One of the weapons was a bolt action .270-caliber Remington and the second was a 12-gauge pump action shotgun. Both weapons had a total value of $743, police reports indicated. A second suspect was also included in the police investigation.
At the time, no one could, or would, vouch for Kinslow's version of events, which included that he did not take any weapons from the vehicle, Kinslow said.
Admittedly, that year wasn't the best time for Kinslow. "My mom had cancer, and my dad and I were fighting as I was living with a friend's parents," Kinslow said. "There wasn't anyone to tell them they pulled on me, it was a crazy situation."
As far as he knows, the person who pulled a shotgun on him walked. "When you're growing up, you think it's normal." After staying in North Dakota to serve out his probationary period, Kinslow moved to Colorado.
"It really does come from the culture though," he said. "You can see the older people instill these tendencies, and they make light of things they say and how they perceive people. It trickles down."
The racial slurs, the beat-downs, the racially motivated hate Kinslow experienced as a child brewed anger in him at a young age, he said. "Took me a lot of counseling and anger management to shed it, but I think it made me a stronger person. It made me an activist. Takes a lot of words to rile me up now."
Now, Kinslow, with two daughters whose DNA results showed they have the blood of nearly every race on earth, won't tolerate intolerance. "Everyone has prejudices and hates certain people, you're conditioned to it, but still have to leave people alone."
He tried rehab three times, took anger management classes. Doctors prescribed muscle relaxers, Tramadol, Ritalin, and Zoloft, to help with pain, physical and emotional, but nothing worked until his third attempt, Kinslow said. Through his trials, however, Kinslow has learned empathy, which in hindsight, he didn't think possible.
"My wife thinks it's strange I can always tell when someone's having a bad day or is sad, even strangers. I'll walk up and give strangers hugs. I'm not scared to help."
Hate crime legislation in North Dakota is needed, Kinslow said, but laws won't solve prejudice.
"It's a double-edged sword. Having the law doesn't make people hate less, it's a crappy culture that does. It's socially acceptable to be racist. Laws don't stop people from doing things, laws just make it easier to point fingers and tell them that they're bad people. "
Dialogue is what is needed, Kinslow said. "I've known it existed my whole life and I'm fine with it. I know it won't go away, and I'm okay with that. It's harder for me to hear people say it doesn't exist than to see it happen.
"When you denounce its existence you make the incident okay."
A few years ago, former Valley City Attorney Russell Myhre would not have agreed that the state needed hate crime legislation.
"In light of events in North Dakota in the past few years, I have changed my mind," Myhre, who now runs a private practice in Valley City, said. "Leith, NoDAPL, the Grand Forks incident, and some other less notorious criminal acts," are examples of why the state needs hate crime legislation, he said.
"Motive, while a notable explanation for criminal assault or homicide, is not a legal element of the crime," Myhre said. "Hate crime legislation would make motive an element, which would highlight an aggravating circumstance in terms of sentencing."
In other words, those convicted of hate crimes would face tougher sentences.
"This gets to the fundamental question of whether society believes it is necessary to penalize bias and prejudice when it is a factor in the commission of a crime," Myhre said.
North Dakota already ranks second in the nation for hate crimes, according to statistics compiled by the Federal Bureau of Investigation. So far in 2017, the state is doing little to change that statistic, and the North Dakota Human Rights Coalition has documented four incidents of hate crimes this year in Fargo.
"North Dakota already has similar statutes in place for dangerous sexual offenders, habitual criminals, crimes involving firearms, etc.," Myhre said. "There are also statutes which give judges discretion for aggravating (and mitigating) factors. The question is whether society believes prejudice-based crimes, overtly committed, are worthy of a focused attention by enacting them into law."
Some say the state already has its bases covered with current laws. The recent Walmart incident that went viral online when a white woman, Amber Hensley, threatened three Muslim women with death brought a range of ideas to the forefront.
"Anyone but a white Christian woman would be in jail," Jana Stone, of Colorado, said in a Facebook post. "Without all the posting and hell raising, it would have received zero attention by anyone."
"If their races and religions were reversed, ICE and the FBI would have gotten involved," Rissa Williams, of Bismarck, said in a Facebook post.
"The whole idea of 'hate' crime as a legal definition is rather absurd," Fargoan Adam Carico said. "If someone murders someone, is it any less heinous if they did not do it because of the victim's skin color or religious beliefs or gender?"
"Diversity is code for 'anti-white,'" Nick Bata, a Fargoan who campaigned unsuccessfully for North Dakota Insurance Commissioner as a Libertarian last year, said on Facebook. Bata is the candidate who used the phrase, "Make America Rape Again," in a public Facebook thread in 2016. Bata said at the time he wouldn't apologize for making the statement, saying the phrase was a sarcastic response to an inaccurate allegation, according to media reports.
"Left-wing proponents of hate crime legislation suggest that the stiffer penalties for crimes motivated by things like the race or sexual orientation of the victim serve as a deterrent to those crimes, but does that pass the smell test?" Rob Port, an editorialist with the Forum Communication Company said on his "Say Anything Blog."
"There is no conclusive evidence that the increasing number of hate crime laws on the books in states across the nation have reduced hate crime at all," Port said. "Most states have hate crime legislation today, and yet nationally the FBI's measure of the incidence of hate crimes has remained relatively static."
"Thought policing is wrong, and that is what hate crime legislation essentially is," Fargoan Pete Tefft, a self-declared pro-white activist, said. Tefft plans to attend the AltRight's Unite the Right rally on August 12 in Charlottesville, Virginia. Afterward, Tefft said, he plans to hold a rally in Fargo to bring attention to the idea that suppressing hate speech is the same as denying freedom of speech.
"Hate crime legislation is one piece of a larger puzzle in fighting hate crime," Barry Nelson of the North Dakota Human Rights Coalition, said. "It is a recognition by the state that crimes committed against individuals based on their identification with a group has unique impact on that individual and community. We are looking at both city ordinances as well as state legislation which we recognize will require much education and advocacy."
For proponents of hate crime legislation in North Dakota, an assault conviction is not enough if racial hate is involved. Advocacy groups' goals are to bring hate crime laws to the legislature in 2019, and in the meantime raise awareness and support, and establish a rapid response team, Nelson said.
The rapid response team – expected to be established within a month – will include professionals, law enforcement personnel, training staff, and a publicity committee to assist with hate crime responses, Nelson said.
"It does not take into account the fact that hate crimes can affect a whole group of people," Nelson said. "I also think for the record it should be noted if the crime was based on hate. Having a conviction for assault alone does not adequately address the seriousness of a hate crime."
Kinslow is still hoping that the governor will one day pardon him, clearing his record. His cousin involved with white supremacy groups committed suicide, he said, but he's overcome the angry demons that once haunted him.
Kinslow remembers the day when he stopped being ashamed of his ancestry. It was on a homecoming date in junior high. His friend didn't want to dance with his date, so she asked Kinslow for a dance. She didn't care that he looked different than the uniformly white classmates, and they spent the rest of the evening discussing why he shouldn't care what other people thought.
"If they're going to pick on you when you're trying not to get picked on, so why not give them a reason? That way it's not for nothing," Kinslow said the girl told him.
"I kinda lost my fear after that."
When Kinslow was 14, he saw a classmate's father scream at his sons, and beat one of them with a belt – the same boy that picked on him at school.
"I felt so bad for them," Kinslow said. "It's like I saw the hate they had, but it was taught. They learned it. I can't hate back at people like that, it's not their fault.
"I was never really ashamed of my culture, just was ignorant of the fact that it should be the opposite," Kinslow said. "I should have been ashamed of American culture for making me feel that way, even though I was American. It's why I can't have pride in my country.
"How can a country be proud when it shames its own citizens for being different?"