​'Tale of two economies'
News | October 9th, 2018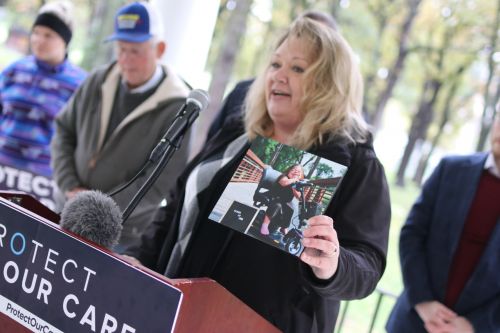 FARGO – Every time the state legislature meets to discuss healthcare issues, Jennifer Restemayer holds her breath, watches, and waits. The West Fargo resident displayed a picture of her daughter, Allison, who suffers from a genetic disorder, and wouldn't be alive today if the Affordable Care Act hadn't been passed.
Allison, a high school senior now, needs approximately $300,000 worth of hospital care every year just to live, she said. Before the Affordable Care Act was passed her hospital insurance bills were close to reaching the limit. She's worried now with North Dakota joining a Texas lawsuit to declare the Affordable Care Act unconstitutional that she will have to go back to the days of denied healthcare coverage.
"Democrats and Republicans need to come together for families like mine so they don't hit a lifetime max," Restemayer said. "No insurance company should be able to put a cap on the life of my child."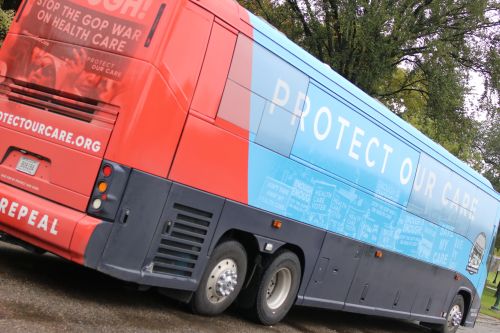 In an attempt to help spread Restemayer's and other's concerns about protecting current healthcare laws, a nonpartisan group, Protect Our Care, made its 26th stop at Fargo's Island Park Tuesday morning to meet with candidates for state office. The healthcare organization is putting 11,000 miles behind the wheel while driving to 23 states across the nation.
Starting in Connecticut, the group will end their six-week tour in Florida, with a message that "transcends politics," an organizer, Mat Goldstein, said.
"Everyone has a story," Goldstein said. "Even people who don't agree with us 100 percent support what we're saying. People are coming out."
While more than half of North Dakota wants to keep the Affordable Care Act and fix what doesn't work, elected officials currently in power but up for reelection have launched a full-scaled assault to tear it all down, without a validated backup plan.
After 967 registered voters in North Dakota were recently surveyed, the poll discovered that most people – 60 percent – voted for President Donald Trump, and 54 percent want to keep what works with the Affordable Care Act, otherwise known as Obamacare, while 36 percent would rather start over with new healthcare laws.
A total of 52 percent of those surveyed stated that healthcare issues are the deciding factor on who to vote for in the U.S. Senate election, according to Change Research, an organization attempting to make polling accessible and affordable.
Additionally, 47 percent strongly opposed U.S. Congressman Kevin Cramer's support of the state joining the Texas federal lawsuit to declare the Affordable Care Act unconstitutional. Another 61 percent of people said it was a major concern that Cramer voted to repeatedly repeal the Affordable Care Act.
Few people in the poll said they were not concerned over the current healthcare struggle. An overwhelming majority stated they were either gravely concerned, or were concerned about recent efforts to dismantle current healthcare laws.
So far, the North Dakota Attorney General's office has refused to explain why Attorney General Wayne Stenehjem led the state to join in the federal lawsuit, and the office's secretive methods have spurred many across the state to protest.
"This is simply outrageous," Ben Hanson, who was the first person to declare he would run against Cramer for the U.S. Congress, said. "It is ridiculous and it needs to be stopped as quickly as possible. We're sick and tired of it and we don't want our healthcare messed with."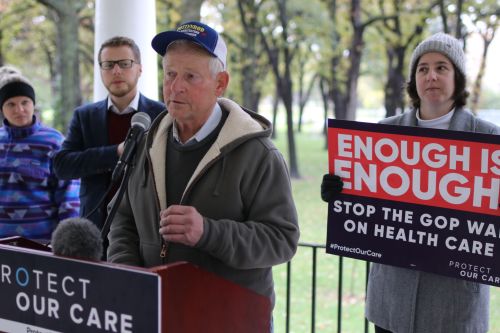 Senator Jim Dotzenrod is running for the state's Agricultural Commissioner, and said the current situation is a "tale of two economies," with farmers taking most of the punches. First, the agricultural community was preparing for a tough year, he said, then came the trade war with China, which is hurting trade deals painstakingly made over years of negotiations with China.
And now as the federal lawsuit further threatens to eliminate protections for pre-existing conditions, of which 102,000 people in Fargo currently have and more than 60 percent of Cass County farmers share, Dotzenrod questioned how much worse can conditions get for the agricultural community.
"We are seeing some big issues affecting us with agriculture and healthcare," Dotzenrod said. "This lawsuit that is going on now, North Dakota should have stayed away from, but North Dakota has joined in and if it is successful it will take away about $27 million from rural hospitals."
A hit, Dotzenrod said, that rural hospitals won't recover from.
"I hope that North Dakota would change its position," Dotzenrod said.
Mac Schneider, an attorney, is currently running against Kelly Armstrong, heir to a North Dakota oil baron, and said the lawsuit is an unfortunate spiral that both Republicans and Democrats need to focus on.
The Affordable Care Act and Medicaid Expansion has helped the state, especially in rural areas, but if the Texas lawsuit is successful, all help will disappear.
"Unfortunately, all of that is now threatened by this unusual, ideological lawsuit by attorneys in Texas," Schneider said. "This might sound strange coming from an attorney, but you don't have to sue about everything. This is the time to fight for healthcare."