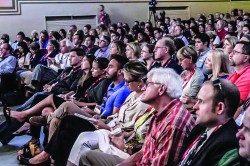 In 2012, the first-ever TEDxFargo event drew just 100 people. Since then, the expected audience has grown about 20-fold.
Organizers of this year's TEDxFargo anticipate up to 2,000 attendees at the Fargo Civic Center July 23 -- by far the best turnout yet, according to TEDx PR representative Mark Staples.
Greg Tehven of Emerging Prairie and Dr. Susan Mathison of Catalyst Medical Center are the curators of the event. Along with their team of volunteers, they decided on "wonder" as this year's theme. Speakers were then asked to give talks about their own experiences with wonder.
Planning began over seven months ago and the all-volunteer event is now just weeks away. As the countdown begins, 20 different people from around the country are preparing to take the stage to address a wide range of topics. Six of the 20 presenters are locally based, including Kayla Delzer, a West Fargo second grade teacher who won the TEDxFargo open mic event by a public vote on Twitter, and Dr. Anne Blackhurst, president of Minnesota State University Moorhead.
The other 14 speakers are flying in from all over to talk about their own versions of wonder. Staples says the exact topics aren't revealed prior to showtime in order to keep ticket holders guessing.
The eclectic group of 20 includes musicians, physicians, CEOs, university professors, philanthropists, humanitarians, tech-savvy brains and a theater director, among others. The event is designed to not only shine a spotlight on some of the great minds of our time, but also to facilitate conversation between individuals, speakers and listeners alike.
Tickets can be purchased at TEDxFargo.com, which has a comprehensive listing of all speakers and their backgrounds.The price for general admission is $100. For attendees ages 22 and under, it's just $45 to get in. There is also special pricing for groups of ten or more.
Staples said the goal is to give everyone an experience worth at least twice the price of a general admission ticket, with continental breakfast, lunch, entertainment, snacks, a swag bag, massages, unlimited caffeine and hydration (guests should bring their own water bottles) and more. Just think, all of that included as well as getting to see the 20 world-class speakers, who are presenting without pay, per TEDx policy.
"TEDxFargo is a great event for people to attend whether they have never gone to any sort of conference or have been to a dozen events like this," Staples said. "It's an event with something to offer to every open mind that steps through the door."
Event Info:
TEDxFargo
Thu, July 23, 8 a.m. to 6 p.m.
Fargo Civic Center
TEDxFargo.com has more information and a link to buy tickets