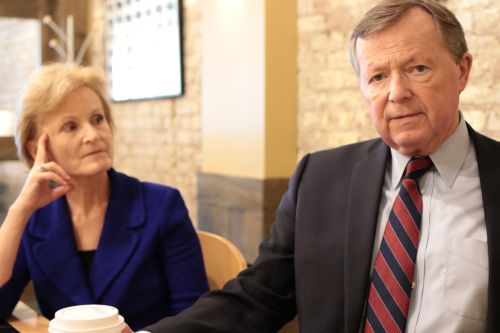 BISMARCK – In an attempt to terminate current healthcare laws North Dakota quietly joined Texas and 18 other states, shopped for a friendly judge, then hired a radical attorney who quit after a countersuit was filed. The state – led by Attorney General Wayne Stenehjem – remains tight lipped about the trial's progress.
Liz Brocker, public information officer for the North Dakota Attorney General's office said she has no new information on the federal lawsuit being tried in conservative Judge Reed O'Connor's northern Texas courtroom.
"You can review the information in the court record," Brocker said.
Court records reveal the actual lawsuit, which alleges that since President Donald Trump's Tax Cuts and Jobs Act eliminated penalties for not obtaining health insurance coverage, the entire law is unconstitutional. Court records also show that the lead attorney who spearheaded the federal lawsuit, Austin Robert Nimocks, has requested to withdraw from counsel.
Claiming Stenehjem is "passing North Dakota around like it's a warm bottle of gin at an all-night kegger," Bismarck attorney Thomas Dickson filed a Writ of Mandamus against Stenehjem in September, saying the Attorney General has broken state laws by allowing Texas attorneys to speak for North Dakota.
"He is surrendering North Dakota to the Texas branch of the John Birch Society," Dickson said. "You have to follow the rules, we have to follow rule of law. North Dakota is a free and sovereign state."
Stenehjem has until the end of October to reply. Dickson is seeking immediate termination of the State of North Dakota's participation in the federal court case, and that out-of-state attorneys stop representing the state until they are properly vetted.
"What in the world got into him?" former U.S. Representative Earl Pomeroy said. "And the fact that he won't explain it is a complete mystery. I've never seen it. People have the right to expect that those holding public responsibility because of their elected office have a duty to explain why they're taking the action they are on behalf of the public.
"Stenehjem files a lawsuit to take away all pre-existing coverage and the insurance coverage from all these people and he won't say 'boo' about it. To me that is highly unusual and irresponsible. North Dakota deserves better. We at least deserve to know what he was thinking. Why does he hate this coverage so much? Why when the legislature passes Medicaid Expansion does he put the whole thing at risk?"
If the federal lawsuit is successful, the Affordable Care Act will be declared unconstitutional. Approximately 320,000 North Dakotans with pre-existing conditions will be in danger of losing their health insurance policies. Coverage for 47,000 others in the state will be lost, and everyone will see a "catastrophic" hike in insurance premiums, Pomeroy said.
"What happens if almost 50,000 people lose their coverage?" Pomeroy said. "People understand what is at risk relative to pre-existing conditions, but what they may not understand are the threats to premium rates in North Dakota."
If the lawsuit succeeds, thousands will be out of health insurance. Hospitals will not turn the sick people away, but those who cannot pay will possibly face either a lifetime of doctor bills, or the bad debt will be passed on to other rate payers, Pomeroy said.
"Uninsured individuals still needing medical services often can't pay for them and that produces bad debt, and bad debt factors into the charges to everyone else," Pomeroy said. "So costs go up, insurance claims go up, and the next thing you know insurance rates go up.
"In a state with the population of North Dakota this is a very substantial number that would be moving from insured to uninsured. Using the scale of our insurance market in the state, if 47,000 people suddenly lost their coverage it would be a cataclysmic event."
Primarily Republican opponents of the Affordable Care Act take issue with the numbers being cited by current healthcare law advocates. The numbers, Pomeroy said, are correct, but are being blown out of proportion. Everyone will one day face pre-existing conditions, he said.
"Everyone understands a couple of things: that they are at some point in their life's journey going to develop health conditions," Pomeroy said. "We're all mortal. Right now they have the assurance that even if they need to go shopping, they are going to be able to get coverage because of the law that says they cannot use pre-existing conditions against you. The Stenehjem/Cramer lawsuit throws that law out, and then we're back to the old days."
Pomeroy, once the Insurance Commissioner for North Dakota, called the federal lawsuit the "Stenehjem/Cramer lawsuit," saying Stenehjem forced the state to join, and current Congressman Kevin Cramer, a longtime opponent of the Affordable Care Act, later embraced the lawsuit. He is currently working with Dakotans for Health, an ad hoc group of North and South Dakotans focused on maintaining and improving provisions within the Affordable Care Act.
A recent survey of 967 registered voters in North Dakota and performed by Change Research discovered that 60 percent of North Dakotans voted for Trump, and 54 percent want to keep what works with the Affordable Care Act and fix what doesn't work. A total of 52 percent of those surveyed also stated that healthcare issues are the deciding factor on who to vote for in the U.S. Senate race between U.S. Senator Heidi Heitkamp and Cramer.
Austin Robert Nimocks, special assistant Attorney General for Texas, requested to withdraw from counsel, according to Texas court documents. Nimocks is a radically conservative lawyer against women's rights, who supports the criminalization of homosexuality, supports enforcement of "immigration laws," and has frequently defended big corporate interests in Texas. He has also spoken repeatedly at Alliance Defending Freedom functions attack gay marriage legislation, claiming that the "homosexual agenda" will destroy Christianity and society.
"I think it's a very extreme office, and for Stenehjem to throw in with that crowd is a disgrace," Pomeroy said.
He believes the private sector and the public sector should work together to provide health insurance for everyone in the United States. Pomeroy isn't ready for "Medicare for All" yet, he said.
"The way the Affordable Care Act could work is that public/private partnership to expand the possibility of coverage to everyone in the country," Pomeroy said. "Ever since it has passed it has been under attack, and I would like to get to the point where the parties can work together, to work the kinks out, and build on that platform.
"To put that aside and launch something brand new is something in my opinion that likely will not succeed politically or substantively. If this effort at public/private partnership doesn't work, down the road it will be an entire government response. The people of this country will insist upon reliable health insurance coverage."