The First Lady's magic wand
News | October 2nd, 2019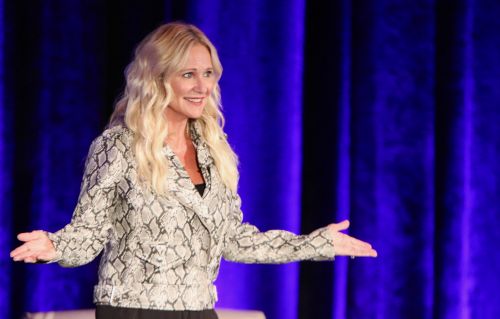 FARGO – Amidst a room filled with women, cupcakes, and shared experiences, the state's First Lady took the stage last week in the Crystal Ball conference room at the Delta Marriott to talk about her passion to rid the stigmas behind addictions.
Kathryn Helgaas-Burgum was once a party girl, she said, blacking out for the first time at Jamestown High School. Later in her professional life she didn't become a "wine mom," but more of a "wine girl," as drinking was the only way to numb the voices in her head. In those years she couldn't imagine her life without alcohol. She battled the addiction on her own for 30 years, and said divine intervention led her to publicly share her trials.
"Wine mom" is a trope that has evolved since 2015 from a meme to a culturally acceptable, marketed escape for frazzled mothers, but the binge drinking that comes with it is in actuality self sabotage.
Helgaas-Burgum spoke about her mission, a preview for the third annual Recovery Reinvented, but before her speech she sat down for interviews.
"I found drinking was a way to drown the voice in my head – that I would never be good enough or that I was stupid," Helgaas-Burugm said. "I tried to stop drinking on my own, but addiction is a powerful disease."
For years, she kept her recovery hidden away in her own closet, but while preparing for her first newspaper interview after her husband and current governor, Doug Burgum, took office, she felt the urge to talk about it in a public setting.
"I never, never thought I would be First Lady," Helgaas-Burugm said. "This was never on my agenda. And then when I became First Lady, I thought maybe there is a reason why I am here and maybe I can share my story and see if that helps people, and that just opened the door to creating the platform and the mission to end the stigma of addiction."
Would she do something different if she was not under the political spotlight?
"That's a good question, because I was floating along in my life without talking much at all about my own recovery," Helgaas-Burgum said. "I don't know if I would have stepped up to the plate. I kind of feel like someone else has a plan for me and maybe that would have showed up somewhere else in my life."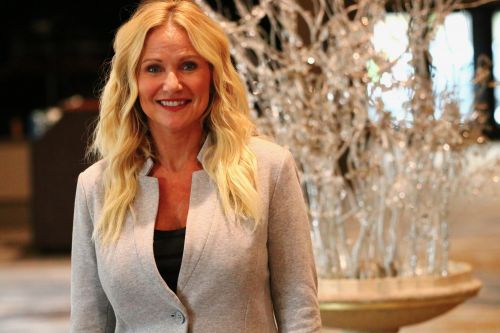 If she had a magic wand and could wave it without thought to political differences or barriers, her platform wouldn't change an inch, she said.
"The first thing I would do is illuminate stigma related to the disease of addiction," Helgaas-Burgum said. "And the second thing I would do would be to ensure there is a holistic, wrap-around system in health care to treat people with the disease of addiction.
"And the third thing I would do is remove any barriers to people that want to learn about, study, or become addiction counselors, remove any licensing vocation barriers. In North Dakota our biggest issue is getting enough professionals in this field, and we have a lot of people who have moved to North Dakota who have 20 years of experience as a licensed addiction counselor, but because of the certification requirement they're told they have to go back to college or pay $10,000. It's ridiculous. We need to remove those barriers."
At the Crystal Ball's entryway, Jan Eliassen, the Gladys Ray Shelter director, and Nasra Warsame collected donations of canned goods and clothing.
As North Dakota has consistently come close to and actually became known as "America's drunkest state" title in 2018, Eliassen said addiction is passed on from generation to generation, and is not a badge of honor.
"People here they inherit it," Eliassen said. "When people come here from somewhere else, they notice how we drink. Anywhere you go the alcohol industry is highly interested to keep things as they are. Our spaces have gotten bigger and bigger and our social spaces have gotten smaller and smaller. Abstinence can't be the only option, and most people exist in between abstinence and substance abuse."
Helgaas-Burgum said those who think being named the drunkest state in the nation is a title to be worn with any degree of honor, are most likely hurting inside.
"The culture in our state is party hard, and that's why we've been on the drunkest state in the nation list," Helgaas-Burgum said. "I believe a lot of those people that make up the group that gets us on that list are struggling and they don't know where to find help, and they don't know where to reach out. It's become such a part of our culture. I think there are more opportunities for people to do other things. It seems like younger people are preferring to not have that be there. Activity of choice: they're going to coffee shops and doing more active things. Maybe that will change for us moving forward."
In 1954 alcohol addiction was declared a disease, and yet 65 years later those who struggle with addictions to any substance or activity are still ostracized or ignored.
"It's now 2019, and there are still a lot of people who don't believe it's a disease," Helgaas-Burgum said. "The opioid crisis has brought this into the forefront but the chronic disease of addiction is really a health care crisis in our nation. The biggest issue is we do not have wrap-around services in our health care system like we would for other people with chronic diseases like diabetes. They need to have the same services available for people with the chronic disease of addiction."

Faced with mounting incarceration costs due to low-level drug offenses, the state has begun investing in programs other than $64-million-dollar penitentiaries, such as Free Through Recovery, described as an ambitious initiative that seeks to bolster addiction counseling and behavioral health services.
Helgaas-Burgum hopes to change current laws on who can become a counselor as well, she said. Much like the 1970s "Rat Park" experiments that tested rat addiction to morphine-laced water versus regular water, the state needs more options in communities and better communication between government and health services, she said. Those struggling with addictions need people who understand, and don't simply prescribe a one-way fits all methodology.
"In North Dakota we believe that creating more community support is part of the healing process," Helgaas Burgum said. "We're engaging more communities to step up to the plate to provide services, but we're also arming people by training them to be peer-support specialists so they can go back to their communities and work with people in their communities.
"Peer-support specialists have lived experience. They have had addictions, or behavioral health issues, or both. Some have criminal records and they can help people in their communities: help them find a place to live. We believe it is really important to have community-based services vs. taking people away. It's a long term view for a lot of people in the recovery world is we don't need to build more treatment centers, we need to create services and make them available in our communities.
"There are many paths to recovery I don't want to say that treatment centers aren't important because in many communities they don't have treatment centers and they need those. Treatment works for some people, but that – along with more community services – is really important."
In addition, Helgaas-Burgum is also focused on criminal justice reform, she said, which is irrevocably linked with addiction issues.
"The governor and I are all in on criminal justice reform," Helgaas-Burgum said. "Doug and I and my team are close partners with Adam Martin."
Adam Martin is the human rights commission member with the City of Fargo and founder of the F5 Project, an organization seeking to lower recidivism rates across the state.
"So many people call me and ask for help with their loved ones that have been entangled in the criminal justice system and Adam's the guy I call and he goes to help. But the Governor has also been pardoning people with nonviolent felonies as he can because he believes it's important. People do their time and then they suffer for the rest of their lives, so he is very focused on that. We are doing whatever we can to help and support the changes to helping people."
She's promoting ideas to industries and businesses such as "Ban the Box," a rule that bans using a criminal history box on job applications.
"It doesn't mean you aren't going to check somebody's background, but at least you have the opportunity to get further in the interview process before someone asks you about that and you have the opportunity to explain before being tossed in a pile."
On Veteran's 2018 Day she and Doug Burgum toured to the Jamestown Prison, she said.
"It was a holiday, government offices were closed, but that's what we did because we wanted to learn more about what was happening there."
Prisoners – now called residents – should be given a second chance, Helgaas-Burgum said, and they should be given a trade while behind bars.
"Believe me we are doing what we can to change those things so people who have made mistakes have opportunities for the future," Helgaas-Burgum said. "They won't have to drag that ball and chain around the rest of their lives."
During her speech she called upon industries and companies to begin changing the ways they deal with employees suffering from addictions. She named The Toasted Frog, Microsoft, and other companies, praising them for continuing support for employees who admit their addictions and want help.
"If more people start talking about addiction and eliminating stigma some of those people who help us get on that list will reach out to us for help," Helgaas-Burgum said.