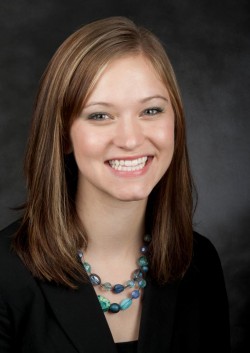 A North Dakota legislator says the gender wage gap in North Dakota is one of the worst in the nation and she is working to change it through legislation and awareness. Representative Kylie Oversen (D-Grand Forks) has sponsored three bills that have all dealt with various aspects of the issue this legislative session.
One of her bills, which saw her testify before a skeptical all-male committee, would have required anyone doing business with the state to submit an equal pay statement to the state to make sure they were treating everyone equally. That bill was defeated but Rep. Oversen has had one other bill pass that would prohibit employers from retaliating against employees who discuss their salaries with others. That bill now heads to the Senate, and another bill received a do pass recommendation from Committee, which clears up language for individuals filing complaints with Commissioner of Labor and makes sure they are able to bring it to a district court or it is able to be forwarded to a federal agency.
"The overall wage gap is that women make 70 cents to a dollar from what a man makes, and that's just really based on median earnings across the state. So not taking into account education or experience things like that," Oversen told HPR.
"So even when you account for education or experience or longevity with the company ... there's still a pay gap anywhere from 7 and 12 percent that you can't explain away. And there's not really a good explanation for it so we tend to point to discrimination as that remaining factor."
While some legislators refuse to admit a gender wage problem exists, others have come to acknowledge the discrepancy but want to study the issue more. Oversen is happy to see some progress on the issue and will continue to fight but is mindful of the fact that North Dakota has one of the biggest gender wage gaps in the country.
"The overall wage gap North Dakota ranks 47th in the nation," Oversen said.
Part of that is due to the high number of oil workers, a majority of whom are male, in the western part of the state. However, that should not be the sole reason for such a wide gap and why North Dakota is so far behind, Oversen noted.
One issue with passing legislation to deal with the matter is that North Dakota has an overwhelming majority of male elected leaders in state office and the Legislature. Oversen hopes that will change someday.
"I do think that is a disservice to the population that we serve when we don't appropriately represent those groups. Women make up half, if not more, of our population. So hopefully one day we will have close to half of our legislative body be female," Oversen remarked.
But it's not just legislation that Oversen is working on to address the issue. Part of the whole goal is creating awareness that could have an impact on more employees just simply knowing there are some things they can do to correct the problem.
"The legislative action on equal pay is just one part of the process. Other steps will include making sure that women and men are aware of their rights under the law, and if they do have concerns letting them know where they file complaints and who to talk to. There are a number of other factors that go into play, so that the legislative fix is just one part of it. And even if the bills don't pass we certainly won't be going anywhere with the fight for pay equity," Oversen said.
Part of that awareness will be no doubt changing hearts and minds of legislators, some of whom have never heard of the issue.
"I do think there's some ignorance or unwillingness to not only get what the problem is, or how that really impacts women. You know if you look at even if the woman is just earning 5 percent less over the lifetime of her career, that compounds every year and affects annual earnings but also your retirement savings. That really adds up to a lot of money and a lot of hardship over the years, so I think it's getting the committee to understand the full breadth of what the wage gap does and what it does to North Dakota families," Oversen said.
She recommended calling senators to encourage support for House Bill 1294, which already passed the House, and calling House members about support for House Bill 1257, which as of press time has yet to pass the House for those wanting legislators to address the issue this legislative session.