​The Great Divide: Radio Free Fargo and KNDS splitting up
by Chris Hennen | .(JavaScript must be enabled to view this email address) | News | August 26th, 2015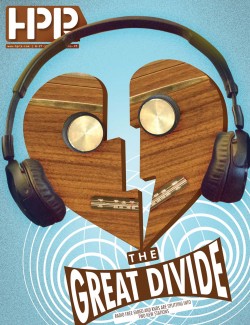 Each group will now program 24 hours on their own radio stations
Changes are coming to KNDS 96.3, the low power FM radio station that featured shared airtime between community members known as Radio Free Fargo and NDSU students who went by Thunder Radio.
Now both groups will operate 24 hours a day on their own frequencies starting Saturday, Aug. 29. NDSU will remain on 96.3 FM on KNDS, while Radio Free Fargo moves to 95.9 FM where they will be known as KRFF. Radio Free Fargo used accumulated assets to purchase the 95.9 frequency. The changes allow both groups to offer more and newer programming. Until KRFF is able to purchase its own studio, the two groups will share studio space in the brownstone building downtown on Eighth Street North, also where High Plains Reader is located.
With the move, listeners can expect some changes. Mark Borchert, the owner and station manager of KRFF, said it was time for Radio Free Fargo to branch on its own after sharing airtime for 10 years.
"Both groups brought separate skill sets to launch 96.3 early on," he said. "NDSU provided funding and location, RFF provided broadcast and technical skills to build and operate the station. Community volunteers provided the stability that brought a cohesiveness in programming and sound of the station."
The biggest notice in sound will be reflected in the music you hear on KRFF. While all of the regular programs will continue, some will be at different times and days and others expanded.
"KRFF will still have an alternative sound, but with a more adult feel," Borchert said. "The music format will bring a lot of older alternative artists back into the rotation as well as presenting new artists. We will have a more consistent playlist."
KNDS for its part will continue to focus on new music as well as increasing coverage of NDSU Bison athletics. The station will now be solely operated by NDSU students, according to general manager Cydney Berlinger.
"We hope to provide the community with new music that wouldn't be played on the other stations in town, more independent music or music from smaller labels," Berlinger told HPR. "We'll still have all of the student shows at the same times they currently are, and we're hoping that the split will allow us to expand our programming and create a greater diversity of shows, as well as allowing more airtime for various Bison athletic events."
Randal Black is a station manager at KRFF and a host on the station of The Big Red-E on Monday nights. Black believes the changes to the station will allow KRFF to better reflect the community throughout all hours of its programming.
"I hope that KRFF will bring awareness to the broader community about all the different people and cultures that make up this wonderful city," Black said. "To me, being 'Radio Free' means that we exist as a platform where people are free to voice their opinions and free to explore the vast world of music without the limitations of trends or formats. It brings a consistent "freshness" that is sorely missing from local FM radio."
Black said listeners can expect to hear a lot of new shows in the coming weeks as well as their favorites from when Radio Free Fargo broadcasted on 96.3 FM.
"Now that we have a full week of programming to play with, we are going to be introducing A LOT of new shows to the Fargo-Moorhead airwaves and this really excites me," Black said. "From spotlights on local musicians to shows geared towards the LGBT community, we are expanding our scope of entertainment while addressing the needs of groups that rarely are given any attention at all on other local stations."
A frequent question posed to Radio Free Fargo staffers is can I have a show on your station? Black said the station does have some standards for new programming. So not everyone can be a DJ, but those interested can contact them via Facebook for more information.
"Personally, I prefer to find shows that bring something unique to local radio, even if it's something as basic as a show that plays nothing but obscure vinyl albums or a show that talks about labor unions," he said.
Both Radio Free Fargo and KNDS are non-commercial low power FM's so under FCC rules they are not allowed to air commercials or compete with commercial FM radio stations. Both rely on underwriting from local businesses and donations from the community, while NDSU funds 96.3 FM to help give students experience running a radio station. KRFF has a PayPal link to accept donations and holds station fundraiser shows at the Aquarium to raise dollars.
"Underwriters are our main means of support," Borchert said. "Orange Records downtown is a great example. Matt Oland had been an underwriting sponsor for us since the beginning. Without local businesses like his we would have had a hard time staying on the air."
Borchert told HPR sharing airtime was both good and bad but now KRFF is hoping the future will bring a more even sound for listeners.
"Every meeting I attended with the students was always a morale booster," he said. "I usually had negative feelings going in and came out with so much energy and hope. They really helped reaffirm my love for radio and music. KNDS really was radio for everyone. Having the station that literally changed hour by hour was not the easiest to program long term. With KRFF we hope to even that out and present a station that has a consistent flow musically from one hour to the next."
As far for the future, both sides have high hopes for what each station can do on its own. Berlinger said these changes will be a good thing for KNDS and Thunder Radio.
"All we can hope is that the station is constantly improving, and we're hoping that we can have a greater presence on the NDSU campus as well as the Fargo-Moorhead community, whether it's from expanding our spring block party or helping promote and fund more shows in the F-M area," she said.
Borchert hopes that when KRFF gets its own broadcast space, it remains downtown.
"In five years we hope to be in a studio location that really can showcase our station," he said. "We would love to have an attached performance space where local artists can play live. In the past, we have had to cram a six-piece band into our reception area. Not conducive for sound or playing. Not to mention annoying the offices trying to do their work next door."
YOU SHOULD KNOW:
Beginning on Aug. 29, Radio Free Fargo will move to 95.9 FM and broadcast 24 hours a day as KRFF. NDSU's Thunder Radio will remain at 96.3 FM and expand to 24 hours a day.