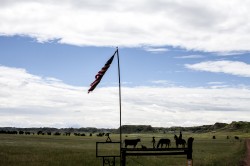 Multi-million dollar disagreement on how much state funding should go toward environmental conservation
Come Nov. 4, North Dakotans will be able to vote on one of the most environmentally forward measures the state has ever seen. If passed, Measure 5 would set aside 5 percent of gas and oil-extraction tax revenues to be used for clean water, wildlife and parks.
Proponents of the measure say it's needed to protect the future well-being of our land and water, which could be threatened by the state's billion-dollar oil industry if preventative actions are not taken immediately.
"We are really fortunate to be living in a very unique moment in time in North Dakota – unprecedented economic activity, unprecedented natural resource development and really unprecedented economic growth, and because of this we have a once in a statehood chance to do something for the future and Measure 5 allows us to do that," said Carmen Miller of Ducks Unlimited.
Miller is a spokesperson on Measure 5. She is the Great Plains Region director of public policy for Ducks Unlimited, one of main proponents of the measure. Ducks Unlimited is also "the world's leader in wetlands and waterfowl conservation."
Miller told HPR the measure would create a granting fund to benefit cities, counties, local park districts, school districts and a number of other civic organizations. The funds could be used for additional park space, green space, bike trails, walking paths, places to hunt and fish, boat ramps and outdoor recreation.
"Our cities are all growing very, very rapidly," Miller said. "And North Dakota families and North Dakota communities need this type of critical quality of life infrastructure … the type of thing that makes people want to stay here and make North Dakota their home."
The measure's most vocal opposition group, North Dakotans for Common Sense Conservation Coalition, say it's highly concerned that Measure 5 could take away from other, more pressing needs.
The group's chairman, Jon Godfread, told HPR that 5 percent of oil and gas tax revenues would add up to about $150 million per year, making it the sixth largest state agency. He added that 75 percent of those dollars would have to be spent, "regardless if the projects are good or not."
"It's a massive amount of the money and it swings the pendulum really far one way, and it takes from the needs that we have, infrastructure, our roads and bridges and water treatment plants and all the great things that we got going on in our growing state," said Godfread, who's also the North Dakota Chamber of Commerce's vice president of government affairs.
Rather than passing a constitutional measure for environmental conservation, the "common sense" coalition suggests continuing use of the state's Outdoor Heritage Fund, a conservation program overseen by the governor and industrial commission.
The chairmen said $30 million dollars has gone into the heritage fund and Gov. Jack Dalrymple recently proposed an increase from $30 million per biennium to $50 million.
"Certainly we all agree, we love conservation," Godfread said. "I think if you live in North Dakota, you appreciate the outdoors, whether it's through hunting or whether it's through hiking … but at no time do we need a constitutional amendment to protect some of those things."
Miller argues that the Outdoor Heritage Fund has been a good start, though it has come up significantly short.
"Over 15 millions dollars in project requests came in and they were able to fund only a quarter of those projects. Three-fourths of those applicants went away empty handed," Miller said.
The public policy director also noted that North Dakota is seeing the lowest number of deer licenses issued in 25 years. It's a reflection of how deer habitats are not being properly maintained. On top of that, Miller said, numerous state parks, even local schools, are in need of additional work and resources – essential resources that could easily be funded by grants from Measure 5.
"In the next biennium, North Dakota is expected to take in 10 billion dollars in oil and gas tax revenue, so with 10 billion dollars, we don't need to make false choices between clean water and schools," Miller said.
While our state is undoubtedly wealthy, Godfread continued to press that Measure 5 would lead to wasteful spending and that community and state leaders all throughout the state share the same worry.
"Anytime you put anything into your state's constitution," he said, "you better be darn sure that it's air tight -- it's exactly what you want and it's gonna serve the people well."