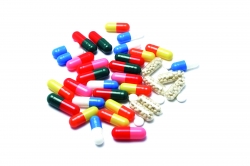 One of the most talked about and contentious measures on the ballot in North Dakota is Measure 7, which would end North Dakota's requirement in law that the majority of ownership in a pharmacy be held by a registered pharmacist. The law goes back to 1963 and North Dakota is the only state in the nation that has it. Twice before, opponents have unsuccessfully sought to bring change to the law and have also tried to amend the law in the North Dakota Legislator to no avail.
This year, Measure 7 proponents were able to gather enough signatures thanks in large part to the efforts of Walmart. The corporate retailer wants to be able to have pharmacies at its stores in North Dakota as it does across the country.
The law was originally passed to prevent doctors from owning and self-referring patients to pharmacies. It also passed to preserve the health care profession from the taints of commercialism, as stated by the courts. To be fair, Walmart can have pharmacies at its stores in North Dakota currently, it just can't own them. Fargo's Walmart is the only one in the state that has a pharmacy owned by a pharmacist.
Larry Gauper is with North Dakotans for Lower Pharmacy Prices, who are advocating for a "yes" vote to amend the law.
"We have had a warped pharmacy retailing situation in North Dakota where Walgreen's has had a store in Fargo for 42 years, but they've been barred from selling a prescription drug. That gets a laugh if you talk to anybody from out of state. They cannot believe that North Dakota has that law. And of course that benefits independent pharmacists who don't want their business disturbed," Gauper told HPR.
So why should pharmacies be different from any other profession that has competition in North Dakota? Why not let the free market sort it out as other businesses have to?
North Dakota Pharmacists Association's executive vice president Mike Schwab says the pharmacy industry is one of the most regulated of all businesses.
"It's very similar to a lot of professions: dentists, chiropractors, optometrists, CPAs ... so we have other professions that require the same thing. But on the other side of the free market, in a truly free market, it also states that you have the ability based on supply and demand to set your price for your goods. In a pharmacy, that really isn't the case. The vast majority of a pharmacy's business is dictated through fee schedules and/or insurance companies," Schwab said.
"So, for example, Medicaid in a state, there's a set fee schedule, what a pharmacist gets paid and/or what they are willing to pay a pharmacy. The pharmacy just doesn't get the ability to say, 'Well I bought this one for $40, I'm gonna sell it for $300 like you can at a hardware store. You buy a hammer for a $1, you want to sell it for $50, you can. Pharmacists don't have the ability to do that, and if you think about it over 90 percent of a pharmacy's business is done through insurance contracts whether that's Medicaid, VA, Medicare, Blue Cross, whatever that might be."
Both sides of the debate cite studies that show the impact of North Dakota's pharmacy law on prices. Gauper, for example, cited a study from University of Michigan professors that showed North Dakota pays on average $85 per drug vs. $57 in South Dakota.
Schwab, however, pointed to work from a University of Minnesota professor that showed prescription drug prices in North Dakota are 12 percent below the national average and 34 percent higher in Minnesota than North Dakota.
One concern cited by opponents to Measure 7 is the possibility of rural pharmacies closing. They say residents would be forced to drive many miles to the largest city to find a larger chain retailer. Gauper says that argument is a red herring.
"This law will not close a pharmacy unless the people in that area will not support it. If they don't need that pharmacy, if they think they get a much better deal somewhere else, why shouldn't they? And I talked to somebody out in Napoleon, North Dakota the other day and they said we go mail order, we don't buy at our local pharmacy. And that happens all over the state; and when people go mail order, everybody locally loses, the tax base, the salary, the building, the works," Gauper replied.
"We haven't increased the number of pharmacies in North Dakota in 35 years and our population has been increasing quite rapidly lately. Out in the Bakken formation, we have a number of national retailers that would like to open a pharmacy. Instead they're barred. It just doesn't make any sense to me."
Schwab pointed to a just-released study by the Institute for Local Self-Reliance authored by professors at the University of North Dakota that states if the law is changed, up to 70 independent pharmacies could close.
"Ninety percent of our rural pharmacies serve long term care facilities and assisted living facilities as well as critical access hospitals. If some of those pharmacies go away, so do those services potentially at least having them right there in that community. Ninety-five percent of our rural pharmacies provide on-call services to those facilities. Access would be left to a few players mainly in our urban settings," Schwab said.
Because this is the fifth attempt to change North Dakota's pharmacy laws either via the Legislature or ballot measure, many feel if this version fails, it won't be challenged again anytime soon.
"If this measure fails, you won't see this law change in my lifetime and maybe in yours," Gauper said. "And North Dakota will sit here as some kind of backward pharmacy retailing island when we should be with our booming economy, expanding all retail sectors."
Schwab feels the law is doing what it was intended to do and needs to stay put.
"There's all kinds of information that a person needs to take into consideration when looking at this issue. It's not just as simple as well because of this law, Wal-Mart can't operate here. They could, it's just they are choosing not to right now. Costco is in Fargo, they've got an affordable program going on," Schawb replied. "There are various reasons why the pharmacists in the state are opposed to this change whether you are talking about price, whether you are talking about access, whether you are talking about service levels, or in general, there's lots of economic information out there that shows why the law actually benefits the state and the citizens quite well."
After years of debate and discussion, North Dakota voters will finally have a chance to weigh in with their opinions on the pharmacy ownership law on Nov. 4.