The new face of the oil boom
News | January 9th, 2014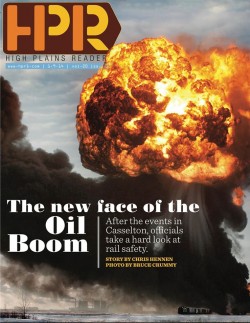 After the events in Casselton, officials take a hard look at rail safety
Right before the end of the year, our region received what many consider to be an important wake-up call to the dangers of the oil boom in North Dakota. The state has been making national news constantly for all the economic benefits the boom has produced but for once we saw in raw, vivid detail what could be the downside.
The train derailment and subsequent explosion of a 106-car BNSF train carrying crude east from the Bakken crashing into a derailed westbound BNSF grain train near Casselton has many wondering what if? What if the same crash happened in Fargo where many of these same trains pass through daily, or even 1 mile to the east in Casselton, the results could have been much worse. Thankfully, no one was injured but that would be hard to achieve in a populated area.
There is good reason for the concern, not only because of the jarring, huge explosion the collision produced, but also from the sheer fact that it is expected sometime in 2014 that 90 percent of all oil produced in the Bakken will be delivered via rail, up from 60 percent. This as production reaches a record million barrels a day. More oil being produced and more of that oil being delivered via rail means more trains on the track and the potential for more opportunities for accidents.
Another worry is the high flammability of Bakken crude, further highlighted in a warning issued to emergency managers and the public a few days after the Casselton derailment by The Pipeline and Hazardous Materials Safety Administration (PHMSA) of the U.S. Department of Transportation, which issues federal regulations for rail traffic in the U.S. The volatility of the oil originating from North Dakota and Montana proved to be much higher than traditional oil in tests, igniting at much lower temperatures. This is a potential explanation for the massive explosion which happened as a result of the Casselton collision.
One doesn't need to look too far to see tragic results from these accidents. This summer, 47 people were killed in Lac-Megantic, Quebec, in July when a train hauling Bakken crude derailed. While that accident prompted officials we spoke with to take a long hard look at how to prepare for an emergency like this and the safety of oil transported via rail, it seems like Casselton has caused more of a shockwave and focus to get things done in this regard, whether because it was in the U.S. or the third such accident in six months.
Cass County Emergency Management handles responsibility for the creation and maintenance of the County Emergency Operations Plan, which responds to any accidents such as what happened in Casselton.
"Early last summer, after the Canadian incident that resulted in several fatalities, Cass County Emergency Management created an operational annex to that plan specifically for railroad emergencies. The Sheriff's Department, Rural Fire Departments, EMS, Red River Regional Dispatch from Cass County reviewed and had input into the annex. In addition, last summer officials conducted several disaster emergency exercises in the metro area where a train derailment was the scenario. As a result, our law enforcement, fire, EMS along with Red Cross and Salvation Army within Cass County were well prepared for the incident near Casselton." says Dave Rogness, Cass County Emergency Manager.
Even so, Rogness feels more can be done "There are two significant things that would lessen the risk of these types of accidents. (1) Federal regulations should be finalized to require safer tank cars. (2) More oil pipelines would significantly reduce the amount of oil being carried by rail."
As to the high flammability warning from the federal government, Leon Schlafmann, emergency services coordinator for the City of Fargo told us "We have one of the best Haz Mat teams in our Metro area so for that reason we are ahead of the game. But the flammability of the crude does give us more concern of properly handling an incident. It is hard to say what we would need for resources as each incident is different in size and complexity."
BNSF, which operates most of the railways in our region, for their part declined to discuss many specifics of the Casselton train derailment but did seek to emphasize the safety of oil transport via rail. "Rail is the safest mode of land transportation for freight in general and is one of the safest ways to transport crude oil and hazardous materials. BNSF and the rail industry have reduced employee injury rates, train accident rates, and grade crossing collisions by 80 percent or more since 1980, and hazmat train accidents by 91 percent," said BNSF spokesperson Amy McBeth.
She pointed to the Federal Railroad Administration, the safety regulator of the railroad industry, issuing an Emergency Order and Safety Advisory in August of 2013 regarding the movements of flammable liquids including crude oil and what the industry did as a result.
"BNSF and the rail industry implemented a number of additional measures to reduce risk and, in some cases, provide an additional layer of review to reinforce existing safety rules," McBeth said. "The FRA Emergency Order contained requirements for unattended trains carrying hazardous material such as chlorine that is classified as Toxic by Inhalation (TIH) or 20 or more loads of certain flammable liquids like crude oil and ethanol. The measures are consistent with the changes recently ordered in Canada. These changes were expected and largely correspond with voluntary actions underway by the rail industry. These trains will not be left unattended on main line or siding tracks."
However, despite safety measures currently underway, North Dakota's handling of the boom is not without critics. Don Morrison of the Dakota Resource Council feels that state officials are looking the other way in the name of development and dollars coming to North Dakota.
"Our current state government and the oil industry knew the Bakken oil boom was going to be big. This isn't the first oil boom, but they still are ill-prepared for housing, roads, schools, crime, displacing current residents, disposing of oil waste with its chemicals and radioactivity, and transporting the huge increased volume of oil to market," Morrison told HPR. "Significantly, just two weeks before the fiery train explosion in Casselton, Gov. Dalrymple's oil and gas manager Lynn Helms proposed a study to 'dispel the myth that Bakken oil was explosive.' The explosive nature of Bakken light crude is no longer a myth; it is real. It is obvious that the Dalrymple Administration has been more concerned with protecting the industry than with making sure oil is drilled and sent to market in a safe manner."
In the wake of the Casselton accident, some have pointed to the Keystone Pipeline as the answer to solve these issues of safely transporting oil. Morrison doesn't agree, citing the recent oil spill near Tioga as a sign that pipelines are not without their own safety concerns.
"The Dalrymple Administration pushed to build pipelines faster and said there wasn't a problem with them until the Tioga spill. Only after the largest pipeline spill in North Dakota history did the Governor decide to convene a committee on pipeline safety."
Environmental groups in North Dakota are seeking to have transport of these materials avoid populated areas such as Fargo, something that would require a significant investment from railroad companies to reroute tracks in our region.
"Railroad line routes were not designed with the transportation of hazardous, highly flammable oil products in mind. They were designed to get products and passengers from point A to point B as quickly as possible. Rail lines should be re-routed around population areas and sensitive ecological areas," said Wayde Schafer, organizer of the N.D. Chapter of the Sierra Club.
North Dakota's Congressional delegation has pointed to a speedup of retirement or retrofitting of older DOT-111 train cars as a solution to these accidents. Both the Casselton and Quebec accidents involved DOT-111 cars. New federal standards introduced in 2011 recommended updated cars. However, the older cars have not been completely phased out. Sen. Heidi Heitkamp (D-N.D.) met with BNSF Chairman and CEO Matthew Rose in Texas to discuss the issue.
"On Sunday, I had a very productive discussion with BNSF about what we can learn from the derailment in Casselton to prevent future accidents from happening," Sen. Heitkamp told HPR. "It's been an ongoing discussion, which I began last year after the tragic rail accident in Quebec. During our meeting, I continued to push for a phaseout of older tank cars and the need to replace them with safer ones. We talked about the need to increase pressure on federal regulators to issue new standards for transporting oil so that it's done safely and responsibly.
"In the weeks and months to come, I will continue to press for answers about what happened in Casselton, and what can be done in the future to improve rail safety. We absolutely must make sure every North Dakotan feels safe in their homes," Heitkamp said.
State officials we approached were reluctant to get into specifics of the Casselton accident and what should be changed while referring many of our questions to federal authorities who directly regulate the railways. Many critics have pointed to quotes from the state's top oil regulator Lynn Helms, director of the N.D. Department of Mineral Resources, minimizing the threat of Bakken crude flammability and transporting oil via rail before the accident. Helms referred to the federal warning on volatility when speaking with us.
"The PHMSA document is careful to point out the importance of shippers properly labeling the crude they are transporting," Helms explained. "They are told to properly test, characterize, classify and where appropriate degasify -- and that's what's really important -- knowing what is going up and down the rail lines. We will continue to support the efforts of PHMSA and the FRA in 'operation transportation,' as the comparison needs to be made of Bakken crude to all materials that are transported DOT Class III and let the science determine if any safety regulations need to be changed."
So what are federal regulators doing about reevaluating how we handle and transport oil from the Bakken oil patch in light of what happened at Casselton? Kevin Thompson, is an associate administrator at the Federal Railroad Administration, which enforces federal regulations, including the transport of hazardous material on railroads. He says regulators have been very proactive in looking at ways to improve safety following the recent accidents.
"PHMSA and FRA were already taking action on multiple fronts to mitigate risks and ensure the safe transportation of hazmat by rail," Thompson said. "For example, the safety alert reiterates the importance of adhering to existing safety requirements, such as proper classification. Both agencies have issued emergency orders and safety advisories and held public hearings. We put shippers and carriers on notice by conducting unannounced spot inspections in the Bakken region since the summer to verify that crude oil is being properly classified. At the same, we are updating rail safety regulations, including those that address the DOT 111 tank cars."
As to what prompted the safety alert on flammability of Bakken crude, Thompson didn't directly cite the accident at Casselton, even with proximity of the alert release only days after the derailment. But did refer to an on-going study of Bakken oil federal officials are conducting called Operation Classification. State officials have also referred to this as the Bakken Blitz.
"Federal regulations require shippers to properly classify the hazardous materials they transport, but not to list every ingredient, whether they are shipping crude or another product. Through Operation Classification, we are reinforcing the federal requirement that crude oil coming out of the ground in the Bakken Region be properly sampled, tested and classified before being transported. Operation Classification is on-going and we intend to publicly share the results of our findings once the operation is complete." said Thompson.
Regulation fixes aside, the key question on the minds of many in our region remains: what if it happened near me? What if it happened in Fargo? What would the damage be? Leon Schlaffman, as Emergency Services Coordinator for the City of Fargo, would be the one leading the response.
"It would be a mess and the City of Fargo would have its hands full," Schlaffman told HPR. "I don't know of any community that could handle this type of a disaster without problems. As for what our main issue would be – life, safety, getting people out of harm's way as quickly as possible. We are constantly planning and training to address these types of issues."
Is a slowdown of the oil boom needed? N.D. GOP Chairman Robert Harms recently created a firestorm when advocating for just that after the Casselton derailment, breaking ranks with fellow Republicans in the state. He subsequently apologized and said he was speaking personally and not in his role as a party leader. Time will tell whether his remarks started a trend.
The good news is many people are focusing on rail safety following what happened in Casselton. How long it will take to get changes in place to prevent or minimize the effects of derailments carrying crude remains to be seen. Hopefully, another tragedy doesn't occur before that happens.