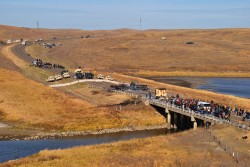 CANNON BALL - Standing Rock's fight against the Dakota Access Pipeline has all the ingredients of legend, with only the ending remaining be be told. Centuries past, bards would be tuning their lutes, preparing lyrics, in fact, modern singers such as Neil Young, Dave Matthews, the Black Eyed Peas, Trevor Hall, and many Native American talents have already immortalized Standing Rock's resistance.
"If you are a rock, stand up like a mountain," Hall sang about Standing Rock.
Two months ago, the story promised a happy ending for activists: the U.S. Army Corps of Engineers halted the pipeline, ordered an environmental impact statement, and thousands of veterans converged into the camps. The caravan stretched for miles, cars - bumper to bumper - for a full day and a night.
Proponents of the pipeline however, bided their time, waited on a savior. Bending to pressure from President Trump's Administration, the Army Corps has issued the easement needed for Dakota Access, LLC to complete the pipeline, and have said nothing about the continuation of its promised environmental impact statement. The Peace Garden State's tactics against the Standing Rock camps - pitted for an ongoing 190 days against the 1,172-mile pipeline - were nothing more than a slowly-squeezing siege, activists and veterans say, calculated and methodical. Like a medieval siege.
"It started with the roadblock, which brought economic sanctions against Standing Rock," attorney and long time activist Chase Iron Eyes said. "It was a genius move, but now the walls are definitely closing in."
Once North Dakota's tenth largest community with more than 10,000 people living in the floodplain along the Cannonball River, the remaining activists now number only 400, Iron Eyes said. Calls have gone out to return; some, including veterans, are heeding the cry for help.
"Numerous law enforcement and federal agencies have severely limited access to the camps at Standing Rock," Mark Sanderson, executive director for VeteransRespond said. "They run propaganda and psy-ops against any group going to help. You can't make it to camp without going through roadblocks or checkpoints. The situation on camp is that many necessities are very limited. Clean drinking water for one is hard to get, fuel for generators, food."
Siege (n.) early 13th century, from Vulgar Latin 'sedicum' meaning 'seat'
Militarized law enforcement began its siege by closing down Highway 1806, and then erecting a blockade on Backwater Bridge to rival Korea's Demilitarized Zone. One of the first rules of a siege is to isolate the target, like the Arabs did against Constantinople in 717 CE, or Nazis 872-day siege against St. Petersburg in 1941, or the 1,425-day siege of Bosnian Serb's against Sarajevo in 1992.
Law enforcement and the North Dakota National Guard toyed with closing the road down for nearly three months before making the blockade official in late October 2016.
Former Governor Jack Dalrymple set the stage. In August 2016, he declared a state of emergency. Two months later he issued an emergency evacuation order, further declaring anyone caught supplying Standing Rock with goods or equipment could face a fine of up to $1,000.
Besieging forces are not allowed to target civilians, according to the U.S. Army field manual's Additional Protocols of 1977, and relief agencies are authorized to provide aid to people in need. A day after the threat was issued by Dalrymple, he backtracked, saying police would not target people or close down additional roads.
Backwater Bridge is the site where Morton County Sheriff's Department hosed activists in below freezing weather; the site where Sophia Wilanksy nearly lost her arm; the site where trucks were burned, where disguised infiltrators attempted to gain access to the main camp, and the site where dozens were maced, injured, and arrested. Instead of using trebuchets and crossbows, law enforcement used its "non-lethal" arsenal of pepper spray, water cannons, and percussion grenades.
It was also the site of prayers, burning sage, traditional dances, and colorful banners.
Surrounded on all sides
The state's next move was to encircle the Standing Rock camps. A second rule for laying siege is to completely surround the target, preventing food, water, and supplies from assisting the besieged. Activists at Standing Rock soon found themselves trapped behind razor wire, mace, rubber bullets, and concussion grenades. The only route in or out was to take Highway 6, which easily added 40 minutes driving time.
When activists attempted to reach the DAPL drill pad in November, hundreds of police waited along Cantapeta Creek, showering activists in frigid water with pepper spray. When they marched on Backwater Bridge, they were hit with water cannons, percussion grenades, mace, and pepper spray. When activists plowed through snow and across a frozen Cannon Ball River in January, they were met, once again, with razor wire and more mace.
Many of the actions taken by activists occurred on reserved lands the Sioux Nation agreed to during the 1851 Treaty of Fort Laramie, and have never relinquished, according to Standing Rock Sioux Tribe Chairman Dave Archambault II. Lands north of the Cannon Ball River were taken from the Standing Rock Tribe after massive devastation from damning the Missouri River during the Pick-Sloan legislation.
"They've also encouraged the local economies to participate in the siege by denying support to those trying to secure goods for camp," Sanderson said. Sanderson retired from the US Army in 2015 as a Sergeant First Class. He was a designated marksmen and was awarded the Purple Heart after being wounded in Baghdad, Iraq during Operation Iraqi Freedom.
"They make it seem like we're all coming with intentions of building bombs and getting into confrontations, they've successfully turned a large group of Americans against veterans."
Psychological warfare
Next came psychological and according to some, biological warfare. Although Morton County denied the use of chemicals against activists near Standing Rock, more than 40,000 pounds of Rozol Prairie Dog Bait, an anticoagulant rodenticide, were purchased by a nearby rancher, David Meyer, of Flasher, according to the United State Environmental Protection Agency. A portion was spread across more than 5,408 acres of nearby pasturelands in the spring of 2016, the same time activists began gathering at Sacred Stone Camp. Investigators said the chances any of the more the 20,000 people who traveled through Standing Rock being poisoned were remote, nearly impossible, but many activists retain their doubts. Questions have arisen as to whether humans now suffering what is known as the "DAPL cough" might not have been affected.
"There have been no substantiated clinical cases of Rozol poisoning traced back to camp exposure,"NDResponse.gov, a state information delivery platform said. "Wood-burning stoves, kerosene heaters, and other temporary forms of heat have been known to cause lung, nose, and eye irritation. An ongoing cough is not consistent with Rozol exposure."
Sound cannons, attack dogs, and tactics causing hyperthermia, were also used against activists admittedly trespassing during their repeated marches on the pipeline.
Airplanes and helicopters surveyed the camps daily. Cyber warfare ensued, including reports of mass data seizures, electronic bugs, stolen files, according to the Lawyer's Guild Mass Defense Committee and nonprofit Geeks Without Bounds.
And then came Standing Rock's victory on December 4, celebrated as joyous news to many activists. Standing Rock Tribal Council asked everyone to return home, winter was coming, and the camps' numbers dwindled.
Some, including Iron Eyes, stayed. The December victory was an ingenious stall of time, he said. A besieging army would never dare attack a force with far superior numbers.
"December 4 was no victory at all," Iron Eyes said. "We didn't win. They told us to go home because 'we won,' 'our prayers were answered.'"
State tactics were seemingly pulled straight from a page of Sun Tzu's 'Art of War.'
"It turned the Standing Rock Sioux Tribe, under economic duress, against the same people they were supposed to protect." He is currently in Canada, but plans to return to Standing Rock later this week. He faces a Class C felony charge of inciting a riot, and he's also planning lawsuits against Morton County.
"Morton County is trying to throw me back in prison," Iron Eyes said. In addition to being the founder of media outlet Last Real Indians, Iron Eyes ran for a congressional seat in 2016. "It seems ludicrous to me."
Iron Eyes is worried that the Army Corps' deadline for all camps to be evacuated by February 22 will be the government's final assault.
"I'm afraid it will look like the Siege on Fallujah," Iron Eyes said.
When pipeline proponents' savior, President Donald Trump, ascended to the White House in January, political attacks intensified. In addition to Morton County Sheriff's Department propaganda program entitled "Know the Truth," which includes short videos from the law enforcement side of the controversy, the state kickstarted a website called NDResponse.gov, a "a single source of accurate and timely information."
Politicians, including Representative Kevin Cramer, R-N.D., Morton County Sheriff Kyle Kirchmeier, and Morton County Commissioner Cody Schulz called activists paid protesters, and blamed missing livestock in the area on activists while the case is still ongoing by the North Dakota Stockmen's Association.
"As many as 14 dead or missing animals have been reported in the vicinity of the encampments,"NDResponse.gov reported. "Whether any of those animals were consumed illegally is part of an ongoing investigation."
The state is further attempting to sway public opinion by depicting activists as careless by disseminating video of trash being compiled at the former Oceti Sakowin Camp. The state's official stance is that activists are trucking garbage to one camp location and dumping it for a consolidated pick up, but at the same time report officers are digging through the trash looking for dead bodies.
"The veteran community is being targeted as they would a minority," Sanderson said. "We feel like the supporters of the civil rights movement."
Although more than 700 people have been arrested, Morton County Sheriff's Department broadcasted a case on Monday saying "Leader of VeteransRespond Cited for Drug Possession." Matthew Crane, VeteransRespond chief operations officer, who uses medical cannabis to treat PTSD, and three others were cited after they traveled beyond the road closure sign on Highway 1806 near Fort Rice.
"One of the occupants turned over a smoking device identified as a pipe used to ingest marijuana," the North Dakota Joint Information Center reported. "At that point, all occupants and their luggage were removed from the vehicle and searched by the K-9. A bag of marijuana was located with Crane's name on it."
Medical Marijuana was legalized by every state district in North Dakota last November. The bill, known as the North Dakota Medical Marijuana Initiative, is currently under review after being postponed and rewritten by state legislature.
Posted on the VeteransRespond's Facebook page, volunteers have begun to arrive at the Standing Rock camps. They've been chopping wood, setting up kitchens, and helping with the trash situation.
Fueled by a national wave led by "alternative facts" and President Trump's big oil agenda, Pro DAPL supporters have stepped up their attacks - verbal and physical - against anti DAPL supporters lately, Sanderson said. Verbal attacks are hitting online, and law enforcement is hunting veterans on the roads. Some media outlets have reported that the Federal Bureau of Investigation's terrorism task force is aggressively monitoring people affiliated with the No DAPL movement.
"Much of this negative energy is a result of two encounters with law enforcement, one in North Dakota and another in South Dakota," Sanderson said. "Our Chief Operations Officer, Matthew Crane, was cited for having less than a gram of medicinal cannabis on him, he took ownership that it was his and received a ticket. He was not arrested. The Morton County Sheriff's department felt necessary to issue a press release about this citation calling our organization out by name and inaccurately attributing an arrest in South Dakota to our organization."
Travis Biolette was traveling through Sough Dakota and was arrested for possession of hash oil, Sanderson said. Biolette is not a member of VeteransRespond, but the group picked him up when he was released from jail.
"While we respect state and federal laws we also respect the right to a veteran's safe access to his or her medicine," Sanderson said. "Many of our core members suffered from opioid and amphetamine addiction upon leaving the service and have found a better way forward with the help of medicinal cannabis."
Biolette is in good spirits, and currently at the camps, he said on his Facebook page.
"As soon as the police found out I was going to Sacred Stone Camp I was placed in the police car and searched," Biolette said. "I am currently free and have to go to court on February 27th. I am looking at five years in a state penitentiary of South Dakota for medical marijuana that the state of Michigan has determined I need. I am currently looking for legal representation to prevent that prison time."
"It's hard to imagine a time in America when police officers would target a veterans group for trying to help a community and support our fellow vets," Sanderson said. "They certainly do all they can to deny support to the camp and use disinformation and propaganda against anyone who tries to help, even those like us that come in peace."
Sanderson previously joined the December veterans at Standing Rock, and said at that time 300 cots provided by the American Red Cross were denied entry to Standing Rock by Morton County Sheriff's Department.
In total, 705 people have been arrested since August 2016, with 92 percent of those arrested from out of state, 212 people arrested had prior criminal records, 33 arrested had a history of violence, 40 with a history of theft, robbery, or burglary, and 41 previously cited or arrested for drug possession, according to the North Dakota Joint Information Center.
The total cost to taxpayers in North Dakota so far is $32.9 million, with $25 million going to salaries, $3.6 million going toward personnel support, including travel and lodging, and $4.3 million going toward equipment and supplies to survive the winter, according to the North Dakota Joint Information Center.
The North Dakota Department of Transportation announced on Monday that Highway 1806 closure point was changed from south of Mandan to County Road 135, north of Fort Rice, allowing eight more miles of open highway.
North Dakota Legislature
The Peace Garden State's political siege against those who openly differ in opinion has taken the frontline in the forms of proposed bills to strike fear into activists and future protesters. One of the bills hit activists in the pocketbooks, another tried to legalize the "unintentional" killing of protesters.
House Bill 1203, the proposal that attempted to legalize the unintentional running down of protesters blocking public roadways died in the house on Monday. Other bills created as direct responses to the DAPL controversy have passed the house and will soon be voted on in the senate: House Bill 1304, the law that would outlaw wearing ski masks and face coverings in public, House Bill 1293, the bill that would essentially legalize shooting to death trespassers even if there was space to retreat, House Bill 1426, which stiffens laws against protesters, and House Bill 1193, which prohibits "economic harm" due to disorderly conduct.
Senate Bill 2337, a bipartisan bill that would have enacted cultural competency training for legislators was killed 26 to 20 on Tuesday.
"A 'disease of the mind' has set in world leaders and many members of our global community," Keeper of the Sacred White Buffalo Calf Pipe Arvol Looking Horse said. "With their belief that a solution of retaliation and destruction of peoples will bring peace. We need to understand how all these decisions affect the global nation; we will not be immune to its repercussions."